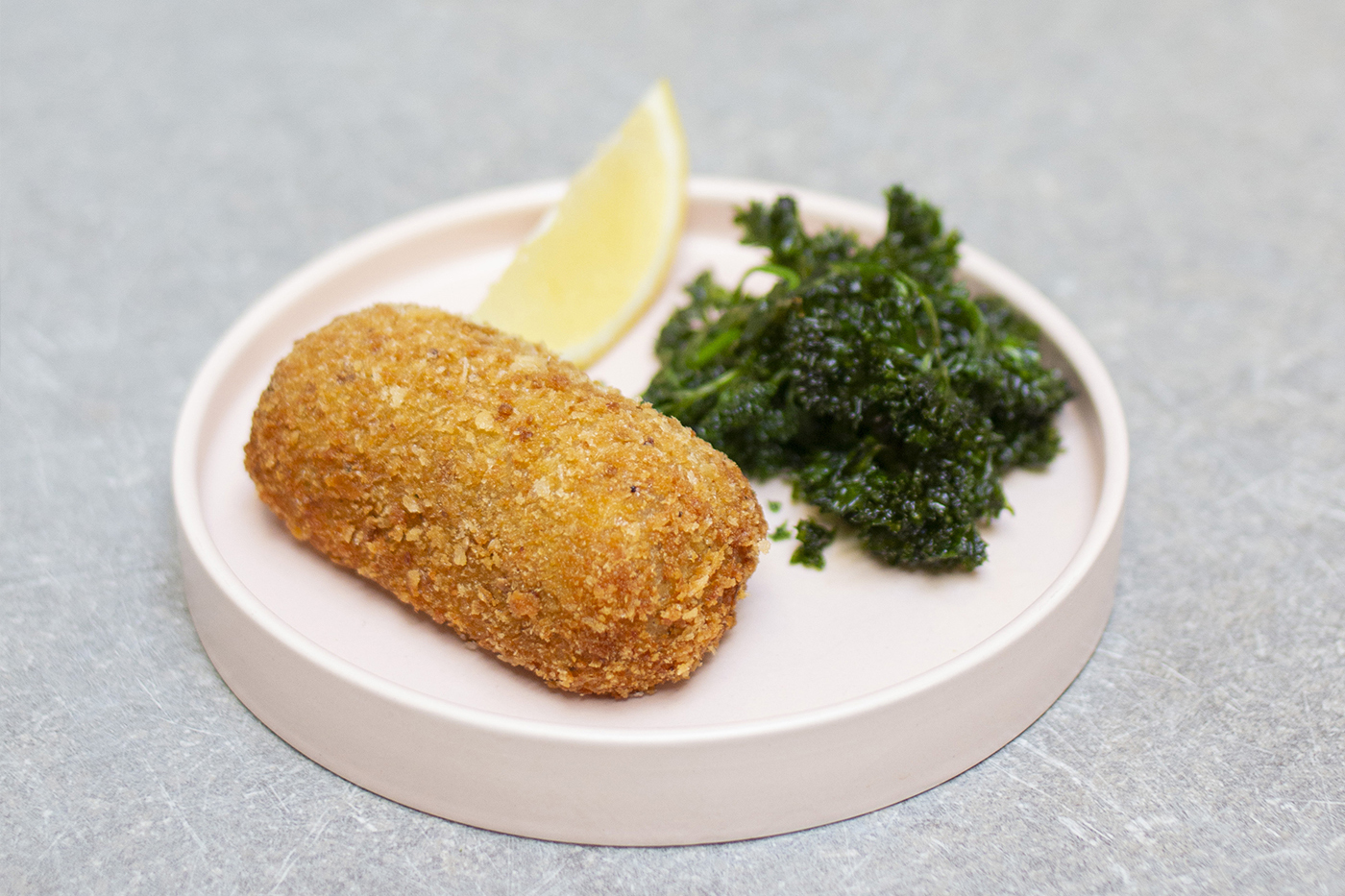 37 rue Caroly, 1050 Ixelles
0470 52 96 23 – website
Price: 3,50€ – 7€/croquette
Before launching Kroket, Antoine and Alex were both in the kitchen at Jules & Charles. Then, one day, they saw the contest for the best shrimp croquette, and they got excited. They didn't win, but their croquette was already good enough to make them want to try it. That's how, last October, they gave up everything to devote themselves 100% to the world of take-away kibble. After weeks of testing, they found the perfect combination: a pre-fried kibble that you can heat up in the oven for 10 minutes at home to restore its splendor and crispness. And these little jewels are now available on Frichti, and therefore delivered to your home. Isn't that nice?
To know the secret behind this iconic Belgian street-food, we went to meet Alex and Antoine.
How do you make a great shrimp croquette?
There are several important criteria:
Density, Alex tells us. It's the quantity of shrimp in a croquette – we are almost at 40%, while even the best wholesalers never exceed 35%.
Taste: This is the basis of the croquette, says Antoine. They are made either with shrimp bisque or fish stock – there are two schools of thought. We started with the idea of recovering the carcasses, in a zero waste perspective. As a result, we make a real shrimp bisque.
Then there is the texture, it must not be too runny, but not too dense either. Not too much bechamel. It will depend on the roux, the gelatin, etc. It's still very classic, but you need to have a good mastery of it.
And then, mega important: the breadcrumbs. From the beginning, we started to recycle bread from the bakery in our neighborhood, in Saint-Gilles. We overcooked the bread and then put it in the food processor. The result is more like flakes than sand. It is quite similar to the Japanese Panko. Today we make a mix between Japanese Panko and our homemade breadcrumbs
And the parsley in all this?
We're getting to that. For me, the fried parsley is the base – says Antoine. There are those who do without it and those who can't do without it. Me, I can't do without it. So we always put it with our croquettes.
With or without lemon ?
There is clearly a difference of opinion. I never use it, says Alex, I really like the taste of shrimp. Antoine is not so purist. For him, it's the memory of his childhood that prevails. For me, it is with lemon, as my grandmother used to prepare them, period.
We dared to finish by asking them another very good address to eat a shrimp croquette:
Antoine, like us, is an unconditional fan of Noordzee. As for Alex, he swears by his former chef at Gaspard, Michel Bercy, who taught him how to make them.
The bonus? Their homemade tartar sauce, which they developed especially for Frichti, in which you can now dip your croquettes.
Second bonus, since their launch, their range has grown. Kroket now offers 5 flavors of croquettes – shrimp, cheese, shiitake, pig's trotter and Bacalhau – and will soon offer new seasonal products. So you can never have enough croquettes.