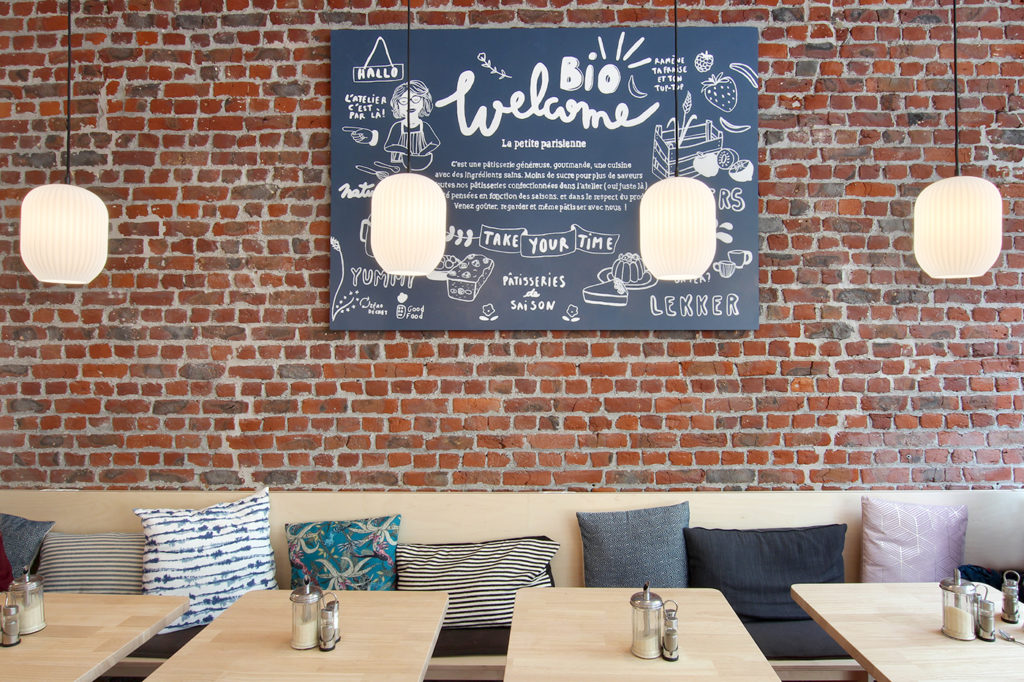 5 place maurice van meenen, 1060 saint-gilles
02 687 88 81
monday from 12pm to 7pm
from tuesday to saturday, from 10am to 6:30pm
Katia is La Petite Parisienne – the girl from Paris -, originally from Paris and in Brussels for now quite a few years. After working at Les Filles and following courses at Ferrandini school in Paris, she specializes in pastry. First, by selling her homemade pastries on Efarmz online. Then, and that's when it gets interesting, by opening her own pastry shop on Place van Meenen. How she differentiates? By being the only 100% certified organic pastry shop in Brussels.
By her side, in the kitchen and during service, Alice, Santiago and Sonia, whom she already used to work with when she was at Les Filles. A pure coincidence she says, though that doesn't make it any less awesome, being reunited this way. In the counter by the entrance: small tartlets, scones, brownies, financiers and baguette and brioche from Hopla Geiss. We come a bit closer to ask for her advice. The tiny cheesecake is made with candied lemon paste, homemade from lemon cooked six times in total to remove all their bitterness. Simply amazing, she says. But she decides to have us try her latest creation, and help her decide if it can make the counter or not. We try, and completely approve, the pear and chocolate ganache tartlet. A bomb. The pastries here change all the time, depending on the daily inspiration. On the weekends, two "big" cakes are also available, which you can order by slice. And in the morning, we gotta say we got hooked by the scones + coffee + homemade jam breakfast combo (3,80€). At the back, on a big kitchen counter, Katia has started preparing a rustic strawberry and rhubarb pie. The setting is perfect to host cooking classes, and we can just feel that it won't be long before she announces the first one. We're just happy to have discovered such a great spot in Saint-Gilles for coffee and sweet treats.