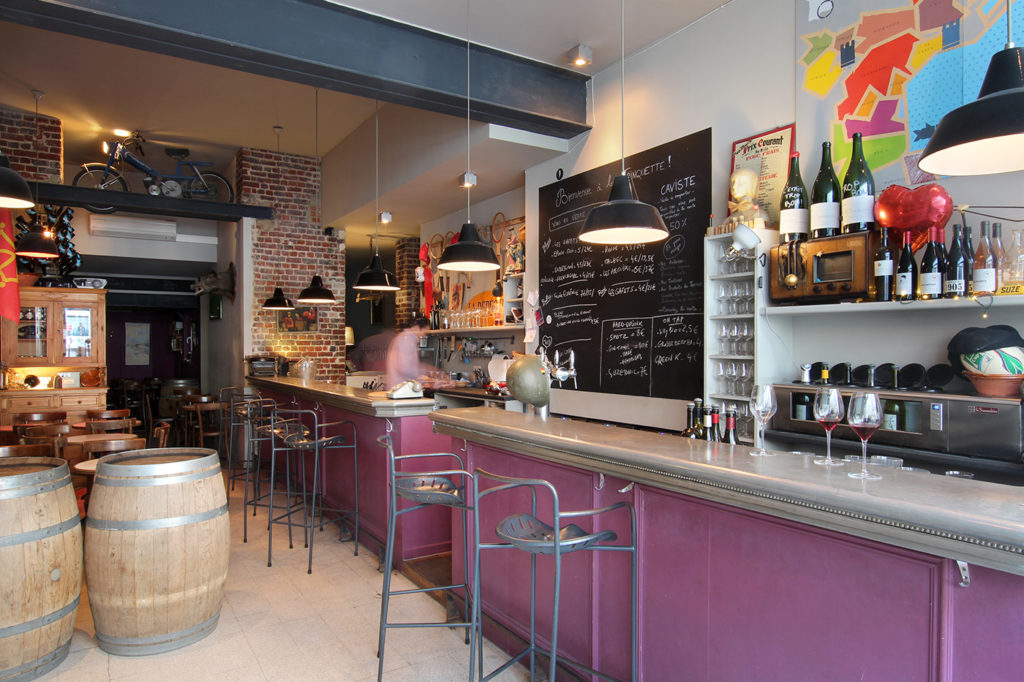 3 rue de l'aqueduc, 1060 saint gilles
02 537 94 59 – facebook page
tuesday to saturday from 6pm to 11pm
wine bottle starting from: 17€
wine glass: 4.5€
It's a happy place, where friends meet for drinks, that Henri had in mind when opening La Trinquette. Six years later, the vision has remained unchanged: we go to La Trinquette to have a glass – or multiple glasses – of wine, but mostly, to have a good time while drinking wine. It's different, says Henri. Miles away from the arrogance wine is sometimes associated with, La Trinquette is laid-back and accessible. It's an excellent wine bar, but also a neighborhood bar, a bar for regulars, and even, sometimes, a bar when you can end up dancing on the bar.
With his closest friends, all sons or grandsons of farmers or wine producers, opening a wine bar seemed like a pretty obvious idea. Henri is from the Languedoc region, and therefore decided to put their wines – all organic – and food in the spotlight. He has us try Le Canon de Riton, a wine vinified specially for Henri to celebrate the 10 years' anniversary of Mas des Caprices, and their 10 years of collaboration. This winery is known to be specialized in natural and organic wines, and we already knew them from their fabulous R.A.S (rouge à siroter in French) which we love. Le Canon de Riton is just as fruity, but has more Mourvèdre dded to it, explains Henri. It's delicious, and perfect to start the night with the mixed plate laid before us. Everything on the platter comes from Occitanie; the cold cuts from Aveyron, the Lucques olives from a small village North-East of Carcassone. We can hear the chanting southern French accent just hearing about the origins of the produce. Inside, the atmosphere is in full swing, and the place is filling quickly with happy customer chatting loudly and having drinks. Another great night just started.