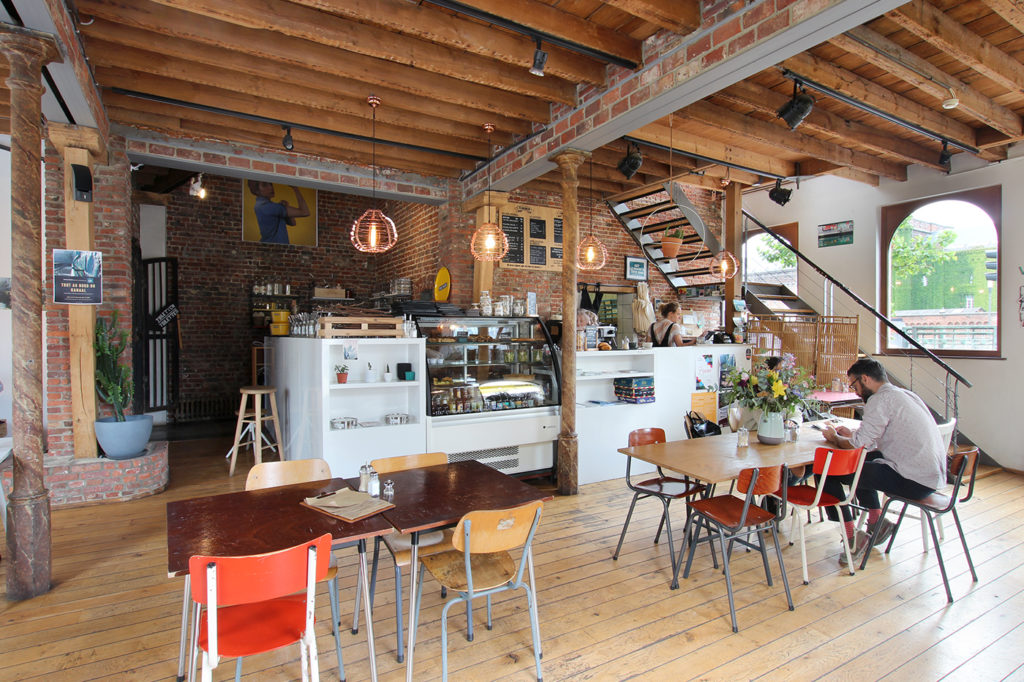 40 quai des charbonnages, 1080 molenbeek
02 410 06 84 – site web
from monday to friday, from 8:30am to 8pm
saturday, from 10am to 5pm
Le Phare du Kanaal is a charming bar and lunch spot, located « on the other side of the canal », as most people from uptown like to name the area. And we've got to admit, that though the Phare opened over four years ago, we have only been in the neighborhood so many times. Last time we came, we were lucky to meet Hanna, the founder of this beautiful spot.
She told us that, as a Parisian, little did she think about how isolated she might be when she initially found the place. And we're glad. Before setting her headquarters, the Phare used to be yet another Chien Vert fabric showroom. The owner, as a true and dedicated boat fan, had the façade painted with a huge boat at sea. He even went further and made the wooden floor slightly tilted to give the customers the impression to be on a boat. Next time you feel like the floor isn't straight, now you know why. As soon as she opened, Hanna partnered with Julien, initially to help her on the food side. Now it's Simon – ex-Contrebande – who runs the kitchen, offering only seasonal and local ingredients in his daily specials. On the wall, a "wall of farm" poster features all of their superstar local suppliers. On the first floor, a co-working space welcomes about twenty freelancers, who come and go according to their needs thanks to their "swimming pool pass" (130€ for 10 entries). A gorgeous project we fully support.