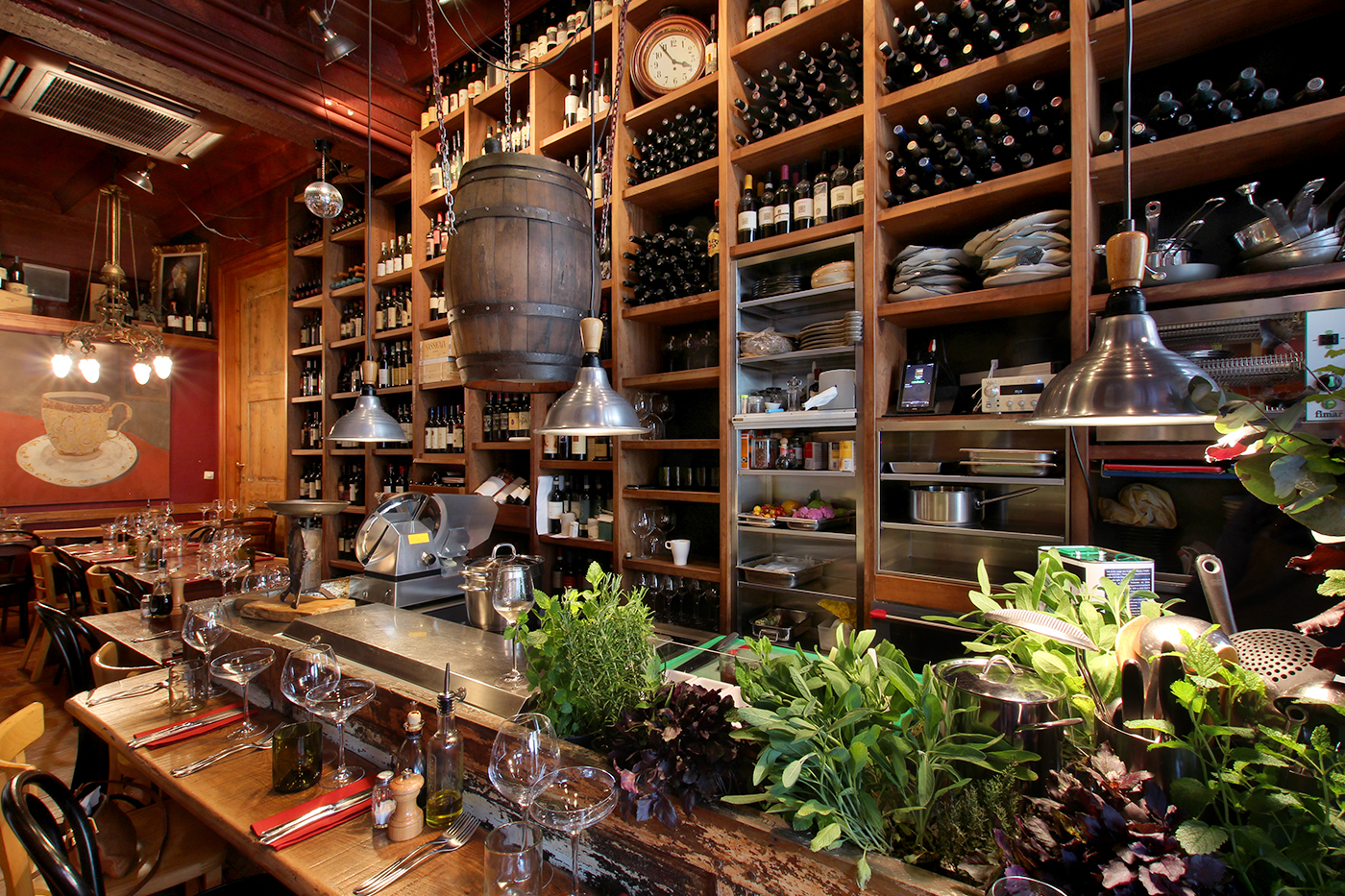 28 rue du berger, 1050 Ixelles
04 77 26 14 87 – site web
from monday to saturday, from 7pm to 10:15pm
5 courses: 60€
brunch in the hotel Le Berger: 35€
Saying eating at Vincenzo's to refer to eating at Vini Divini, would make all the sense in the world. The chef from Naples welcomes his customers in his tiny restaurant – literally the size of two parking spots – as if it were his own home. Vini Divini has been opened for over 21 years now, and if you still haven't heard of it, it might just be due to its size and the difficulty to get a table among the regulars in its extremely intimate setting. To get a table, make sure to book 2-3 weeks in advance, 4 to eat at the counter on the weekends.
Once inside, let the chef and his team guide you. Vincenzo and Elise – his sous-chef for 13 years now – offer inspired and seasonal Italian cuisine in a five-course tasting menu (60€) to about 20 customers per night. All around us, wine bottles fill the shelves all the way to the ceiling, satisfying even the biggest Italian wines enthusiasts. We start with a Proseco glass (included in the menu), while observing each detail of the happy mess around us. The atmosphere is fantastic: the music is loud, the restaurant is full – like every single night – and the place is extremely charming and filled with good vibes only. All around, customers are drinking and laughing, as dishes slowly start to arrive on the tables. The menu starts with a buffala, quickly followed with Bouchot mussels, delicious ravioli filled with ricotta cheese and boletus mushrooms and served in a butter-sage sauce, then an amazing line-caught sea bass we still remember. The hit of the show: the lemon pie, with a lemon curd like we never had the chance to try before. An institution, to say the least.