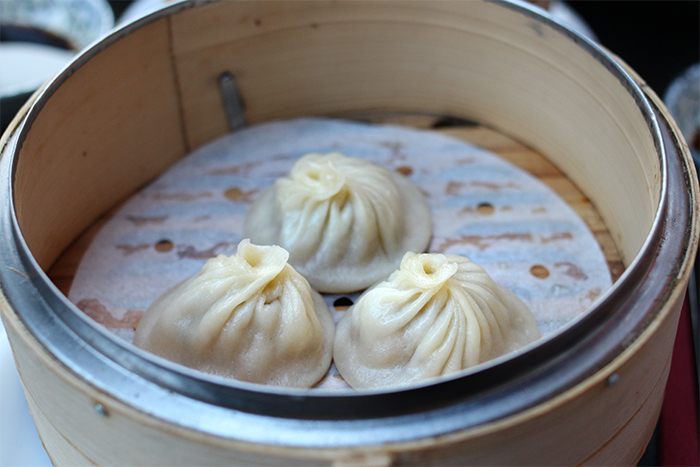 11 PARVIS DE LA TRINITE, 1050 IXELLES
02 538 08 10 – WEBSITE – delivery
OPEN FROM WEDNESDAY TO SUNDAY FROM 6:30 TO 10:30PM
How the Brussels food scene was able to do without dim sum for long is beyond us. Thankfully, Dam Sum finally opened its doors place de la Trinité in September 2015, and never emptied since. A big colourful room, an open kitchen, street-art looking wall paintings and behind this first opening, the will to launch a long line of Asian street-food dedicated venues.
All around the kitchen island, extremely agile cooks are busy filling and folding dough into beautiful dumplings. Here, the dim sum are homemade daily, right before your eyes. On the menu, besides the traditional fried noodles and wonton soup, you'll find about a dozen types of dim sum, steamed, pan fried or deep fried, then served in small bamboo baskets. Their specialty is without a doubt the Xiao Long Bao, an extremely delicate steamed dumpling stuffed with meat and broth. Originally from Shanghai, this delicacy should be eaten from a spoon, in order to first bite a hole into it to suck the broth, before putting it whole into your mouth. They come in various types, from the most traditional pork ones (5,80€) to wagyu beef and a pork and fresh crab versions. Not far behind, the barbecue pork buns (5,20€), also known under their Chinese name Char Siu Bao. Two big fluffy buns, stuffed with delicious and juicy sweet and sour barbecued pork. And the latest but not least addition to their menu : the Chao Sou (6,20€), remarkably thin steamed beef dim sum served in a vinegar sauce.