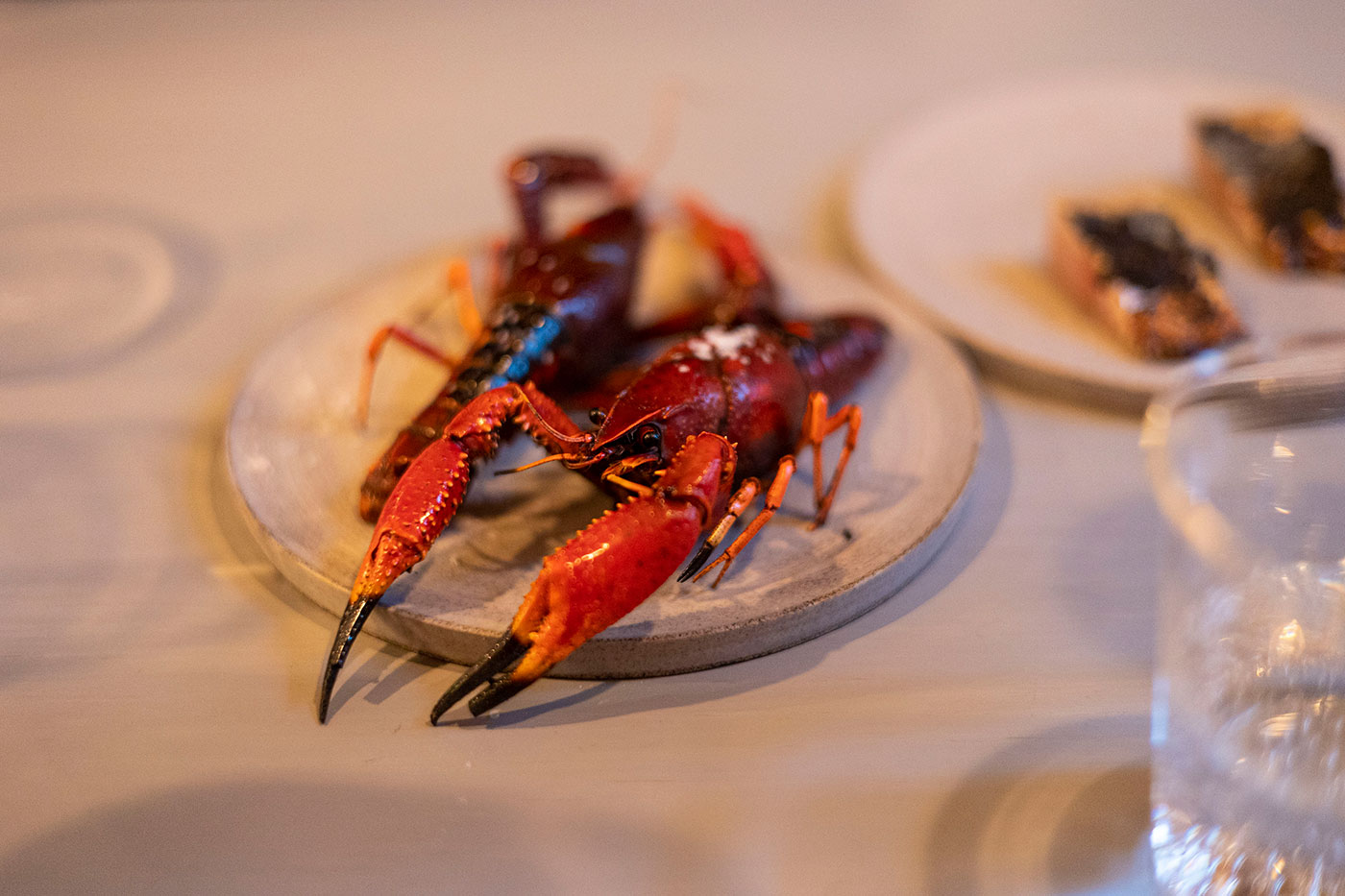 rue antoine dansaert 202,
1000 Bruxelles
bookings
du vendredi au lundi
de 18h30 à 23h
menu 7 services : 68€
pairing boissons : 38€
I'm out of words, was more or less what I said when I was asked about my experience at Aster about two weeks ago. Nevertheless, I will do my best to tell you about this incredible experience.
Did the fact that I was there to celebrate amazing news, with a person I love or simply because it was Friday help the evening. Most probably. But was Aster itself the main reason the night was unforgettable? Definitely.
I hadn't read anything about the place before I made the reservations, I didn't even know it was located in what was formerly the Belle Équipe pizzeria, right next to Mok Coffee. I just knew the duo behind Aster had worked with Kobe Desramault, both at In de Wulf and Chambre Séparée – still my favorite restaurant in the world to this day. And that was more than enough.
Ydris at the drinks pairings, Túbo in the kitchen. No meat here, but a beautiful tribute to the sea and anything plant-based. Everything is flame cooked too – exactly like it used to be at Chambre Séparée – in a small open kitchen and smoking room visible from the tables.
The restaurant is quite narrow, surrounded by brick walls, with a unique high table in the main room. It still looks mostly like it used to be back when it was La Belle Équipe, except that the table is now slightly wider, and the stool more comfortable. Apart from that, nothing has changed. The food is brilliant, and the atmosphere super chill – exactly what we love.
We loved how the menu highlighted the same produce multiple times, in different dishes. We had the crayfish that night, first, just grilled, served whole, with a slight cut in the tail, to eat with our hands. Then, as a broth, served with an amazing croissant-like brioche, and finally, as a super interesting jelly. We also just loved the caramel and asparagus flan served with caviar, and the sunflower seed-based risotto with sake kasu. The desert – with potato and kombu seaweed – was simply out of this world.
You'll understand while reading this that, even if I have managed to find some words to describe this experience, I'm still very much emotional just thinking about it. Aster was a true crush. A restaurant which, in one night only, has joined the list of the best restaurant I've eaten at in my entire life. A unique 68€ menu in 10 small courses, a brilliant drink pairing, creative and absolutely delicious food, and the most adorable staff. Don't walk there, run.