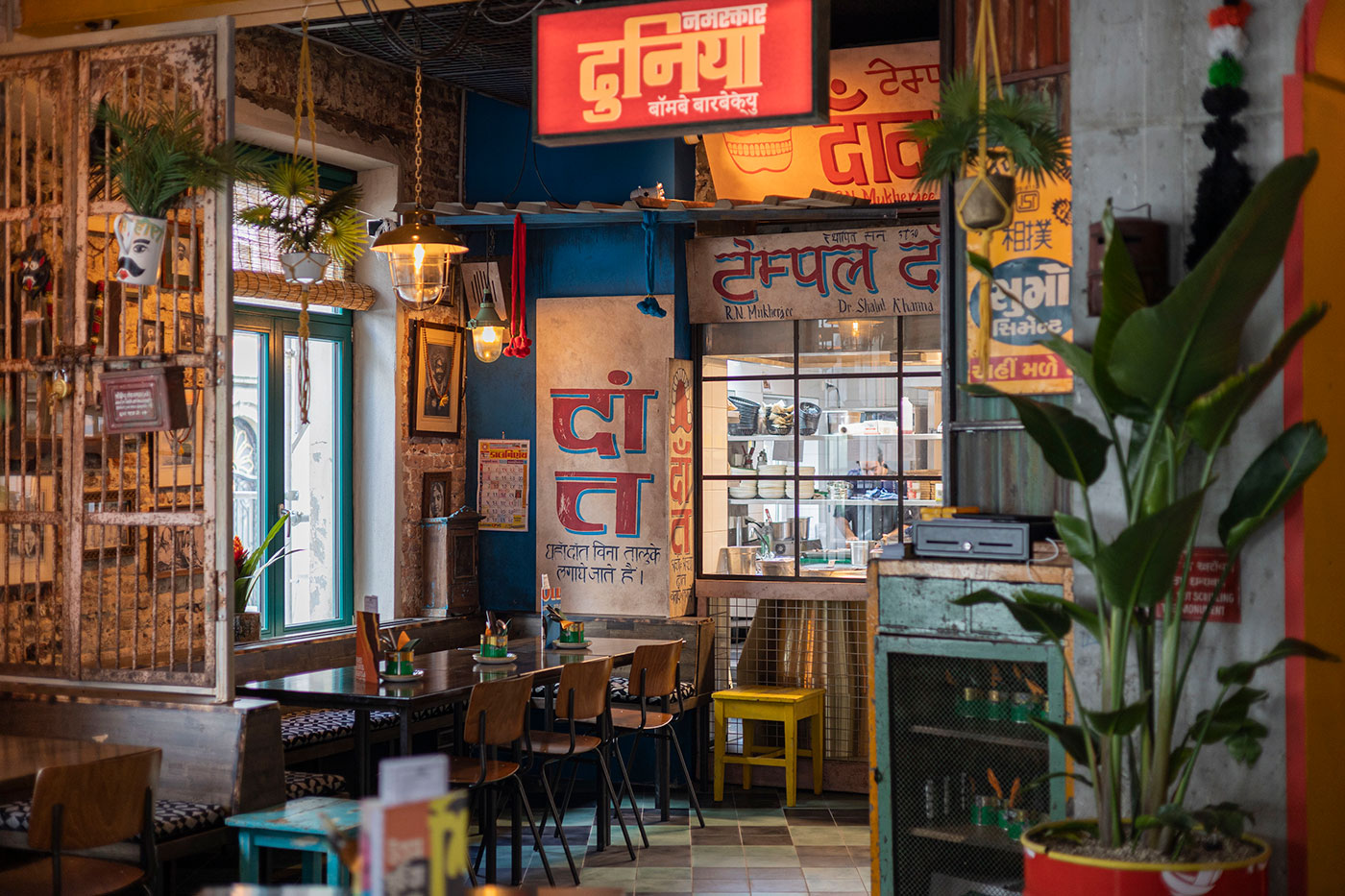 chaussée d'ixelles 280,
1050 Ixelles
bookings
from wednesday to sunday
from 6pm to 10pm
to share : 8€ – 15,50€
menu for 2 pers : 70€
We opened our eyes wide as we stepped into Bombay BQQ for the first time. With the scaffolding that's been around the building for weeks, we simply had no idea of what was going on in the inside. And we remained speechless.
Bombay BBQ is Tim and Pavan's third Indian restaurant, and we can clearly tell they very well know what they're doing. But even though it's the third, it is no less a unique restaurant with its very own identity, not unlike every piece of furniture and decoration – quite unique too to the say the least – that now fill the space.
Pavan describes their adventure as "a hobby that got out of hand", and that says a lot about the soul of the venue. The decoration – hundreds of posters, objects, wooden doors, colored tassels, frames or even cables – was collected over the years from their multiple trips to India and stored in a warehouse before finding the place they would belong. Each single detail was designed to take us on a one-way trip to Bombay, getting lost among the street stalls and barbershops, and the result is breathtaking.
Food wise, Pavan brought her whole culinary identity into the menu. Her recipes are inspired by multiples regions in Indian, but always have that something special to make them more fun and modern. Exactly the way her mom used to cook Indian food when growing up in London.
We tried delicious Bouchot mussels with curry leaves in a coconut sauce (11€), a crunchy chili paneer (9,50€), lamb kebab cooked in the 350°C tandoor oven served with mint chutney (12€), a perfectly done butter chicken (12€) and tons of other super exciting plates to share.
We can't wait to come back in the evening, try the rest of the menu with a tamarind margarita or a house Indian beer, and keep on exploring every corner of Bombay BQQ.