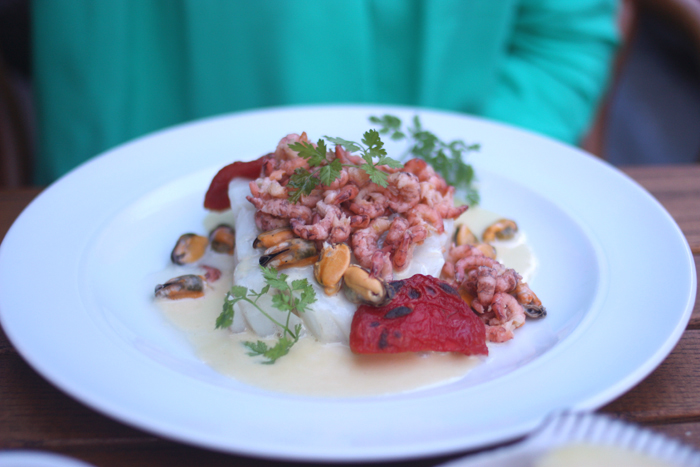 23 PLACE SAINTE-CATHERINE, 1000 BRUXELLES
02 218 85 45 – SITE WEB
CLOSED ON MONDAYS AND SUNDAYS
A wednesday night, after a long summer day, we decide to meet at the famous Vismet restaurant, Place Sainte-Catherine.
This is place is a classic for Brussels, but we still haven't tried it.
A little table is waiting for us outside, under the large black umbrellas. This inside reminds us of an elegant canteen, with wooden floor, naked light bulbs on the ceiling, and wooden walls. One of Nicolay's first places in town, by the way.
We were told so much about this restaurant where each and every little shrimp is peeled by the owner's mom herself, to make the best shrimp croquettes ever. And finally here we are.
A few minutes after sitting down, we're brought two little appetizers. White fish tempura, and pollock terrine with cocktail sauce.
That's when we order two glassed of delicious white wine.
With such a hot and long day, we decide that we deserve to let it go a little and we order a seafood plate to share as a starter (23 euros). Too bad for the shrimp croquettes, definitely next time!
Oysters, whelk, crab claws, grey shrimps, and shrimps. Everything is delicious and so fresh, and we've never eaten such amazing crab claws. The night is beginning really well.
Chloé orders a sea bass tartare with its guacamole (24 euros), really fresh, and I pick something more classic, pollock with mussels and grey shrimps (also 24 euros).
The night is starting to surround us slowly and we order fresh mint tea before we part our own way. A beautiful night.