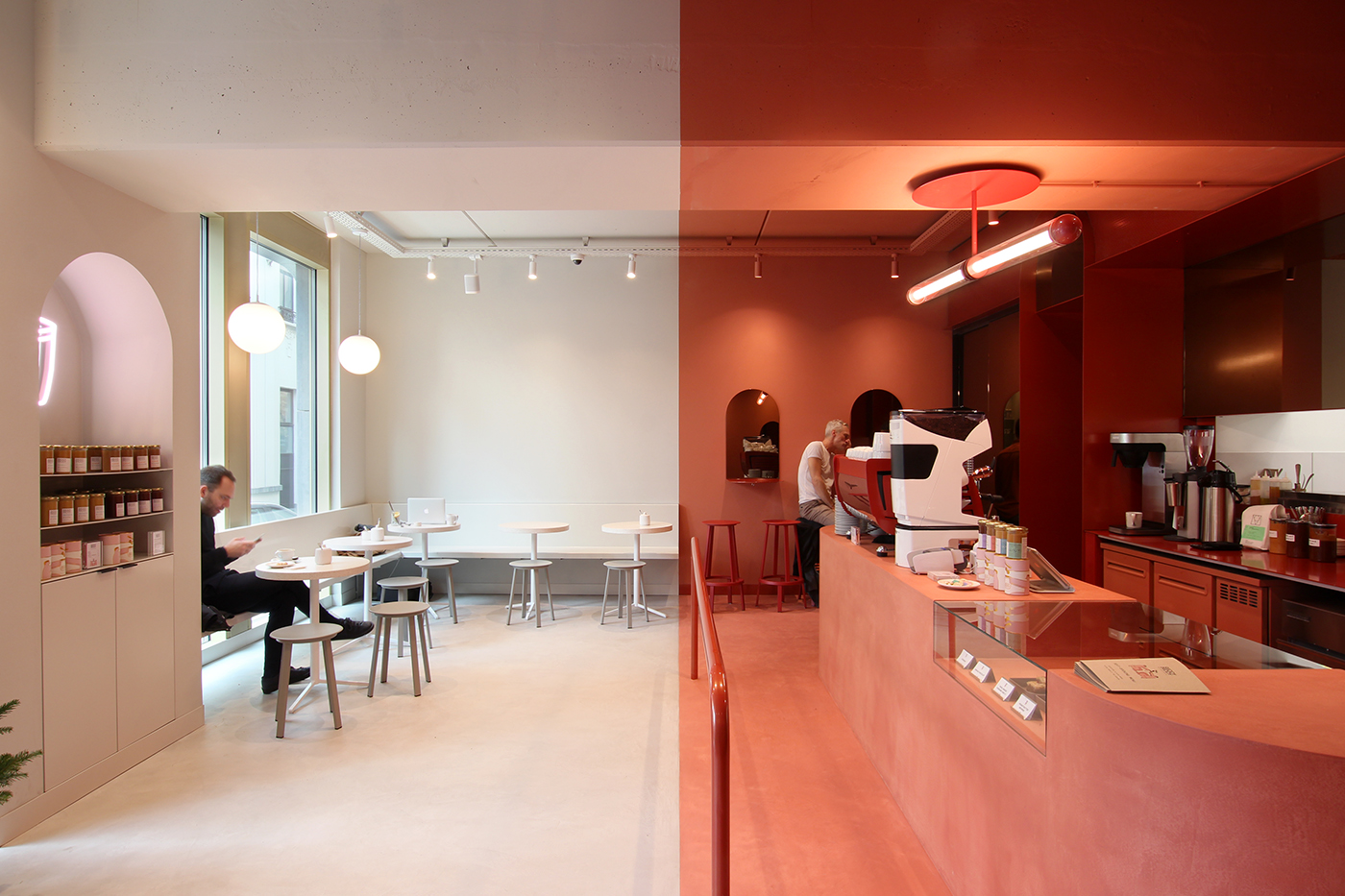 10 rue des drapiers, 1050 Ixelles
site web
everyday from 10am to 6pm
coffee : 2,70€ – 5,50€
toasts : 6,50 – 9,50€
breakfast : 7€ – 8,50€
We first got hooked by the interior design. Far from decoration trends we've seen pretty much everywhere for the past couple of years – including Scandinavian furniture and brick walls, Buddy Buddy clearly stands out. The small café, visually cut in half by its wall colors, is minimalist and modern, almost ahead of its time somehow. And here's why: in a city where everyone tends to work with the same talents, Julien (ex-Hinterland) and his partner Matt looked outside the box for creatives – Mexico-based design studio Futura for the brand identity, and Amsterdam architects Hop for the interior. Excellent reasons for us to make a detour.Once we got there, we dove into their super exciting menu. Excellent specialty coffee from Mok, but mostly, a range of handmade amazing nut butters. Not sure where we're going with this? Think tahine, and peanut butter with jam. But not only. Julien and Matt took their butters up at notch, preparing them themselves in their Brussels-based workshop, with only nuts, a hint of salt and lots of love. Find them in their signature coffees – with peanut butter, espresso, oat milk and agave syrup for example (5€), or in their sweet or savory toasts, like the one with hummus, almond butter, roasted eggplant and sesame seeds (8,50€). We tried the "Toasted Banana Bread" (7€), grilled banana bread with almond butter and raspberry chia jam – simply to die for. Both vegan and specialty coffee lovers, Matt and Julien had been struggling finding places that combined both worlds. That's where Buddy Buddy's idea came from. A great spot for coffee and more, perfectly located next to the Apple Store, where quality coffee was badly missing.