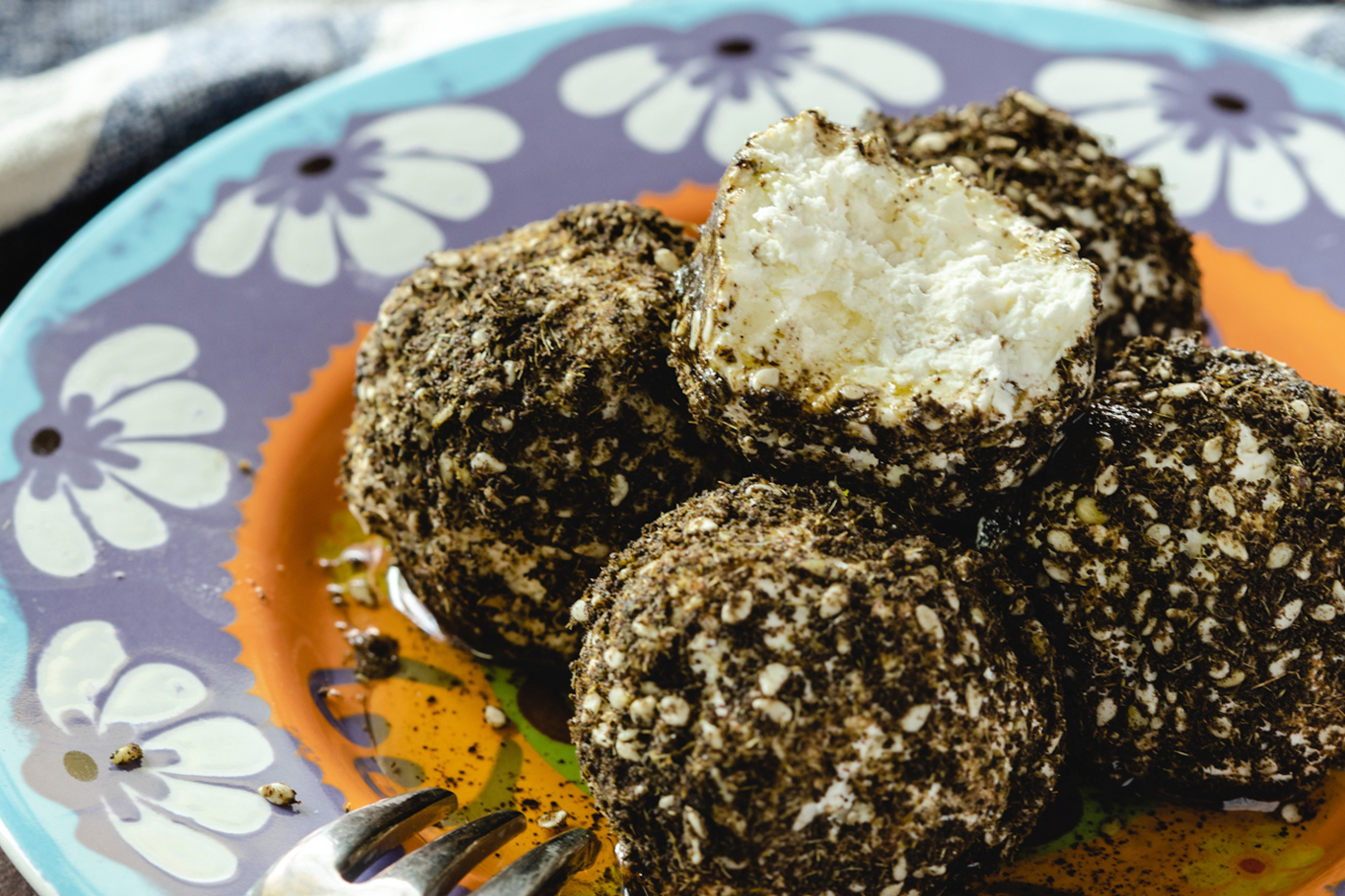 Half a kilo of yogurt
with minimum 10% fat
Gazi bran is ideal
2 tsp of salt flakes
Simona is the Mama we all love. The one who will insist you finish your plate when eating at her restaurant, not to pressure you or make you uncomfortable, but to make sure you've had enough to eat. The one wanting to bring us humus during the lockdown, all the way to our apartment. The one whose love and generosity shines through every one of her dishes and though each of her hugs. A chef, but mostly a beautiful person. A person for who cooking only makes sense if it is for the people she loves.
Today we're sharing with you one of her many recipes, so you can do the same with the people you love.
Homemade Labneh
Put the yogurt in a bowl, add the two teaspoons of salt flakes and mix. Pour the mixture in a clean kitchen cloth. Press it to squeeze the water out, then twist the ends and close it with a string. Hang above a bowl outside of the fridge for 24 hours. After 24 hours, the yogurt will have taken the form of a fresh cheese ball, smooth like mozzarella cheese. The cheese will become a little but sour, and that's important, that makes the flavor of the cheese.
This the basic recipe but you can add nigella seeds, sunflower seeds, or any dry seeds, dry nuts or dry spices, before hanging it in the cloth.
For a sweet version, you can add honey or even nuts – but make sure the nuts are chopped very finely when mixing with the yogurt, before the whole hanging process.
To obtain the same result as in the photo, prepare the classic recipe, with salt only. With wet hands, fashion small balls of cheese and roll them in Zaatar and sesame, then store them covered in olive oil in a closed container in the fridge. You can keep them up to two weeks.
The original Labneh is Arabic cheese, from Lebanon, from Syria, from Palestine. Because it originated from hot countries, it required a fast making process and a light and fresh texture. Labneh is a very light cheese.
When I was a kid, my mother used to make lots of them, because we were a huge family. She would hang them outside on the trees in our garden.
After arriving in Belgium, I cooked for a wedding here and did the same thing. All my trees were full of hanging Labneh cheese.
It's possible to make Labneh with sheep or goat yogurt too, but it will need to hang for 48 hours, as it has less fat in it.
If you want to make it with sheep or yogurt instead, it's possible, but it needs to hang for 48 hours, because the yogurt is not as fat so it needs to hang longer.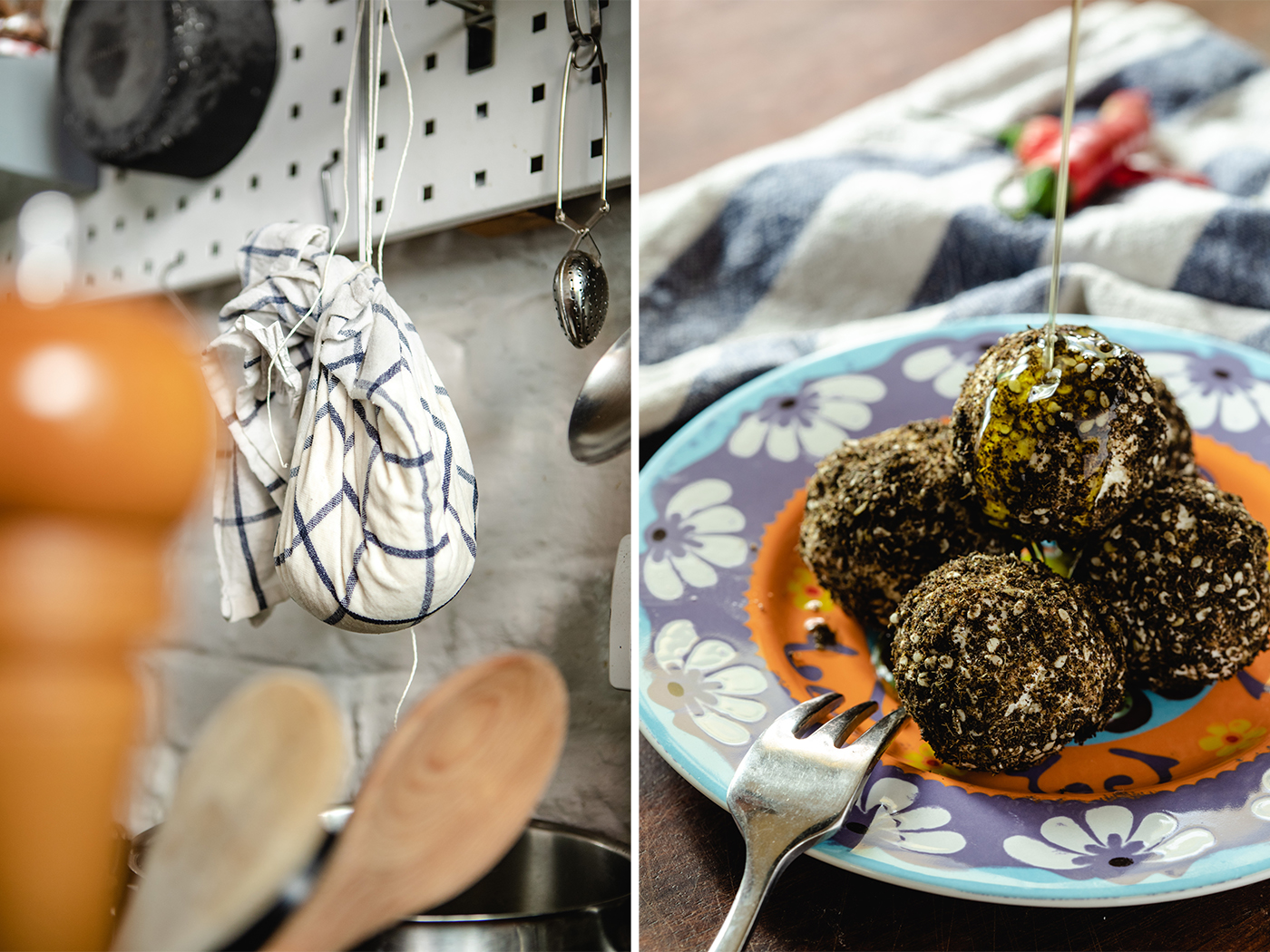 Can you tell us more?
I'm a life-enthusiast, but I'm especially a food enthusiast. I opened Kitchen 151 almost 6 years ago now. The last two years I took it completely to where I come from: Israel. At the beginning it was more about the whole of Mediterranean cuisine. Now I cook things close to where I'm from, what I had when I was growing as a child. I'm a passionate person, I cannot hide it. My food is very simple; I call it simple food. Because I believe food needs to be simple, even though I can enjoy 3-Michelin star restaurants too and I love discovering new things.
I love Gin & Tonic, and having fun in general. I'm also very proud of where I come from. My parents were born in Morocco and that's a very big part of my culture, which I'm very proud of. Sometimes I cook Moroccan dishes but very differently. I you have couscous in Kitchen 151, it will be nothing like the couscous you know.
Your strongest food memory?
Food memory for me is a smell. It's not a specific dish, but a smell. For me it's the smell of Shabbat. When I was a child, my mother used to make a dish that would cook for 24 hours on an gas stove – because you're not supposed to use electricity during Shabbat. The name of the dish is "Schina" or "Chamin" in Hebrew. The smell is absolutely amazing. I used to wake up in the middle of the night, wanting to go grab some from the kitchen and couldn't, because it wasn't ready yet. So I would go back to sleep, with this amazing smell around me.
There is beef, garlic, chickpeas, beans, potatoes, eggs, slow cooked sausages. So many things are in that dish, and they all slow-cook together for 24 hours. At the end, you even add a little bit of dates too. It's amazing, simply amazing.
Your favorite place in Brussels?
Humphrey is where I've spent my time in the past half-year. Glen changes the menu all the time, and I like the Filipino cuisine, and discovering new things. As a chef, I don't have much time to go out, so when I do, I look for a place where I'll find people I can have drinks with, and eat with. They're friends and I just love to go there and eat with them. I'm always looking for a place with a strong atmosphere, a place where things happen, with loud music, great food, etc. I also love going to eat at Racines, and see Francesco. And at David's at La Paix. Even though he's a two-Michelin starred chef, he's different. Super welcoming, super warm. I like places like that, where you feel truly welcomed by the chef or the owner. Maru is different, there is no one to talk to there but their food is amazing. But most times, I'll go see the people I like, because I don't have much time and that's what I'd rather do with my time. When we do the Brunch Club together, I get to discover new things, which I love. Before we also used to eat a lot at Damien's at Bouchéry, also at their buffet for lunch. And I also love Nikola Koulepis' Greek pastries. Those are the ones I always go for when I visit him.