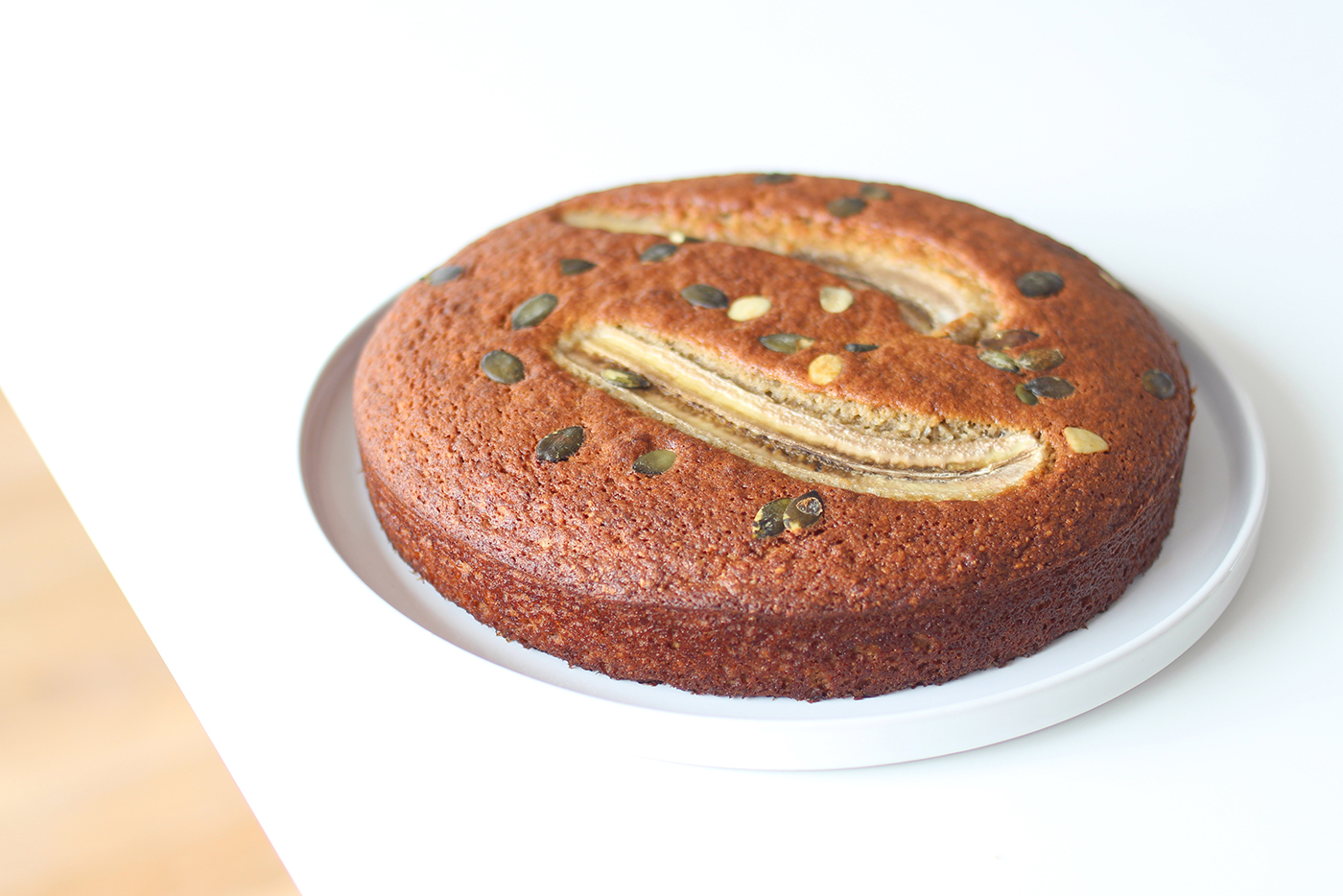 3 large ripe bananas + 1 to decorate
3 eggs
1tsp baking powder
150g cane sugar
100g almond flour
100g whole rice flour
1 tsp vanilla extract
115g melted coconut oil
1 tsp fresh grated ginger
½ tsp salt

 
Charlotte Collard is the girl behind a stylish Instagram feed, combining fashion photos and healthy kid-friendly recipes to perfection. She also has three kids of her own, which doesn't stop her from anything she sets her mind to – whether it is a 20-year long career in modeling or being a tv host cooking with the most renowned Michelin starred chefs. We could easily hate her if she wasn't just the sweetest person in the world.
Today, she shares with us her already famous banana bread recipe, which you have been asking for over a week now, ever since I posted it on Brussels' Kitchen's Instagram stories. Well there you go.
Banana bread
Preheat the oven at 160 °C. In a big bowl, smash the ripe bananas with a fork, then add the sugar and mix well. Add the three eggs, and whisk thoroughly until reaching an almost even consistency. Add the melted coconut oil, and the vanilla extract. In a different bowl, mix the rest of the dry ingredients: baking powder, almond flour, rice flour, salt. Then add it all to the first bowl. With a Microplane or a cheese grater, add a teaspoon of fresh ginger into the bowl. Pour the mixture into a mold covered with a baking sheet, or a silicon mold easy to remove. Decorate with half a banana sliced lengthways, pumpkin seeds or some nuts. Cook for 30 minutes at 160°C.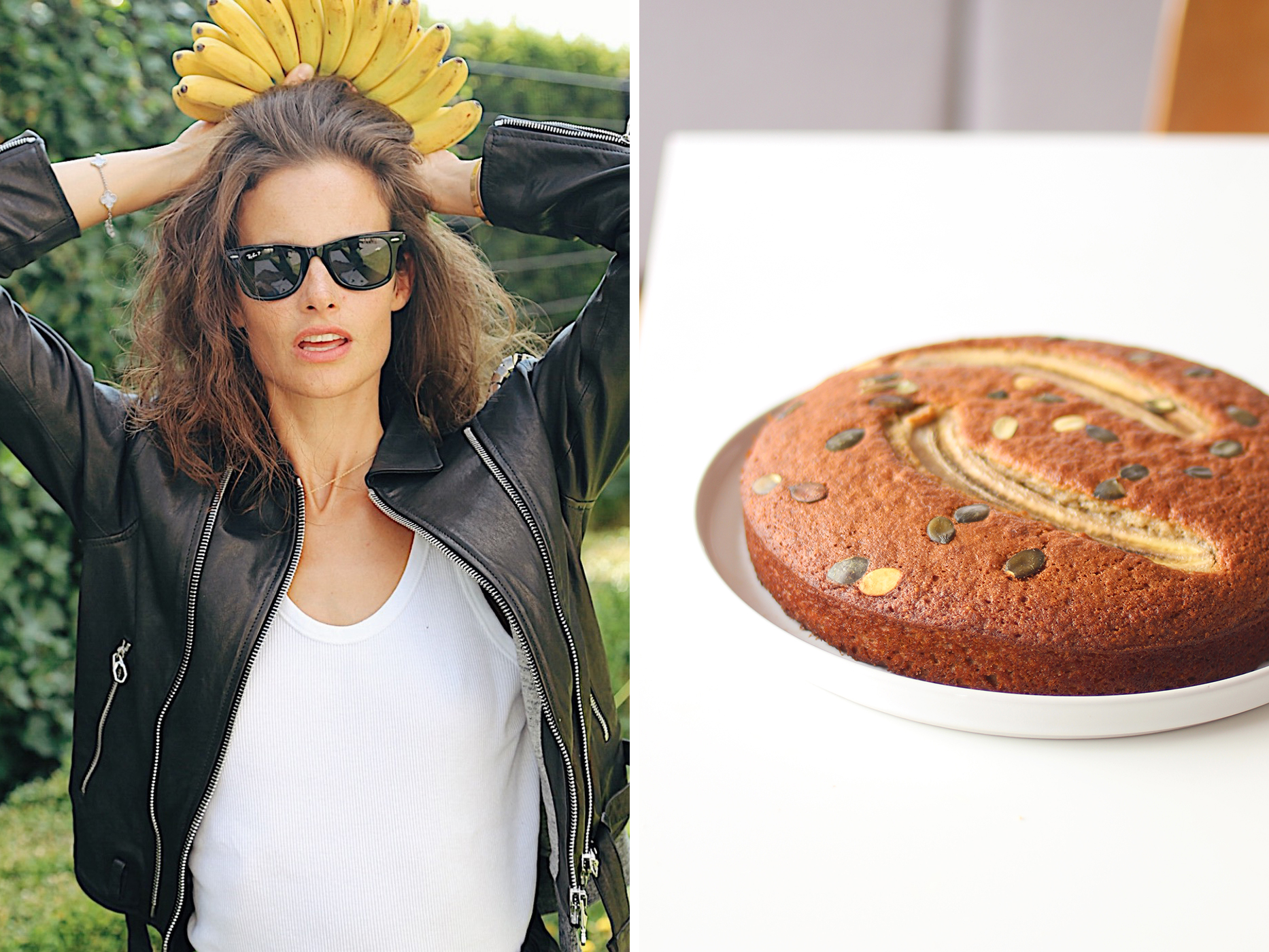 Can you tell us more?
I'm an ex-model, mom of three little girls, and I studied to be a gemologist. I used to be in tech too, but in 2016, I launched my Instagram account, mixing and matching fashion and food. I was in modelling for 20 years, and had to learn to eat healthy. I used to have a grandfather in Canada, close to Montréal, in the city of Mont Tremblant, who do everything homemade. We used to go about two months each year, with the family and friends. We would pick all the vegetables and fresh herbs from his garden. He also had a pond, where he would go fishing for salmon trout. We would pick up the eggs from the chicken, pick fresh blueberries in the forest and he would go hunting for moose. In the morning he'd wake us up at 5 to make fresh bread. He's the one who gave his passion for cooking.
So I launched the Instagram account and it took off really well. It started with the magazine L'Officiel in Paris, for who I pitched the idea to cook with Michelin-starred chefs, then I was hired for the rtbf for a similar idea, cooking family recipes with Michelin-starred chefs in their own kitchens. And last June, I was called by the Michelin guide to launch their California guide with them as a TV host.
How are you doing with the lockdown?
It gave me the chance to find new ways of collaborating with brands through lives, there are so many brands – beauty, lifestyle, and even hotels or fashion brands – contacting me now to ask me to give live cooking classes on their Instagram accounts. I think it's extremely important to keep on communicating with our audiences during this period, and as a brand, to not only focus on selling its own products but also on sharing inspiring content. Lots of people need to find the confidence to cook from home again.
She'll be live today on Little Guest Collection's instagram account baking cookies, or the rest of the week on the lives of Garnier, Nakd or Delbôve.
Your strongest food memory?
Definitely with my grandfather, baking bread at 5 in the morning, and the smell of fresh bread. But also the one dish that really marked me was the pasta carbonara from Osteria Romana, in a beautiful setting. The perfect combination of good and beautiful. Quality ingredients, simple cooking yet with the best Italian classics. For me it's the best. And the fact that it's brought to your table in a copper pan, is just amazing. Everything is simply perfect from start to finish.
Your favorite place in Brussels?
Au Savoy and Odette en Ville. Odette when I go out with my girlfriends, for a drink, a girl's night, or even with my boyfriend. Au Savoy, I love their classic style, I think the terrace is just outstanding, and I love the decoration. And even if I love to eat healthy, a plate of fries and good "américain" is something I love. I love going back to the sources like that. And Chez Odette, I love their baos, their spring rolls, and also, to me, it's one of the only places with a true festive side in Brussels, bringing a feeling that this is the place where things are going to happen.