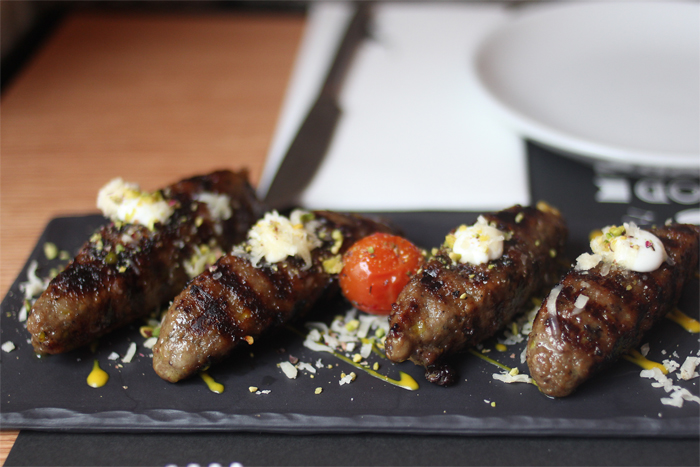 1 RUE DU PARNASSE, 1050 BRUXELLES
02 502 92 77 – SITE WEB – livraison
OPEN MONDAY TO FRIDAY FROM 12 PM TO 3 PM,
MONDAY TO SATURDAY 6:30 PM TO 11 PM
A monday night, a few weeks following its opening, we really wanted to go and try Ergon's cuisine, the restaurant recently located near Place du Luxembourg.
We'd already heard so much about the place, but I was still worried it would be quite empty on a monday night. Well it really wasn't.
The restaurant was almost completely full, except for this one little table that was waiting for the two of us.
A Greek wine selection, mezze, grilled meat and fish and a few pasta and risotto dishes. We pick four items in the menu, which later clearly appeared to be more than enough for the two of us. Their baseline "Food tastes better shared" clearly makes sense here. The Greek classics are slightly twisted into something more elegant. The great meatballs are prepared with pistachios and raisins, and served with lavender flavored mustard from Thessaloniki, our biggest crush so far. We also order Saganaki shrimps (with tomato sauce and feta cheese), grilled squids with Santorini fava beans purée and tomato jam, and stuffed vine leaves served with fresh yoghurt.
Our judgement is unanimous, everything is simply amazing. Along with two glasses of Greek white wine, this almost feels like perfection.
The place is similar to its food : simple, yet elegant and generous, and an excellent value for money. The place is sober yet warm and cosy, lightened by nude lightbulbs, and the walls are covered in shelves filled with Greek produce. The service is welcoming and efficient, and the owner will come and check at your table that everything is going smoothly. Just run for it.