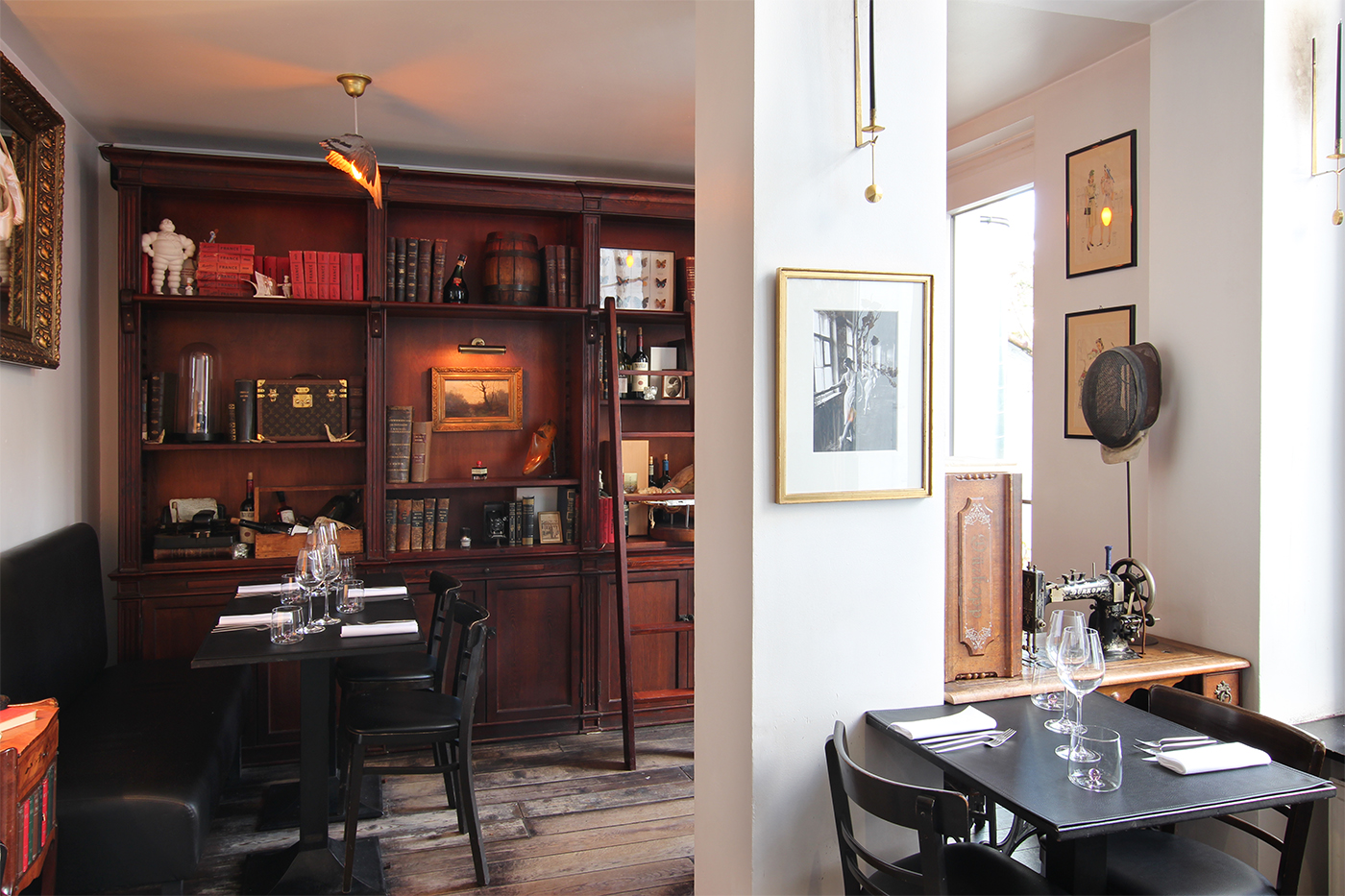 11 avenue Legrand, 1000 Bruxelles
02 648 13 95 – WEBSITE
open thursday and friday from 12pm to 2:30pm and from 7 to 11pm,
thuesday, wednesday and saturday from 7 to 11pm
A visit to this little gem on avenue Legrand had been long overdue for us – five years already had Osteria Roma been a well-hidden secret. Though the prices of this Italian osteria are rather on the expensive side for Brussels, the setting and the presentation – or the scenography we might even say – of the dishes, clearly make up for the bill.
First, the decoration, which has been thought of till the slightest details : first, three rooms with high ceilings, columns, and original tiles kept on the floor. Then, the dark and deep colours of the walls, and a sufficient number of vintage objects to make you think you've stepped into an antique shop. A vintage sewing machine, crystal glasses inside an old bar cart, framed butterflies standing inside an old bookshelf – all of which contributing to making this restaurant as charming as it could. On the food side, we went for the menu Dell'Oste (65€ for 4 courses with a bottle of champagne for 2) – and that's when surprises started to arise. The cheese from Piémont was brought to our table on a little wooden mouse trap, the fried artichokes on a vine branch and the lentil and Wagyu soups in beautiful ceramic bowls, imitating sea urchin skulls to perfection. The olives, hidden in dense rosemary smoke, were the last touch to this beautiful set of starters. At that point, we were already truly impressed. Then came a Wagyu beef carpaccio (30€ when ordered outside the menu) and pasta carbonara served in the pan, hot and steaming. We particularly loved that you could order your carbonara pasta by weight, depending on how hungry you are (from 12 to 50€, from 50 to 250g). After having spent a few years in Osaka, the chef Filippo La Vecchia has mastered the art of adding a few Japanese touches here and there to his Italian menu – with Wagyu beef, edamame beans or even Kobe beef amongst the ingredients. Another reason to step into Osteria Romana.