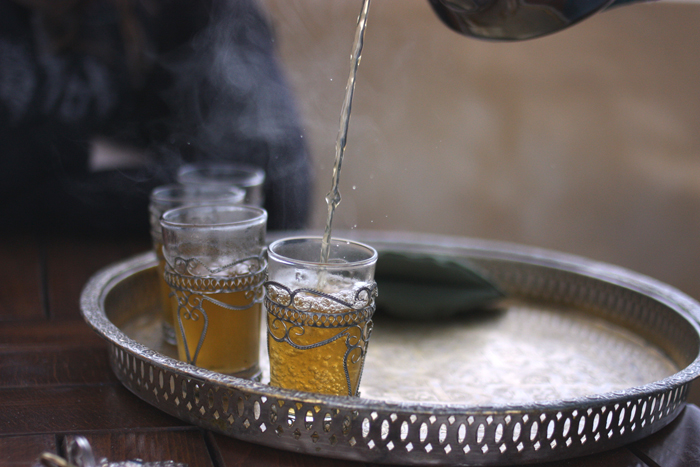 Here's finally a little summary from out trip to Fes, with tons of pictures of course.
We've been back for about a week now from this trip offered by Riad Anata, with plenty of Kilim carpets and leather goods in our bags.
Everything started off pretty well when we were welcomed at the airport by the taxi driver with a Brussel's Kitchen sign!
Then we arrived at the Riad and discovered a beautiful and intimate place, decorated with style, with a rooftop terrace bathing in sunlight where we had our first fresh mint tea.
Though the weather wasn't always great, we did have a really great stay. The people were just really nice and even helpful, everywhere we went.
Fez's Medina is huge, it's the biggest in the arab world. We only got to see a small part of it, but it was enough to bring back great objects, and to discover beautiful riads, hidden behind dusty walls without any windows.
About that, we were told some explanations about this mystery keeping architecture. Originally, when the city was built, the architecture had the will to keep women inside. To do so, they built the streets with really poor esthetics, where as behind the walls, amazing gardens and riads were being constructed.
This is also why its quite difficult to find good restaurants to eat out at night in Fes, as people are used to stay indoors. We did find however an amazing place, The "Resto 7", held by a french chef.
They mixed mediterranean and moroccan cuisine, and I had the best green vegetables couscous I've ever had in my life.
We also had the chance to enjoy a cooking class at the Riad Anata, with Samira, the adorable cook from the hotel. We made lamb and zucchini tajine with zatar, carrot salad and eggplant salad.
We bought all the ingredients at the market the same morning, and were guided through tons of very small little streets, thanks to Samira.
Tips for the trip
– Take a Ryanair flight
– Eat at Resto 7. The door is closed, its normal. You have to knock.
– Have a guide show you the jewish neighborhood
– Eat in tiny modest restaurants next to Bab Boujloud. They serve great Tajine and pastilles, from 3 euros.
– Eat at Café clock for lunch, rooftop terrace over rooftop terrace.
– Have a moroccan cooking class, with Samira if you can
– Get lost and don't get scared, people are nice. just avoid the "tanneur" quarter
– Enjoy!