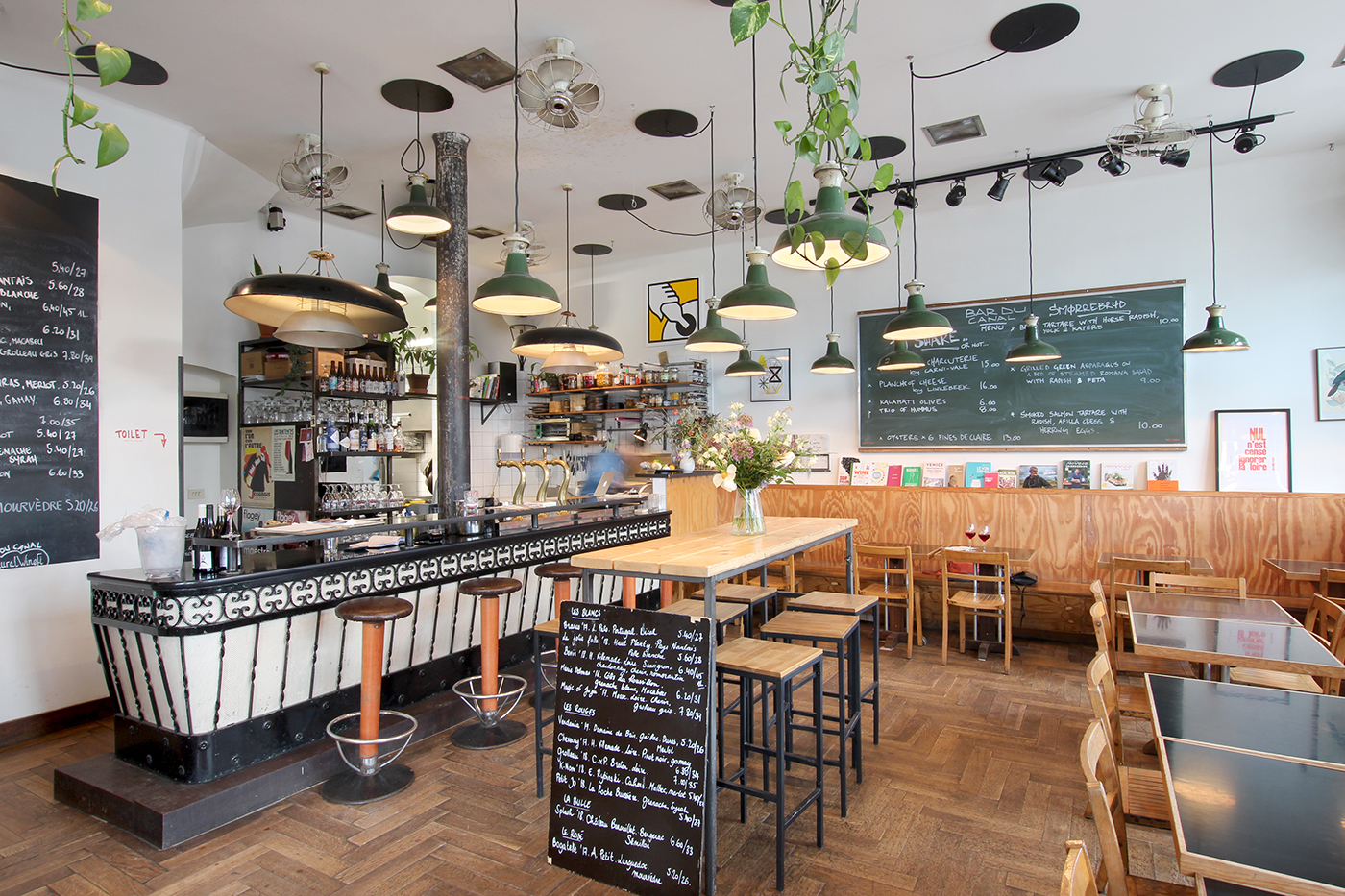 208 Rue Antoine Dansaert, 1000 Brussels
02 355 53 73 – site web
from tuesday to sunday, from 5pm to 11pm
We weren't really expecting to find Smørrebrød (pronounce "s'marble"), those Danish black bread toasts covered with millions of delicious things, when we walked into Le Bar du Canal. Neither were we expecting to find over 80 different references of natural wines, carefully picked by Bjark and his sommelier Léa Roussel, and supplied by Mathieu from Vins Naturels. In this light-filled corner bar, not really on Dansaert anymore but not quite on the canal either, the only thing we were really expecting was a cool neighborhood bar, where we'd be warmly welcome for a drink after a long day.
And we were not disappointed. As we sat under the hanging plants and the green enamel lamps, we couldn't help but notice the striking difference with the outside. Outside, the rain was pouring hard, the traffic was intense and the cars' headlights were slowly blending with the street lights. Inside, the atmosphere is warm and laid back, miles away from the chaos, and though the night's not quite here yet, it seems to be precisely the right time for a drink. Time to look at the menu too. Cheese and ham boards are here (15-16€), and so are the Fine de Claire oysters (13€). Not so surprising as we learn that before taking over Bar du Canal, Bjark had launched the oyster and Smørrebrød bar right next to La Mer du Nord. This time though, we're mainly interested by the famous black breads: beef tartar with egg yolk and horseradish (10€), asparagus with radish and feta (9€), or smoked salmon tartar with herring eggs (10€). We follow Bjark's advice and order the asparagus. And a board of mixed ham and cheese too, with an English blue cheese-cheddar leaving us speechless, paired with two glasses of 100% Grolleau by Catherine and Pierre Breton, a delicious fruity red, simply perfect. The place is great, and so is the food and the wine. We just can't wait to be back.