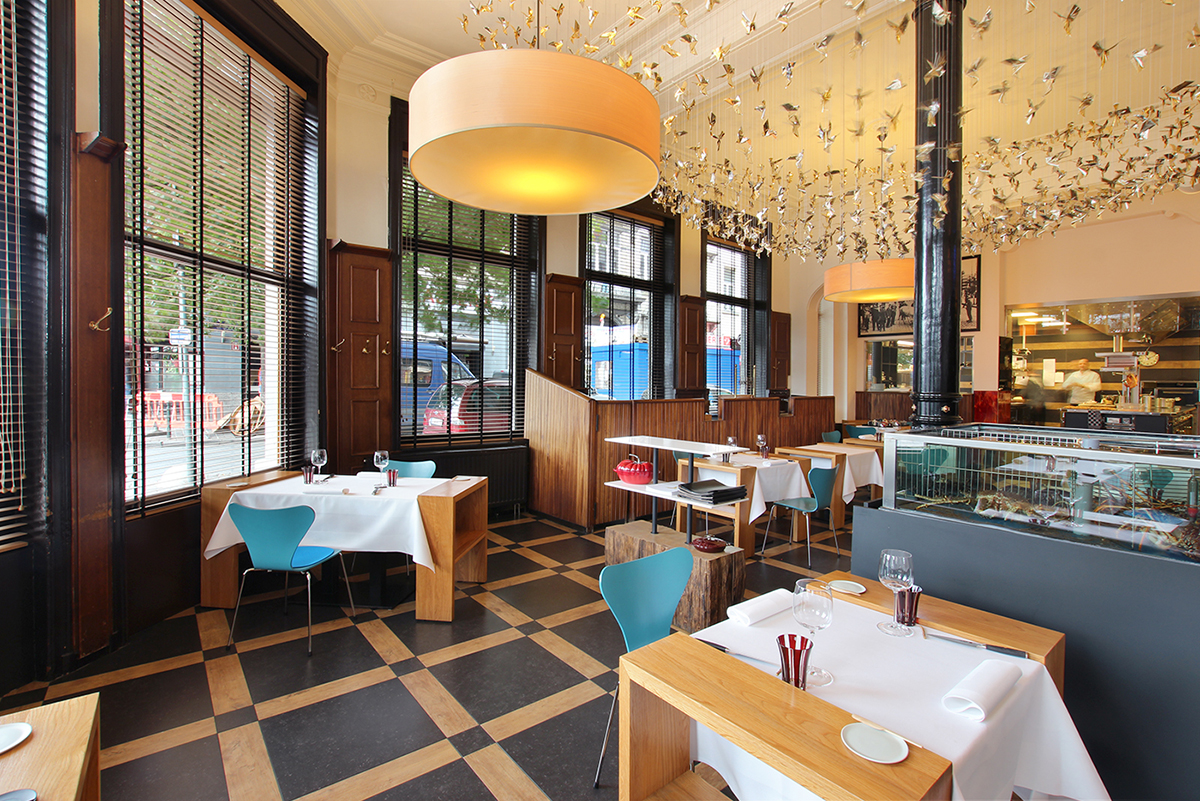 49 rue Ropsy Chaudron, 1070 Bruxelles
02 523 09 58 – site web
Du mardi au vendredi de 12H à 13h30,
jeudi et vendredi soir de 19h à 20h30
lunch 3 services à 75€
menu 6 services à 185€
David's loud voice echoes across the room as we enter his restaurant, an hour before the beginning of service. It should simmer long enough to become a thick sauce, he says, to one of his cooks. The chef, owner of the restaurant for over 12 years now, is just as charismatic as his restaurant. What we notice after, is the bright pink Jupiler neon sign, still hung above the bar, most probably a long kept treasure from its previous owners. Then comes the aquarium, standing proud and tall in the middle of the room, giving the place a bit of a seafood or even a Chinese restaurant look.
The old "brasserie" (local restaurant) that used to be, is very different today. When David Martin bought the restaurant, he initially thought he would leave it as such. Over 130 seats, good meats, ranging from the traditional "américain-frites" to big rib steaks, and customers he often had to turn down as the restaurant was always full. Then, one step at a time, the chef who is now renowned for his two Michelin stars, his title as Gault & Millaut chef of the year and for being ambassador and jury for the San Pellegrino Young Chefs, started bringing "daily specials" into his super-classic menu. But that didn't work. Customers kept on coming for the steaks, and very few of them would turn to the specials. Then one day, returning from one of his trips to Japan, he radically changed the menu, and the whole restaurant. Almost a hundred seats got removed, and the meat classics gave way to unique tasting menus paired with great wines, leaving anyone feeling as if they'd just had an extraordinary experience. The only thing that was left from the past, was the aquarium in the center, now hosting a huge Alaska Snow Crab, and giant lobsters from Madagascar. And the Jupiler neon sign, of course.
The lobster from our menu, came from Britany and was paired with caviar and straciatella and presented in a pretty lemon (not sure it was worth the 50€ extra from the initial menu tough). But what we loved and remember the most, was the Chawanmushi, a steamed Japanese flan with dashi – simply incredible. So was the starter of the menu, a pork pastrami gyoza with cordicèpes mushrooms and Bouchot mussels sauce. It was like tiny explosions all along. Explosions of flavors, of textures, of broth and sauces. Simply a fantastic dish. It was also clearly inspired by Japanese cooking, and when we spoke to David about it, what he said was that he never made Japanese food, but his food was truly inspired by it. In the end, the only thing that mattered was that the food was simply excellent – from the quality of the ingredients really to tell, to the techniques and research behind every single recipe. We'll also remember the service, light and delicate, that felt as though we were watching a ballet. Everything seemed so smooth, and it really was. What can we say except that it is a great restaurant, definitely to keep for great occasions.