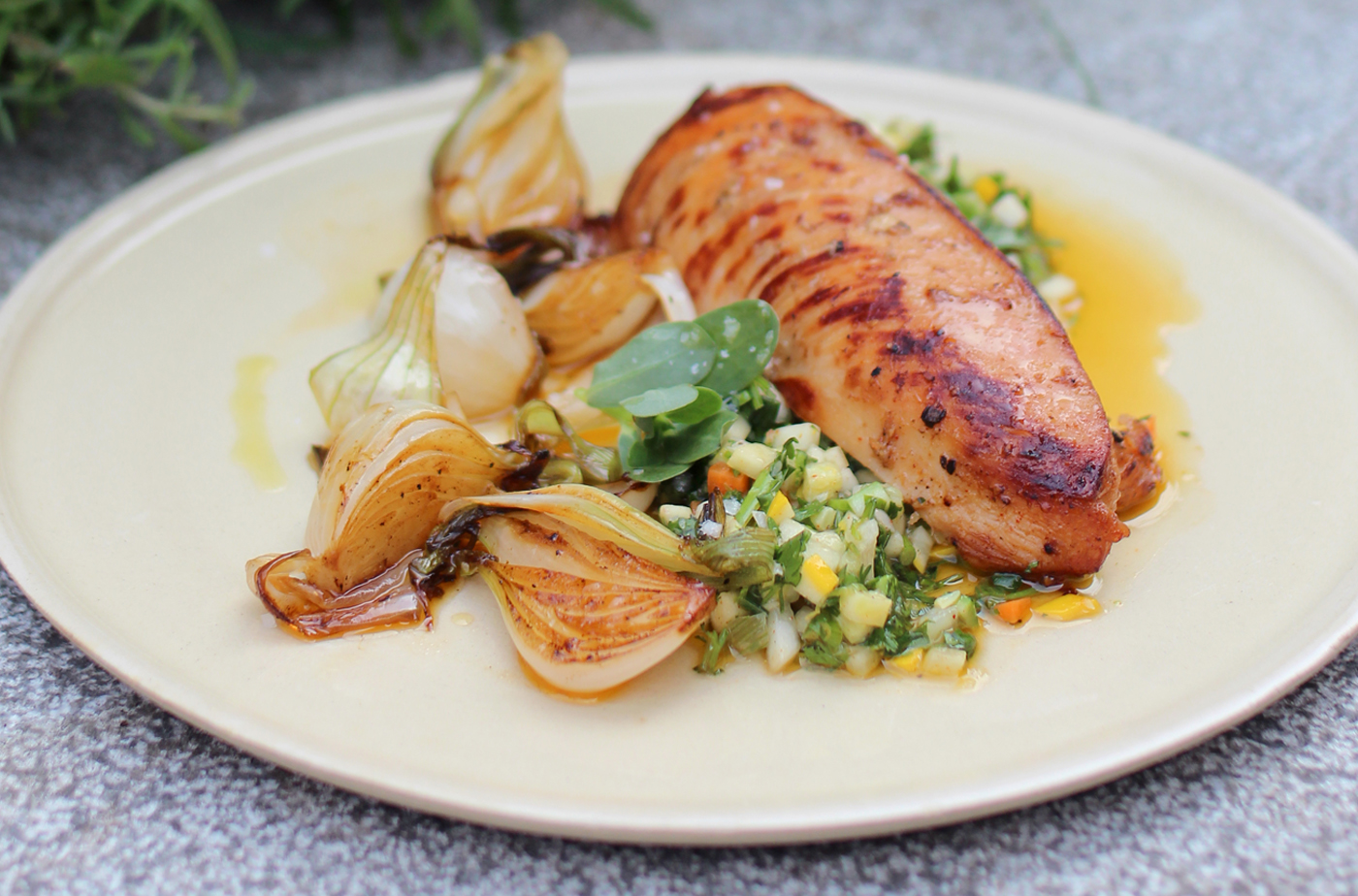 for 2 people
Chicken :
2 chciken breasts
a smoker
salt
pepper
paprika powder
Chimichurri :
1 green zucchini
2 yellow zucchini
1/2 carrot
spring onions
flat leaf parsley
coriander
olive oil
garlic
lemon
fresh chilies
We came across Smala Cooking, a delicious gourmet catering service launched by Anaïs and Arth, two super dynamic girl-entrepreneurs, in the heart of Saint-Gilles. You can go to their atelier for drinks on Wednesday nights, attend their cooking classes
or join one of their Resto Nomades which they organize regularly in Brussels. Smala Farming was set up in 2019, becoming the first 100% organic supplier of Smala Cooking. The perfect loop.
Smoked chicken, burnt onions and chicmichurri
Chimichurri is a type of Latin American salsa. The basic ingredients are garlic, chilli, onions, herbs and olive oil. I add finely chopped vegetables, according to the season. For today's chimichurri, I used green and yellow zucchinis, a carrot and spring onions. And all these vegetables come from our field. I marinate the chicken breasts with olive oil, salt, pepper and paprika. You have to fry them a bit in the pan before putting them in the smoker, basically to give them color. You can smoke them with different types of wood or even thyme. Put the small pieces of wood under the grill in the smoker, no need to light them – the heat of the fire will do that. Then comes the metal plate and finally the chicken on top. Close everything and put it on the stove. First cook it for 2 minutes at full heat and then lower for 5 minutes until you see smoke come out. Wait another 5 minutes and take it out to see if it is done.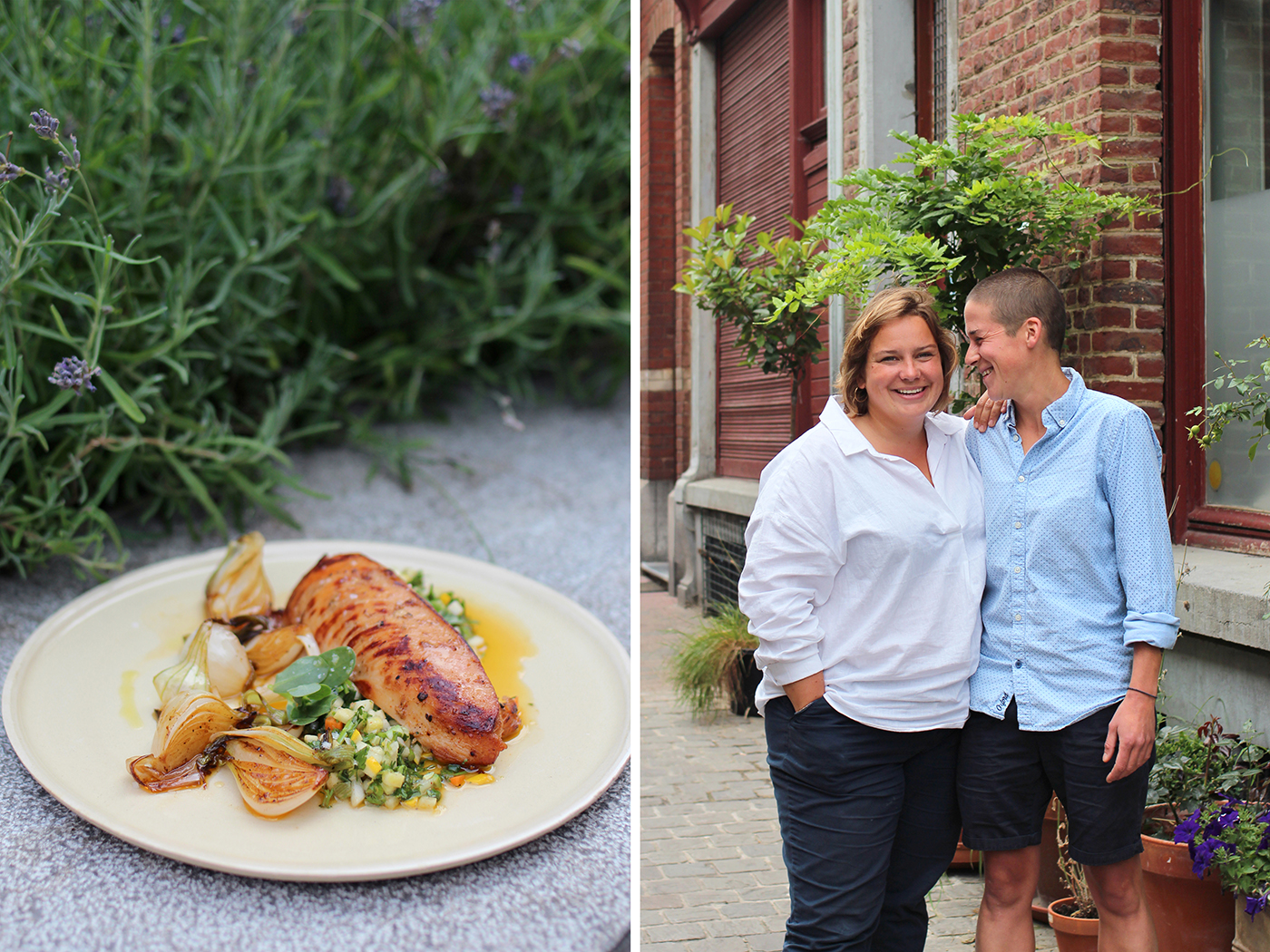 Can you tell us more?
Anaïs : There's always a family side to cooking and that's why Smala is called Smala. When we were young, my mother would say "Allez la smala", à table ! There was just something about that,
synonymous with the conviviality around food. The table is the center of family life, for better or worse. It's the place you meet, talk and sometimes even yell at each other. There is this very strong link, I find, between food and humans. Our biggest wow moment is when guests leave after dining at Smala with a big smile on their faces. This is why we do what we do, why we get up each morning. Arth : My biggest gift is that people are starting to know us and they call us because they've tasted our food somewhere else, and they want more.
Your strongest food memory?
Arth : I have several, but my most memorable goes back to my childhood. There are smells and tastes you never forget. My grandmother used to cook Spanish Asturian food and there are specific taste tracers that are just completely different. And I always notice them immediately. Just a couple of days ago I made a pork roast with paprika and zucchini and I immediately found this taste that I associate with my grandmother's cooking. Anaïs : I realized that I wanted to cook food for people when I was cooking for the Scouts. I remember that they were always super happy because they would eat good stuff. I would make vegetables and cool things. It's cool because, sometimes you think you'll just have no choice but eat bad food, but if there are people who love to cook, you can always eat well anywhere. This was the beginning of it all, I think. Feeding people and making them happy makes me happy.
Your favorite place to eat out in Brussels?
We often go to Le 203, we just love what they do : the small menu, the friendly atmosphere, plus they're really adorable. And we love open kitchen concepts. We go a bit too often to restaurants, it's a bit outrageous. Otherwise it's Racines. We really notice the extremely high quality of their products. We don't particularly look for a fancy place, just a place with a strong identity in their cooking.