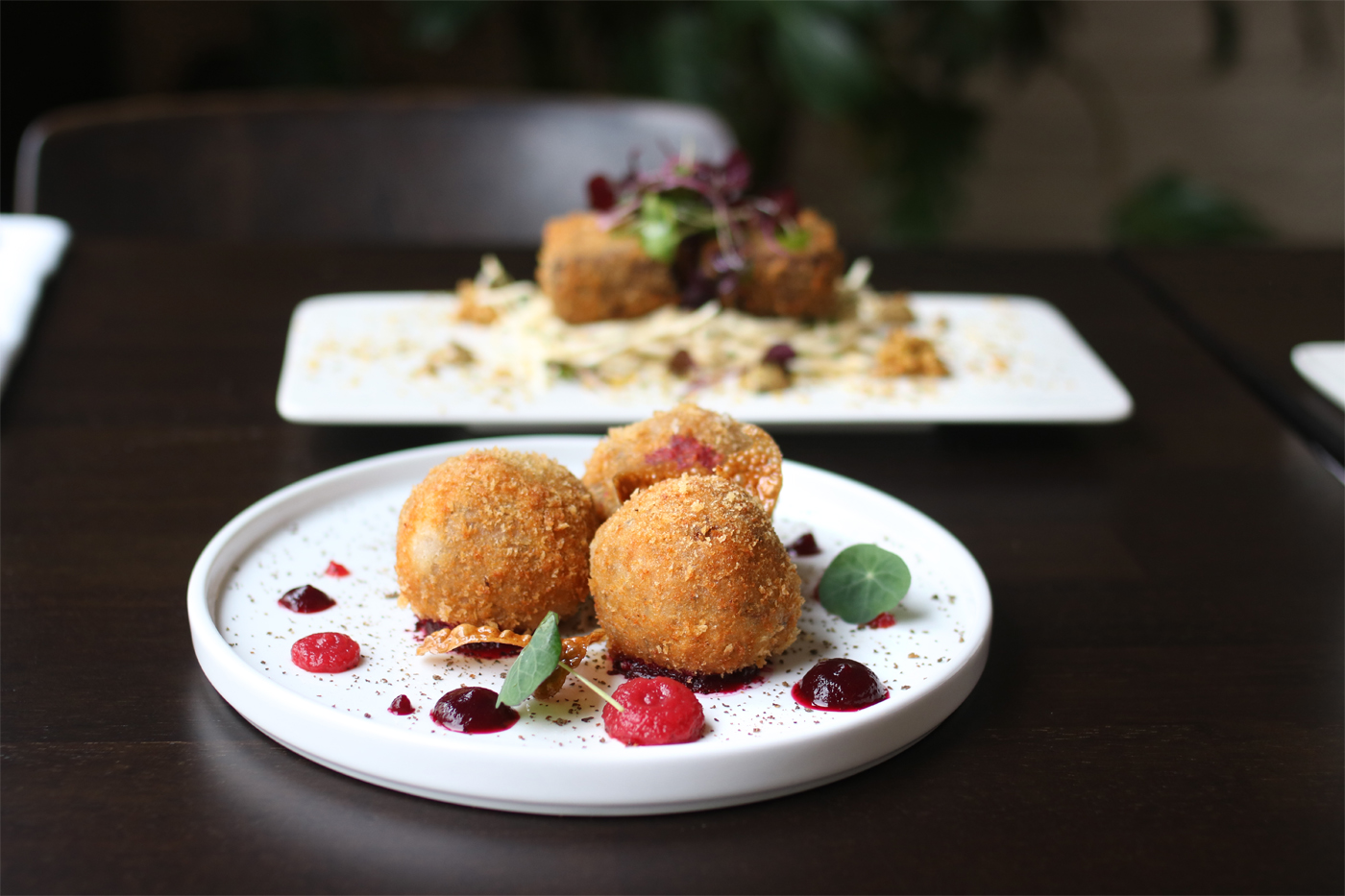 74-76 rue Washington, 1050 IXELLES
02 270 99 54 – website
OPEN FROM MONDAY TO SATURDAY ONLY IN THE EVENING
We were already quite familiar with chef's Paul Delrez's cuisine from La Guinguette en Ville, and we fell in love with his second venue: La Maison Blanche. You will probably need to know where you set foot before stepping into the house, slightly set back from the street and accessible through a cobbled alley. But though this could be just another one of the many places opening in the Châtelain area, we'll head to La Maison Blanche to enjoy Paul's authentic and delicious cuisine, whatever the neighbourhood.
You'll find a similar rather classic menu on the left page (think homemade fish & chips and "américain-frites"), and a more creative and seasonal approach to new-age cuisine on the right page, the reason why we generally make our way downtown. But for this second venue, the team specialized in something more : cocktails and croquettes. To eat together for a perfect start of the night on the ground floor, or as part of full meal in the mezzanine upstairs, you decide. The house has been entirely renovated and now offers a cocktail bar, where we'll happily order a side of crispy croquettes (from 12 to 14€) along with our Moscow Mule (11€).
The choice being almost impossible to make, we order three different versions, knowingly leaving behind the amazing shrimp croquettes, already approved years ago. Beetroot risotto with wild mushrooms (12€), beef stew with celeriac and mustard (14€) and Iberico ham with Manchego and pequillo coulis (14€), all turned into small balls than rolled into breadcrumbs. The croquettes are perfectly crispy and the fillings delicious, it's pure heaven. We "finish off" with wild duck filet with chioggia beetroots (25€) and roasted sea bream on caponata and fregola (26€).
La Maison Blanche is definitely the proud sister of La Guinguette en Ville, mastering the same cooking techniques and exquisite ingredient pairings, with a little extra folly and excellent croquette and cocktail bar as a definite plus.