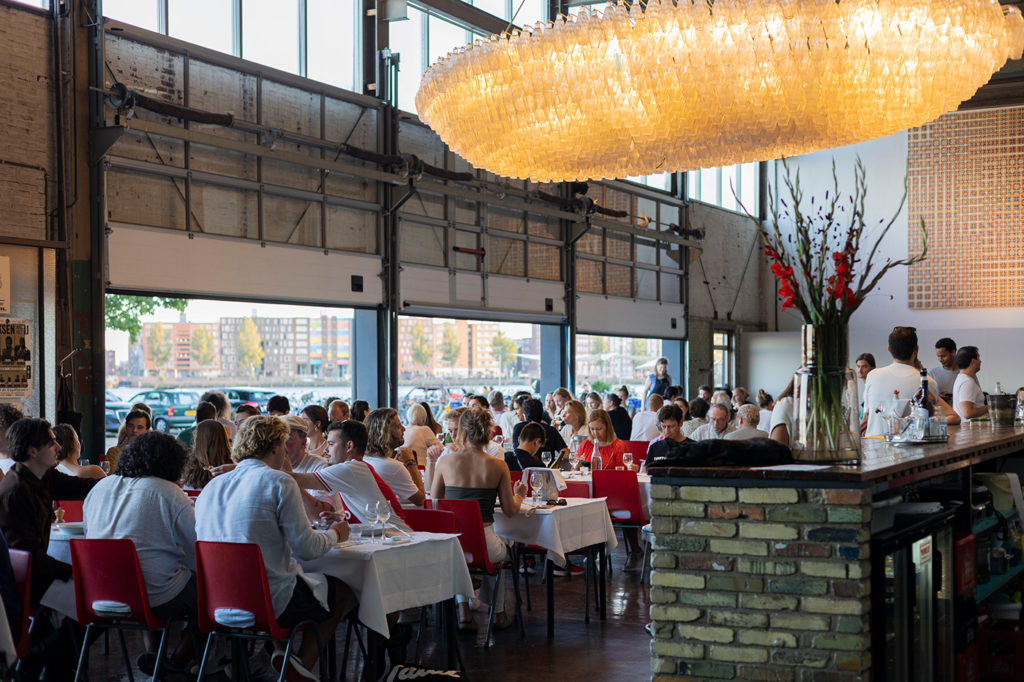 3 days in Amsterdam
with the Brussels' Kitchen team 
4 restaurants, 2 cafés
and dozens of bike rides
Maybe you've seen it on Instagram – the Brussels' Kitchen team decided to stop by Amsterdam for a couple of days this Summer. The idea? Brainstorm for the coming winter projects, drink, eat, discovr the city with our bikes, get inspired, and then eat and drink some more.
We couldn't help ourselves: we got you quite a few amazing spots you should definitely try on your next visit.
Let's go.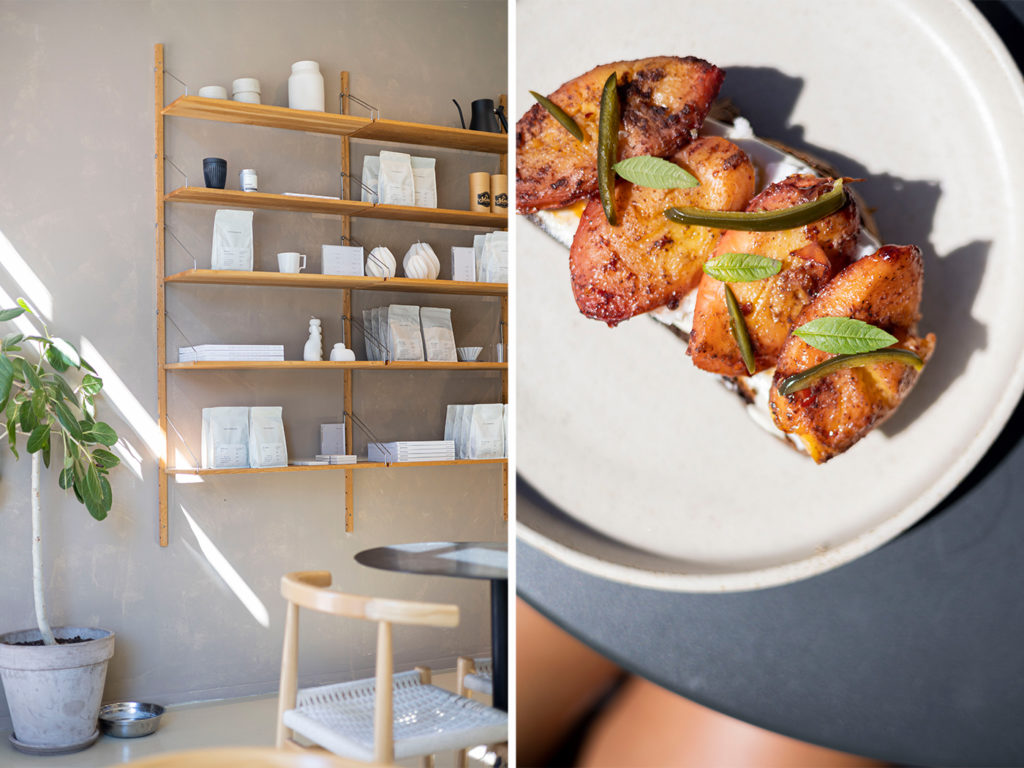 Uncommon
Café de spécialité & lunch de saison.
As we sat outside under the burning sun, we started by order two coconut cold brew (4,50€), the house special. It was super refreshing, perfect for the weather. We continued by sharing two of their delicious toasts – sharing is pretty much the essence, here at Brussels' Kitchen's – on sourdough bread. Smoked cheese, barbecued cabbage, kimchi and crunchy kale (13€) and roasted peaches, whipped feta, lemon verbena and cashew cream (13€). Both were a-ma-zing.
Inside, the decoration is pretty much everything we love. Japanese (or Scandinavian?) inspired, with pure lines and wooden furniture.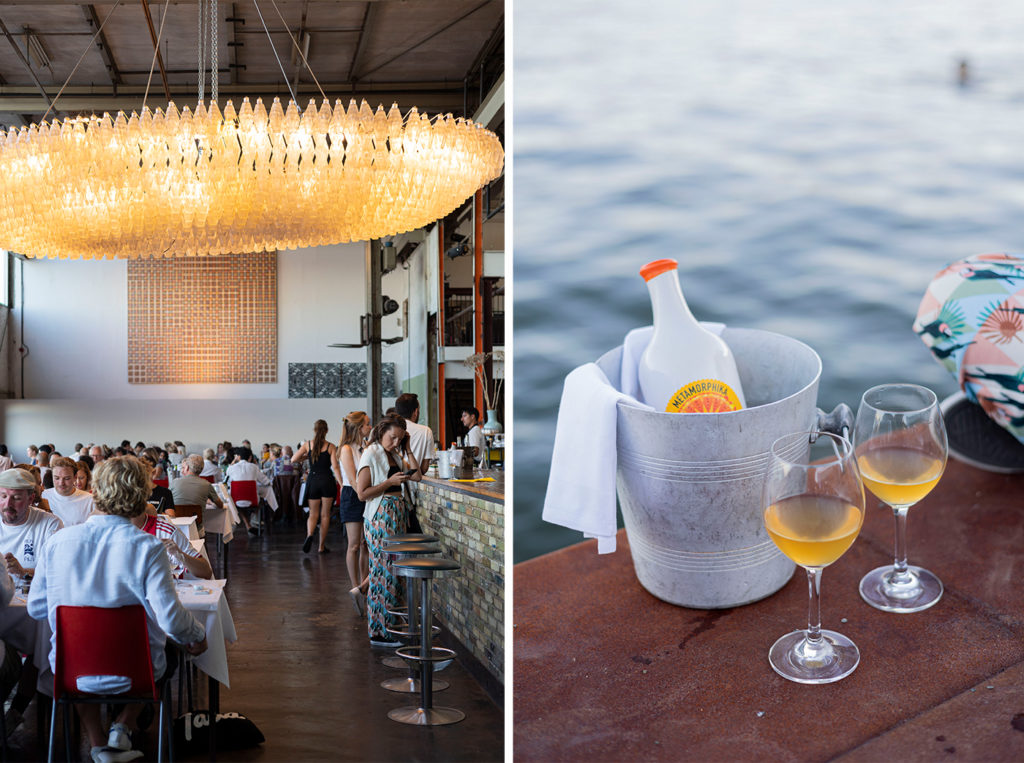 Hotel De Goudfazant
Warehouse restaurant & natural wines
For our very first evening, we decided to cross the river, all the way to Amsterdam Noord. We booked a table in one of Chloe's favorite spots, Hotel de Goudfazant. "One of Chloe's favorite spots" – just imagine how excited I was. A (free) ferry ride trip and a Cowboy ride later, and we were there. We're in a huge industrial warehouse, with red plastic chairs, white paper tablecloth and toilets hidden in a container (for real). A huge chandelier is hanging over our heads, the food menu looks incredible, and so does the wine list. The joyful noise coming from the huge restaurant says a lot about the popularity of the place – better make sure you have a reservation because it's always fully booked.
Though our table awaits us, we decide to enjoy the first glasses of Methaphormika (48€ the bottle) by the water, watching locals dive in the water in the beautiful evening summer light.
Once inside, we go for the 3-course menu (38,50€ pp). While Chloé had been dreaming of the snow crab since the morning, I chose a really light and fresh starter, made with tomatoes and smoked eggplants. Delicious. We continued with one of their most famous dishes – the coquelet à la bonne femme, cooked to perfection, and the roast cauliflower with chanterelles mushrooms and rosemary cream. The "Hemelse modder", their version of the chocolate mousse served with custard is the perfect end to this already perfect dinner.
Hotel de Goudfazant has clearly mastered the art of playing with cultural codes and that's why we love it so. A must in Amsterdam.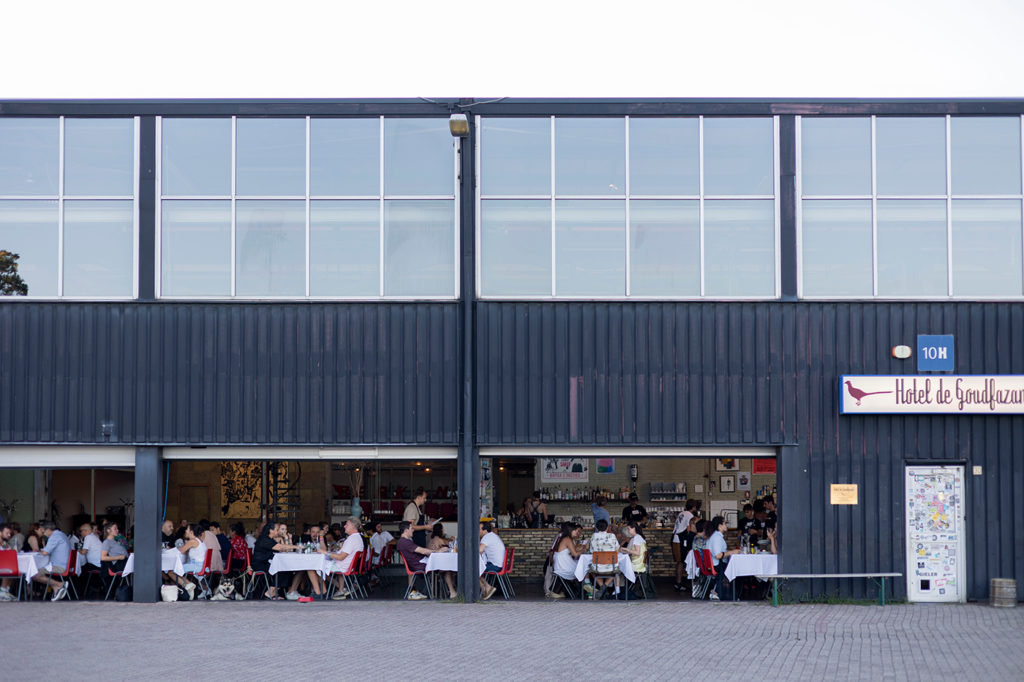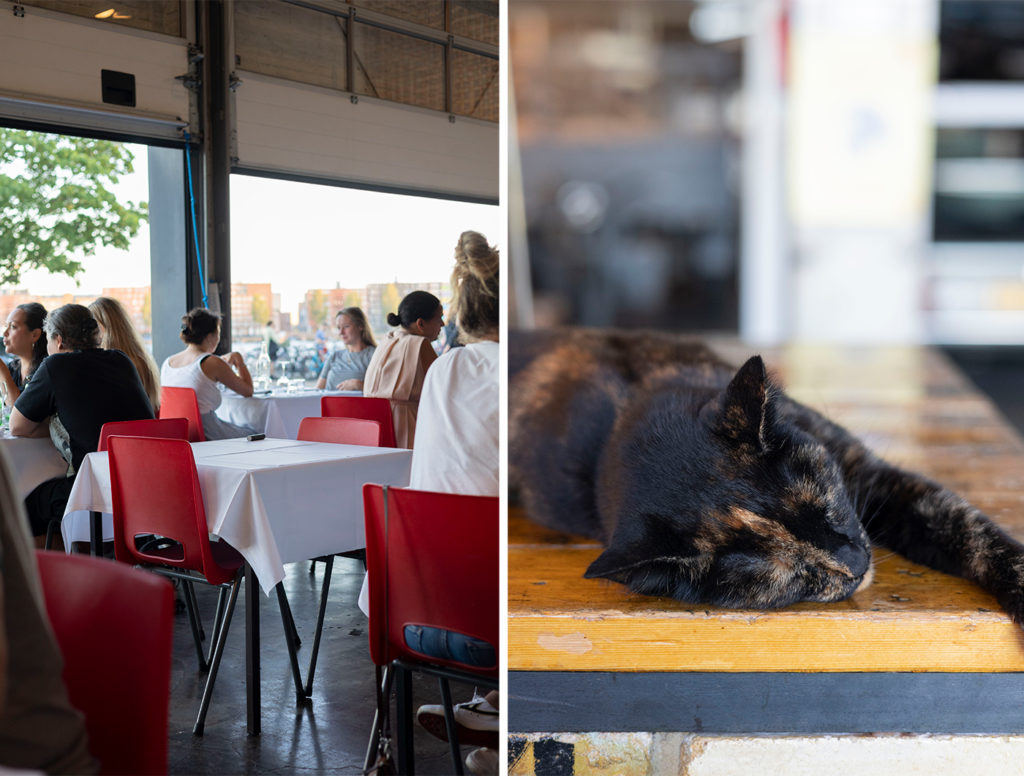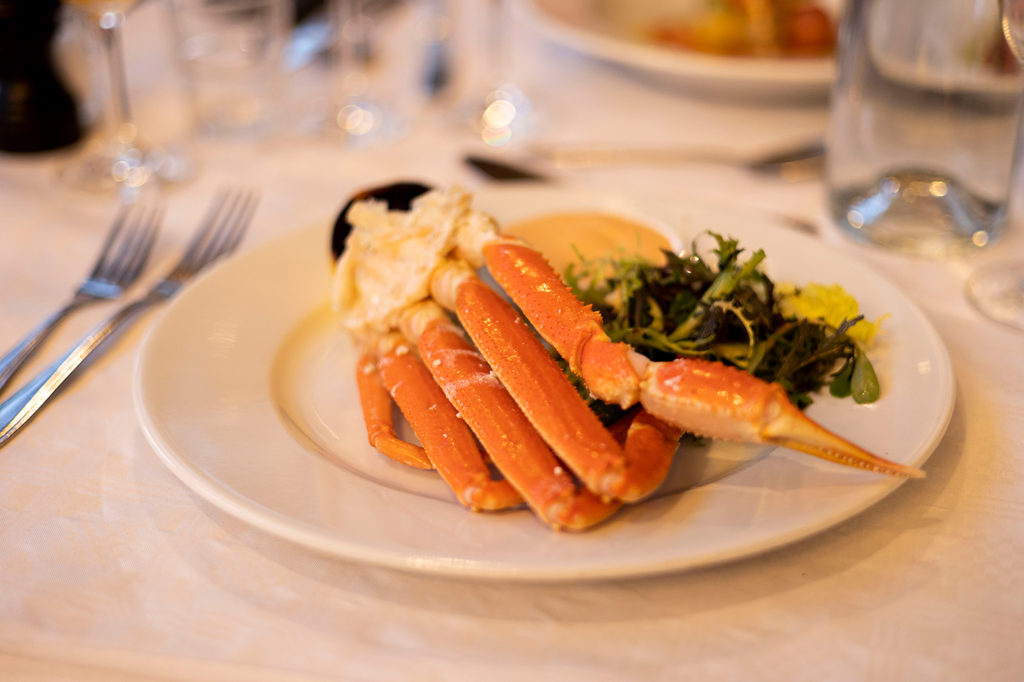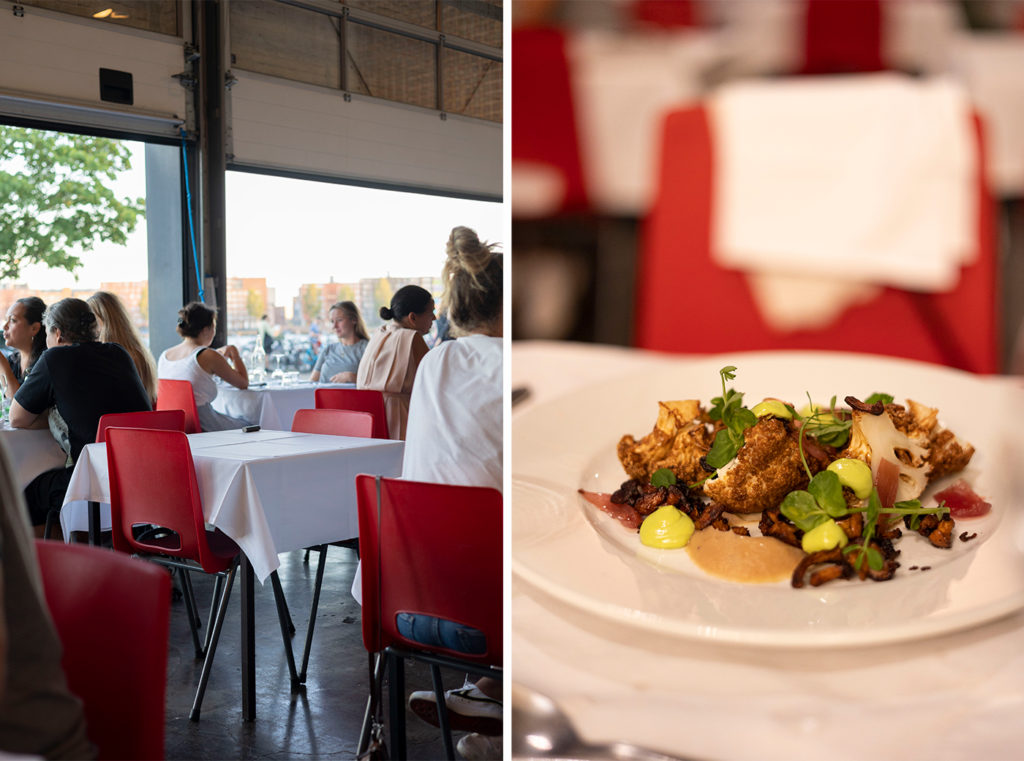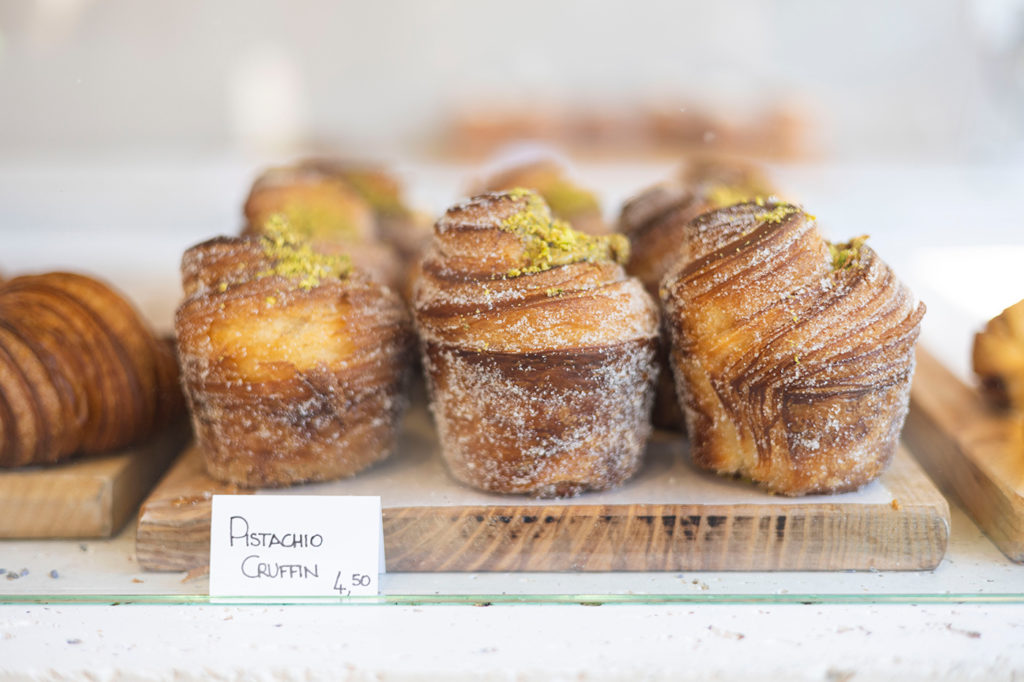 Saint-Jean
Bakery & specialty coffee
An oatmilk cappuccino, a filter coffee, and a pistachio and blueberry cruffin alsjeblieft – that's what all our Thursday mornings should look like. At least we think so.
For those who haven't tried it yet, the cruffin (4,50€) is a match between the muffin and the croissant – and it's the specialty of Saint-Jean bakery.
They also serve exellent specialty coffee, with plant-based milks only. Most pastries are actually vegan as well. They're crunchy, soft, not too sweet, and simply delicious. The whole thing is tucked in a cosy coffeeshop, not unlike Uncommon which we visited the day before.
A perfect Thursday morning we said.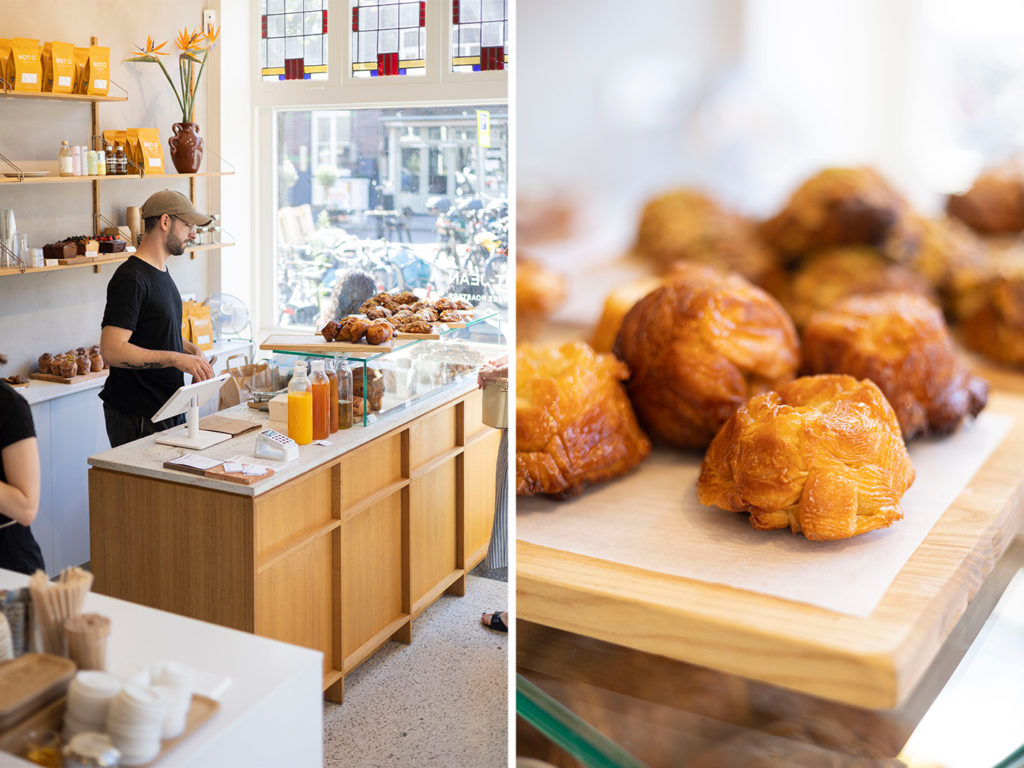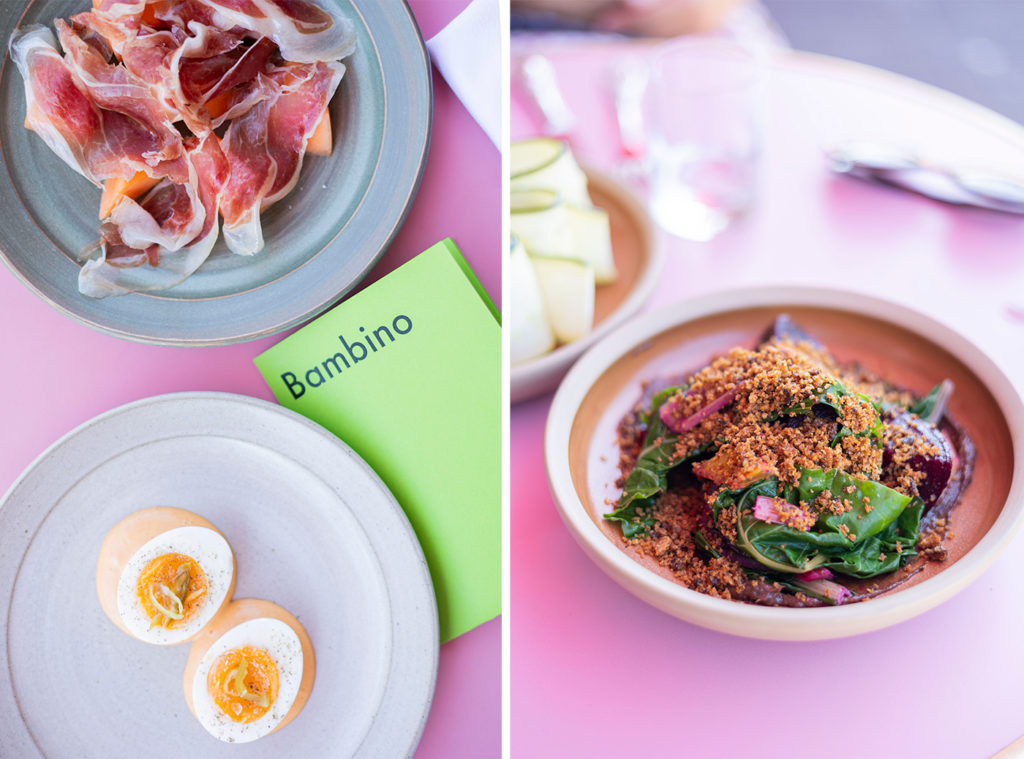 Bambino
All-day bar and small plates to share
Apparently it's already time we eat again. Thursday, 1pm, we park our bikes next to Bambino. It reminds us of Rebel, a bar we love in Brussels, with small plates to share and funky wines. 6 smaller plates, 4 mains, 2 desserts, and that's it. Printed colorful menus, different on each table – the type of detail we love. We sit in the shade and order the aioli eggs (6€) twice – this says how good they were. The honeymelon with paleta ham (11€), the raw zucchini with currants and ricotta (12€) and the beetroots served with chard and anchovies (13€). Everything is good, everything is fresh and the service is flawless. We already cannot wait to come back another time, to try Bambino for evening drinks, and maybe more.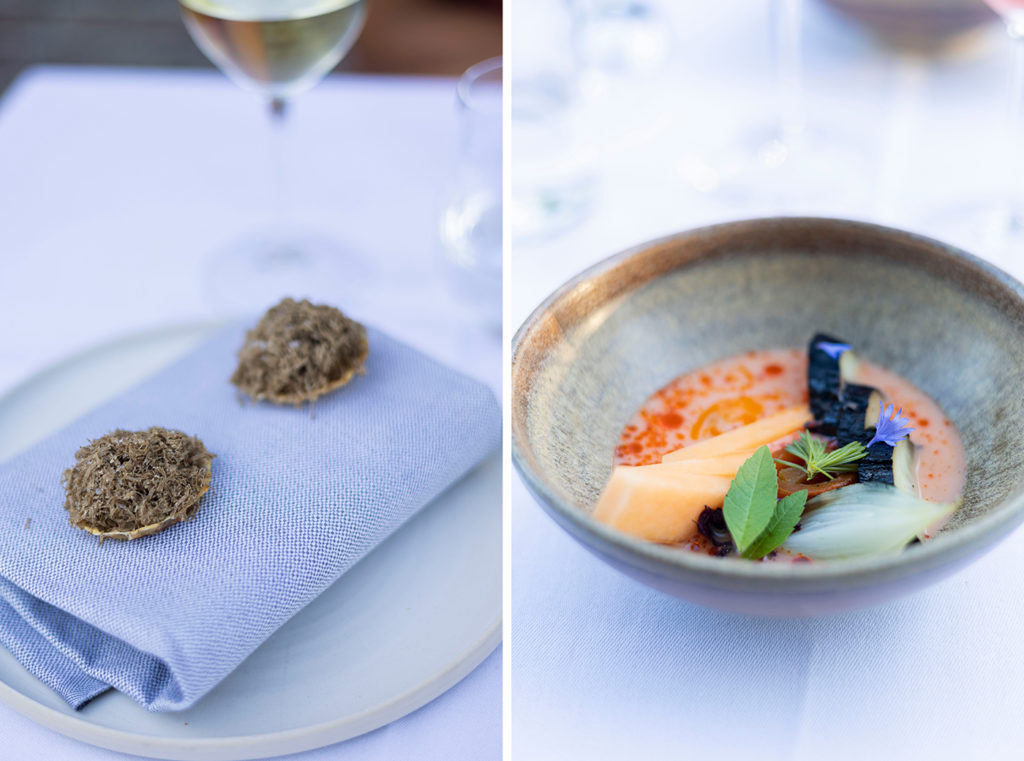 Coulisse
Accessible gastronomy
For our second night in Amsterdam, Chloé offers to take me to one of her latest discoveries, from her last visit – Coulisse.
Madeleine, the sommelière, introduces the menu to us – a 6-course tasting menu with a possible extra dish and an extra cheese plate (needless to say we took both). As she handed us the menu, I was blown-away to discover they printed one specially for me – with no fish dishes, as I had asked them in advance. To be completely honest, we rarely see such an incredible level of service. Among the amuse-bouche, we both fall for the smoked mushroom dashi broth with datterini tomatoes and elderflower oil. Then, the ballet starts, and it would be almost impossible to pick a favorite as everything was just fantastic. We specially loved the spicy fruit salade, the langoustine cooked to perfection, the super light grilled artichoke hearts, to name a few. We loved the food, the chef, and definitely the sommelière and the overall feel and service. Simply a perfect night.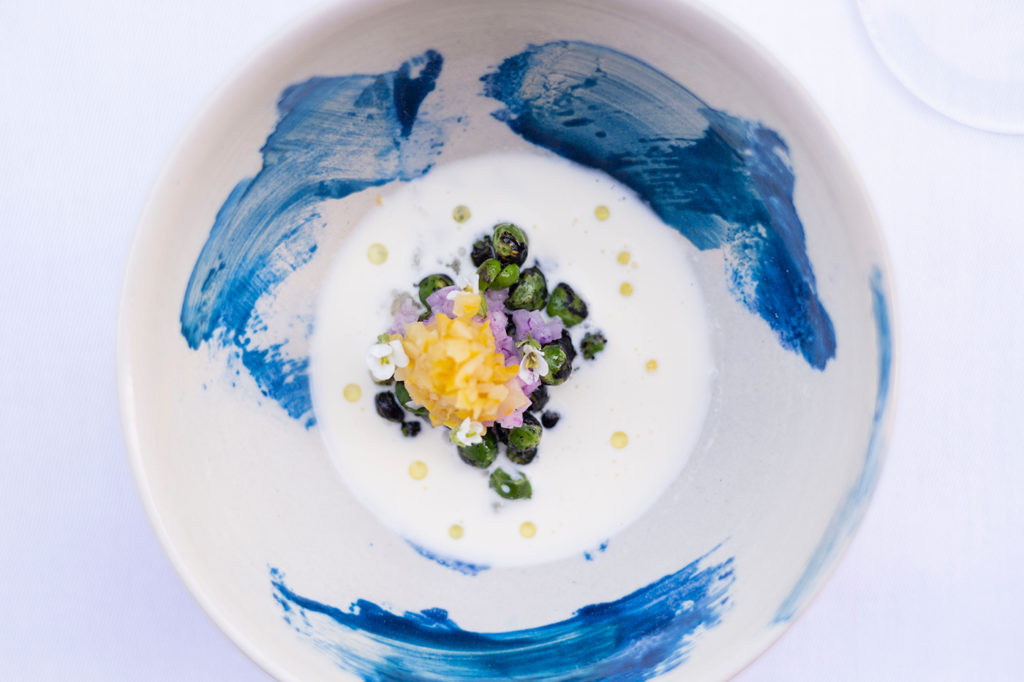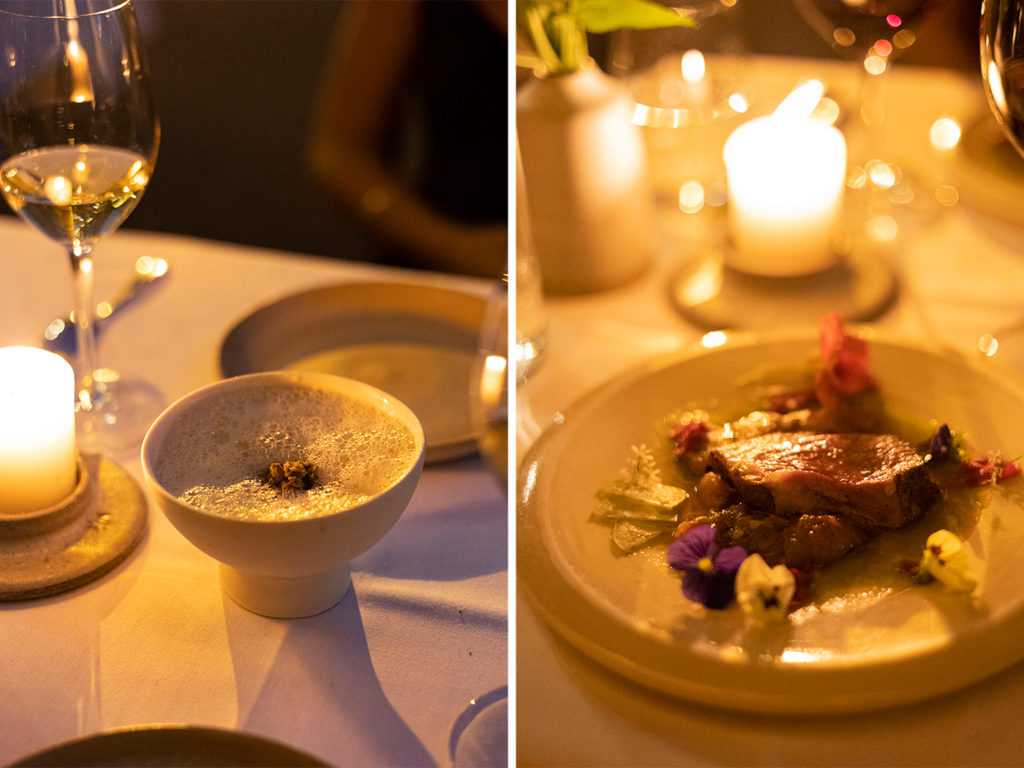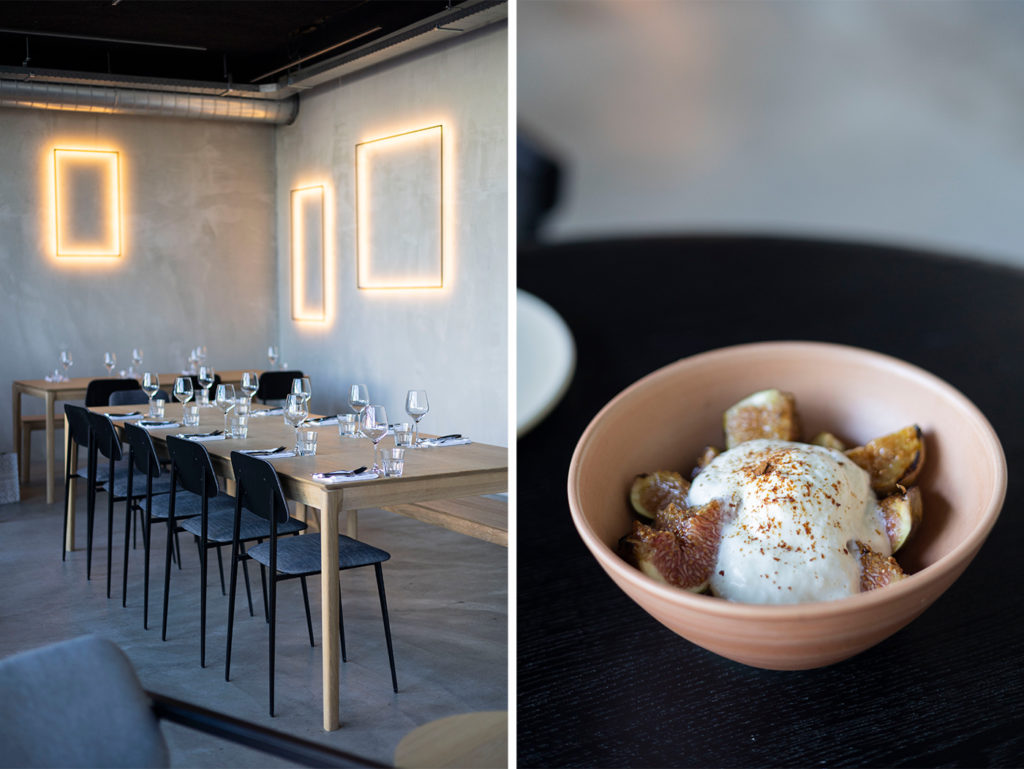 Public Space
Specialty coffee, wines and small plates to share
Following Madeleine's great advice, we end up in Amsterdam Noord again the next day, ready to try Public Space for lunch before making our way back to Brussels.
The interior is everything we love – high ceilings, beautiful furniture, huge window letting the light in. It's early still and we're allowed to use our laptops before noon. We take a seat in one of the couches and order cucumber and lime juice (3,50€) before diving into a last brainstorming session. As 12 comes, our waiter, both super laid-back and professional, brings us to our table. The menu is a short list of small plates to share. We go for the Shokupan flatbread (4€) – while making all sorts of theories of what we're going to be getting – grilled onions, slightly undercooked for our taste, and figs with ricotta mouse and shio koji (14€). As for the last dish, we can't quite make up our minds so we do what we always do in that case – ask for the waiter's opinion. When we see his eyes light up mentioning the jerk chicken (19€), we know we've made the right choice coming. The meat is so tender, perfectly grilled on the Japanese barbecue, and perfectly spiced. By far the best thing we ate that day, while Public Space was by far the place we loved the most during this trip. We can't finish without mentioning the US rap playlist we just loved, and which made the vibe so laid-back. Writing this, we already feel like going back any moment of the day, to try their amazing coffee and breakfast, or drinks and dinner. Or both?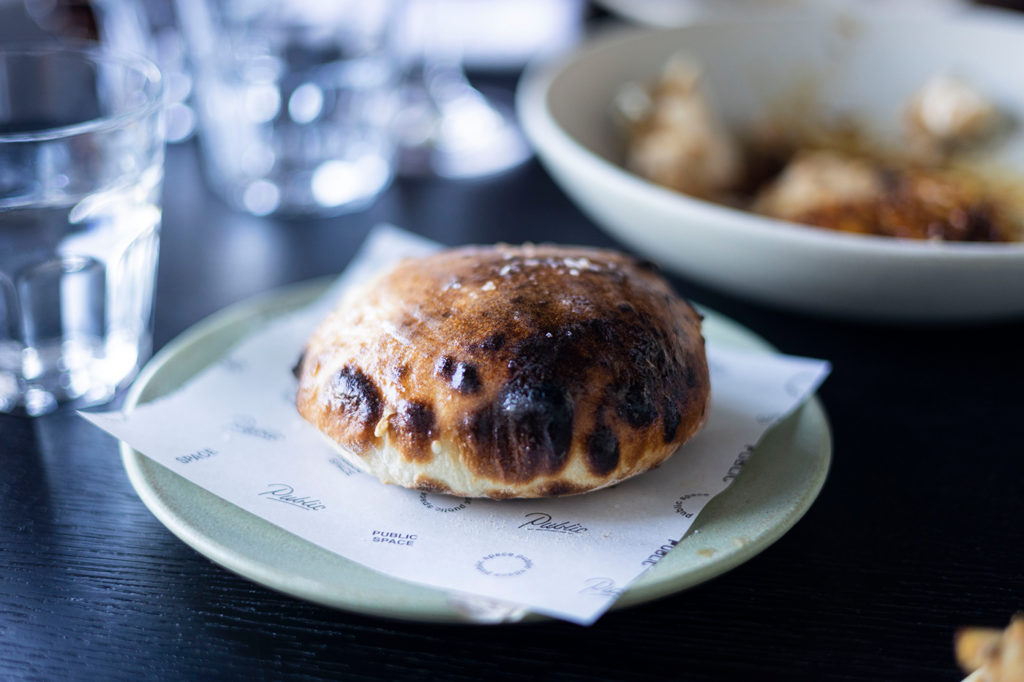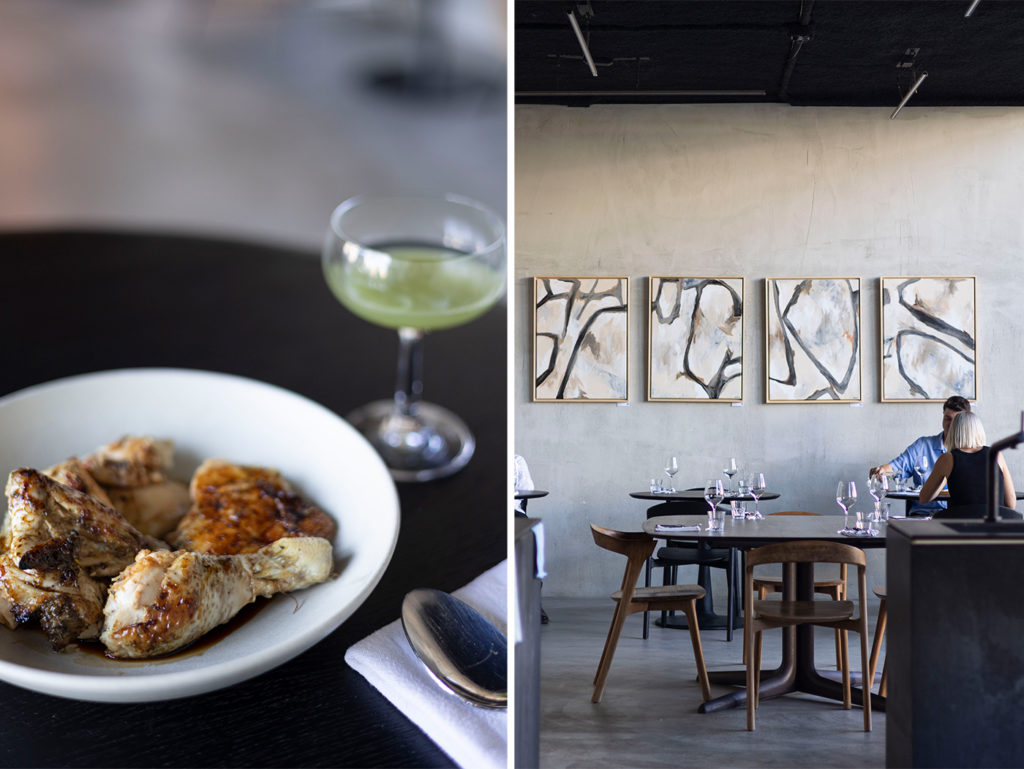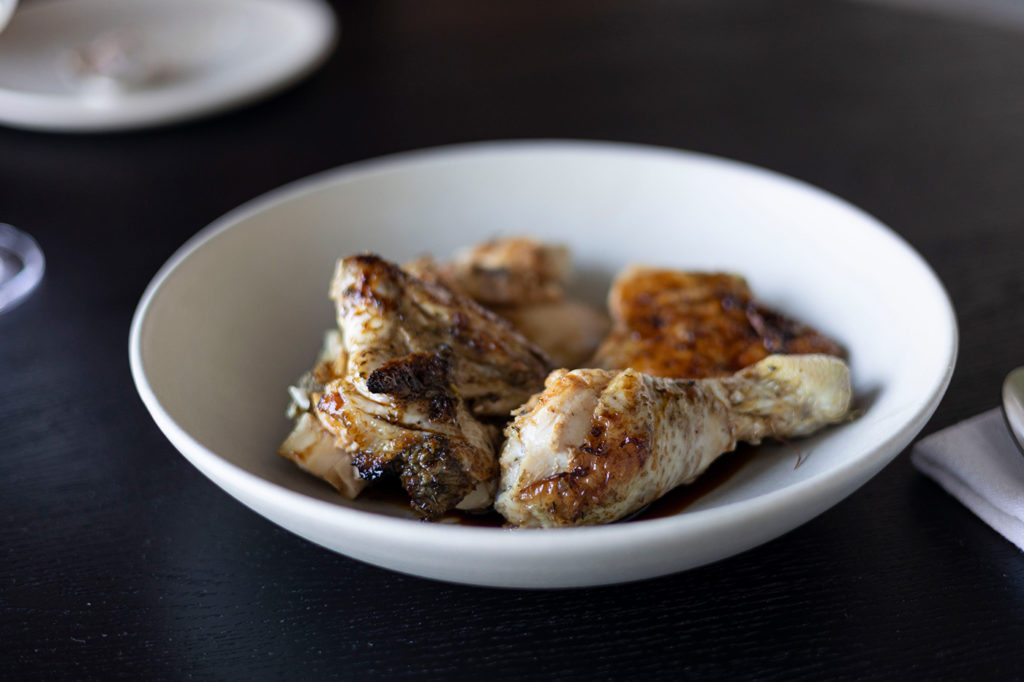 That's all folks. Alors, où est-ce qu'on vous emmène pour les prochaines BK-tion ?