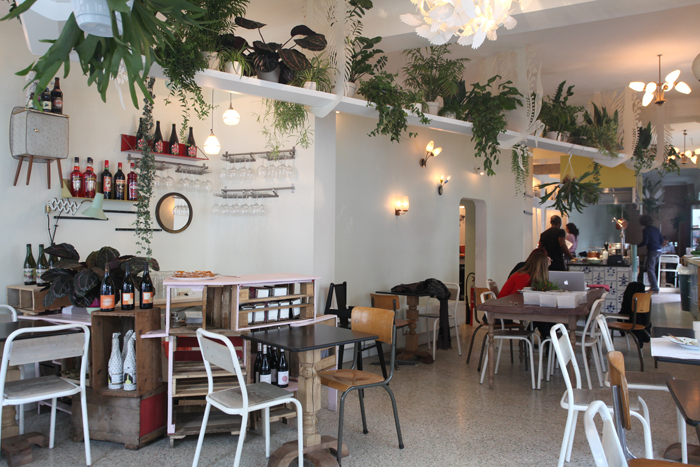 393, CHAUSSEE DE WATERLOO, 1050 BRUXELLES
02 343 47 74 – DELIVERY
OPEN FROM TUESDAY TO SATURDAY, FROM 12 TO 22PM
Rutabaga is both a place we love and are upset about.
Truth is, we've had bad experience with the service. But we didn't want to stay on a bad impression with a place that has such a huge potential. So we went back, more than once. And it was always as bad…
Nevermind, we decide to forget about the service then, and focus on the really great stuff. Because there is a lot of really great stuff.
We just hope that when you do visit them, they will have gotten better.
And after all, if you do wait too long, the manager will not forget to apologize and offer you a glass of wine (or the whole bill like last time).
Ok so the great stuff.
Well it's simply different from what we're used to here, and it's really gorgeous!
The place is full of fresh beautiful details. Plants hanging from the ceiling and on the tables, classy graphic design, big raw wooden tables, tiles, and a facade as beautiful as the interior.
It would almost make you want to eat inside just to enjoy the beautiful interior.
The menu is different for lunch and dinner. I still don't know exactly where this kind of cooking is from, but definitely middle east. With a lebanese and sometimes italian touch, and spices from around the world.
For lunch, you'll find ciabattas and chawarmas, or their famous rutabaga plate. For 16,50, you'll get eight small dishes, to eat with pitta bread. It's more than enough for two people, we even had leftovers! It's vegetarian, organic, fresh and simply delicious!
For dinner, you'll find "real" dishes on the menu. Like last night this plate of chipirones stuffed with bulgur, redcurrant salad and grilled vegetables, that was just amazing.
Sarah couldn't resist to dessert, and tried something with apricots, fresh mint, grilled almond and date syrup which she finished in a few seconds.
To try absolutely, with indulgence, humor and definitely patience. But with the great wine and food, it shouldn't be such a problem.