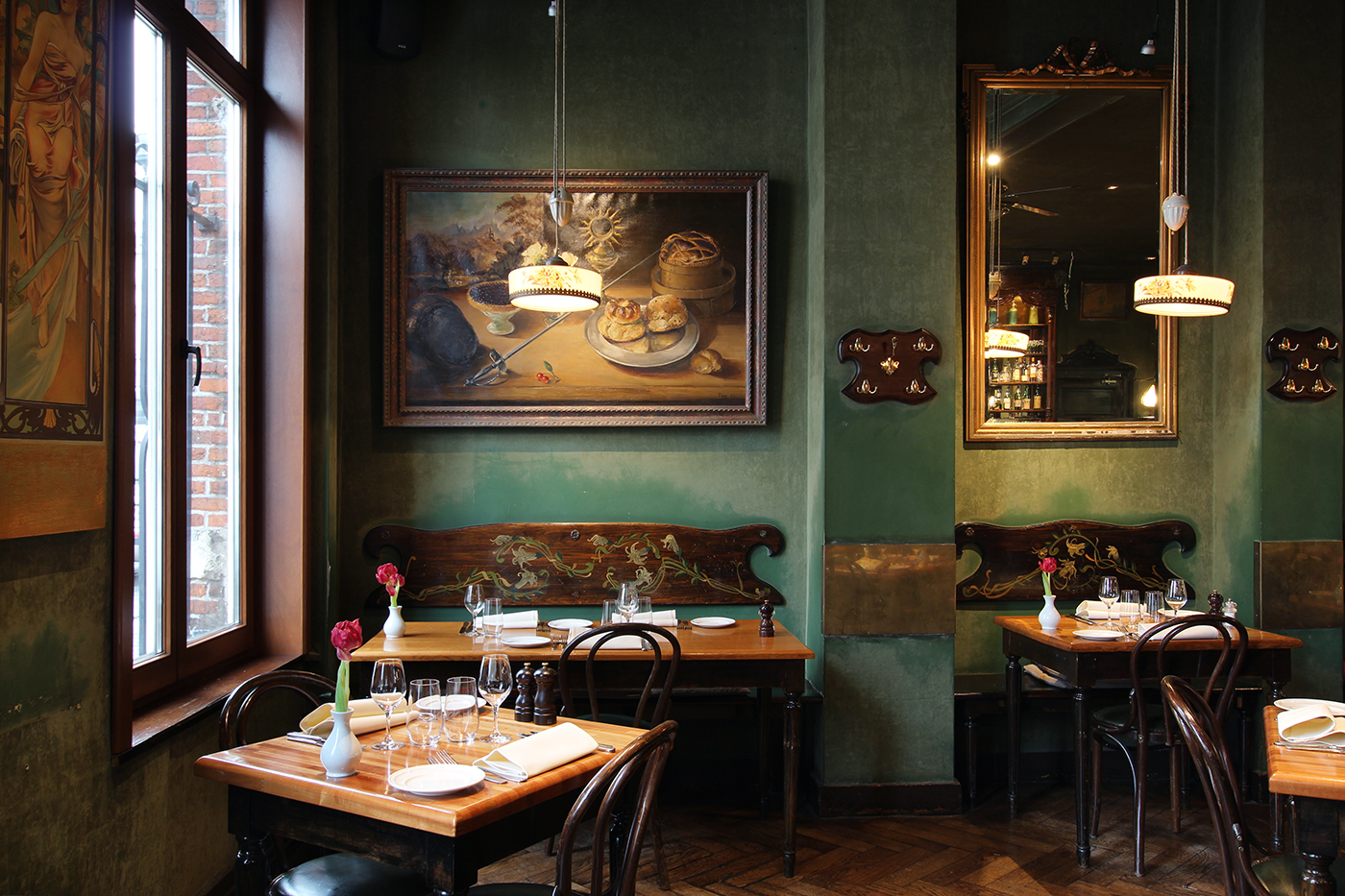 5 place de la Chappelle, 1000 Bruxelles
02 512 68 91 – WEBSITE
open from monday to friday from 10am to 6pm,
main courses : 22€ – 32€
It would be hard to tell the story of Les Brigittines without starting by its chef and owner, Dirk Miny. As soon as you enter, Dirk will guide you himself through this old post office turned into what is undoubtedly one of the most emblematic Belgian restaurants of the city. If Belgian cuisine definitely rhymes with mussels and fries, shrimp croquettes and cod with grey shrimps, it's a little bit more than that awaiting you at Les Brigittines.
In this gorgeous Art Nouveau setting, well hidden from the street, chef Dirk Miny prepares a traditional yet seasonal cuisine, hearty and generous, centered on quality produce. The grey shrimps come from the North Sea and the Limousin veal comes from no other region than Limousin itself. A simple rule for quality for this team who was one of the firsts to join the Slow Food movement in Brussels and whose list of ingredients and suppliers is proudly displayed on their menu. Recipe wise, the list of dishes is more contemporary than what you usually expect from your local brasserie. Our crush went to the pork belly with tuna tartare, lime and ginger – hearty and perfectly balanced with the freshness of the raw tuna and fresh herbs. Giblet fan? You should find what you're looking for among the cow's udder soup, the tripes Caen's style or the Vol-au-vent with rooster combs (28€). But what you should really do here is go for the 7 course tasting menu (75€), adapted by Dirk according to your own taste and the seasonal produce and catch of the day. To pair with champagne and wines (30€ for the complimentary drinks menu) or, as the chef suggests, with Gueuze Cantillon.
If the night is good and you don't feel like going home quite yet, ask Dirk about his cave. We'll keep the rest to ourselves for now.