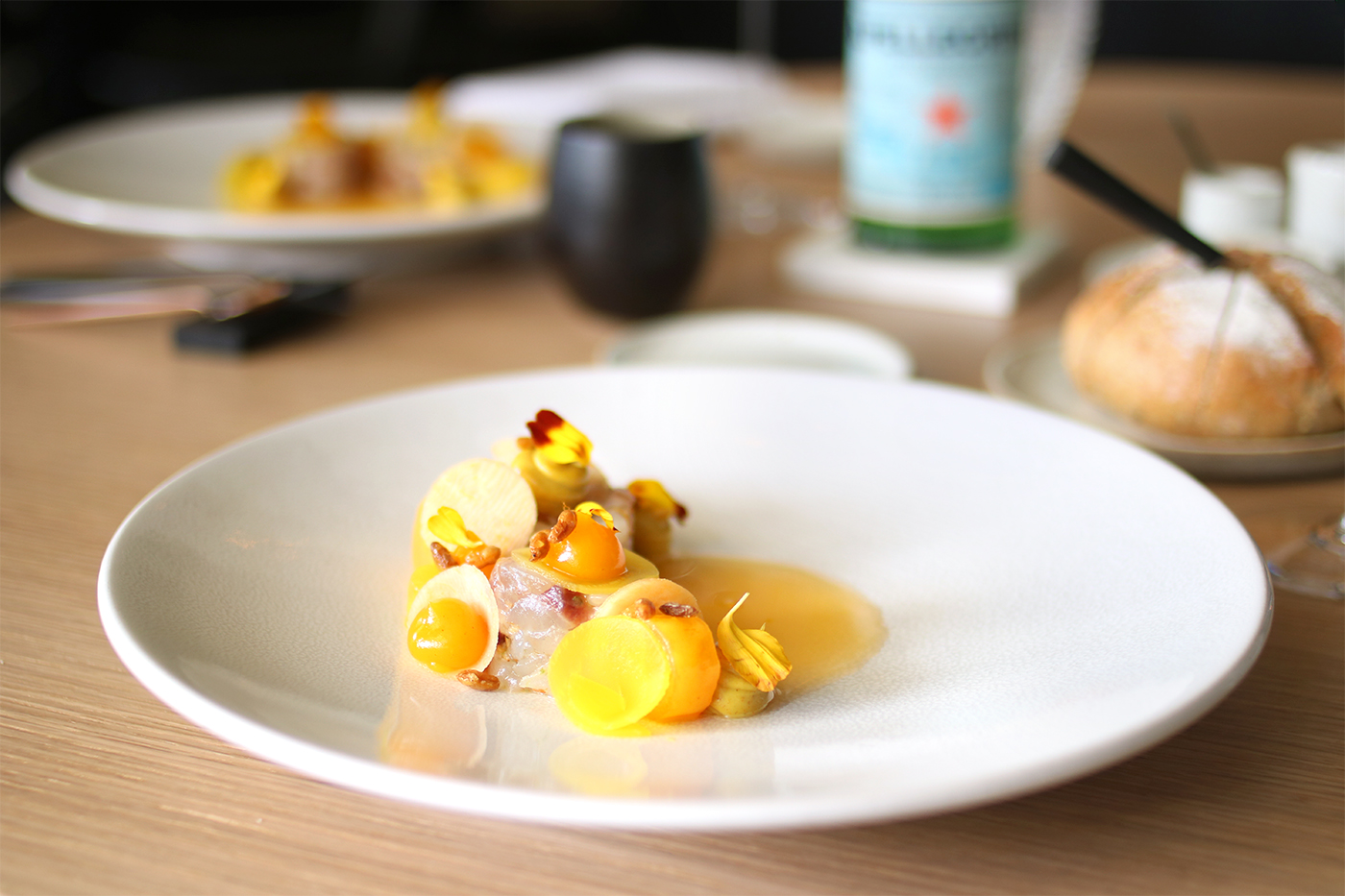 366 Bilzersteenweg, 3700 Tongres
+32 12 74 16 74 – WEBSITE
Friday to sunday from 12 to 1PM and from 7 to 8PM
Thursday from 7 to 8pm
lunch tasting menu – 5 courses : 75€
Though it's becoming really rare for us to write about places outside of Brussels, we thought it would be a shame for you to miss out on the Altermezzo for that simple reason. Just the once, we took our car and all of our gear onto the highway, heading for Tongeren and Jo Grootaers' quarters. At the age of just 27, the young chef has already been rewarded with the highest prizes : in one year, he has gained a Michelin star, won the San Pellegrino & Michelin Young Chef Award BeLux and finally won the title of Young Chef for Flanders given by Gault & Millau. We thought all of these were enough for us to make an exception.
The first course of our lunch tasting menu (75€ for 5 courses) – a combination of marinated sea bass with tangerine and rutabaga – simply blew our minds. With its very monochrome aspect, the dish reminded us of our own pop-up restaurant Eatcolor. It is said about the chefs that he is in for easy-to-read and beautifully laid out plates – and that first dish certainly met our expectations. We then had a perfectly cooked skreï with burnt leek and clam broth. Second crush. The dish was delicate yet hearty and generous, and above all, perfectly done. The main dish, a grilled pigeon from Anjou with Jerusalem artichokes and hazelnuts really convinced us we had made the right decision coming.
We loved those perfectly balanced, hearty – while delicate dishes, presented in beautiful ceramics along with tiny golden cutlery. The high ceiling letting the sunlight in, even in the coldest winter days. And Jo's "brasserie cooking", twisted and brought to another level by a young chef who has only begun to walk his own journey. We can't wait to see what's coming.