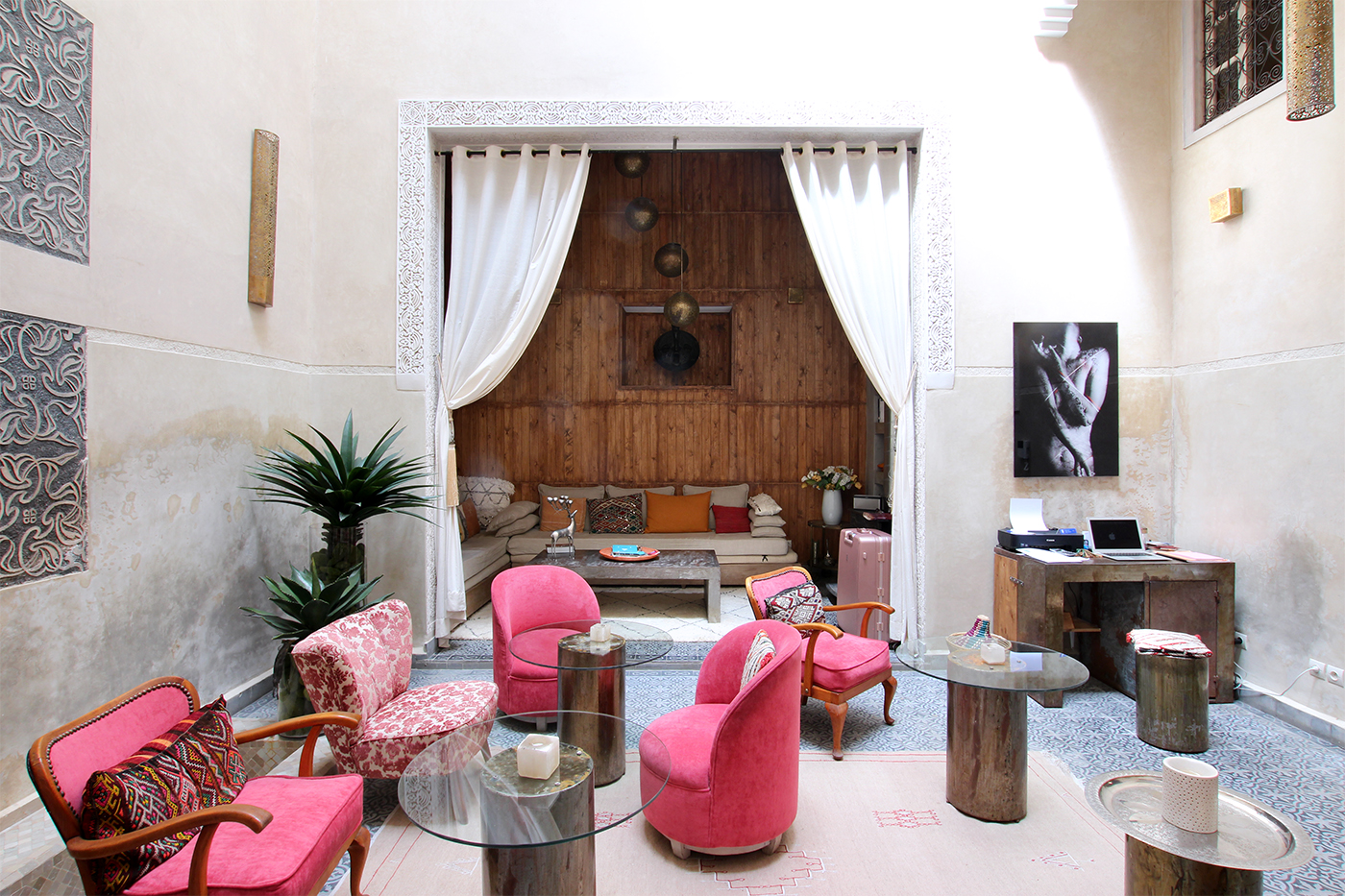 Riad Anata, Fès
SITE WEB – réservation
chambres doubles 108€ – 126€
riad complet (5 chambres) : 600€
About five years ago, we were lucky to discover Fez for the first time, thanks to Valérie's invitation in her stunning Riad Anata, just a few weeks after its opening. Having travelled the world and worked in Africa for over 10 years, this Belgian globe-trotter decided to buy her very first real-estate investment in Fez, Morocco. With the project of a luxurious, charming and accessible Riad in mind and about 4 years to develop it, Valérie was able to design every single detail that now make the Riad what it is.
Last month, I had the chance to discover Fez's Medina for a second time, and to stay in her stunning Riad for a weekend, after 10 incredible days spent in the South of France with Wellness Experience.
In this city where the most amazing treasures are hidden behind unattractive plain walls, and where the chaos of the souk can quickly become tiring for the unexperienced tourist, the Riad Anata acted like an oasis for peace and beauty. The decoration hit us as soon as we pushed the front door. Just like in the most luxurious boutique hotel, every single item seemed to be in its exact place, and each object followed an inspiring color palette – different for each room. A smart mix of local and vintage objects, dim lights, polished concrete and orange blossom shower goods. Of course, the warm welcome we received simultaneously from the team played a big role as well. Simo (or Simohammed for his full name), whose smile had not changed in the past 5 years, makes sure any guest's stay is as flawless as can be, from booking them an airport shuttle to making sure their plane tickets are printed on time.
The great rooftop terrace also contributed to the perfect stay. We loved to enjoy the first rays of sun before breakfast, lying on sunbeds, or have an evening mint tea before leaving for dinner. And last but not least the hearty breakfasts, which alone were worth the stay with their fluffy Moroccan pancakes and rosemary honey.
As for the city, it was a blast to be able to discover it again, through its narrow cobbled streets, smells and colorful stalls. We did make the mistake however of calling upon an official guide, which will definitely serve as a lesson for our next visit. Our advice: don't get a guide to visit the Medina, you can find just everything by yourself. Must visits (alone of course): the Tannerie area and the Medersa (an old Coran school) with its stunning Spanish and Arabic architecture. For shopping, let yourself go from one shop to another and don't hesitate to follow a shop owner a few streets further to a second location. A lot of shops on the main streets often act like window displays for the hidden huge Riads filled with marvels, and often difficult to find for a tourist on its own. We did just that and found the carpet of our dreams. If you want to bargain prices, get a little people involved as you can. Avoid bringing someone from your hotel for example, or worst: a guide. The more people, the more commission will be taken from the total price, whether you want (or even know it) or not. Also try to avoid ceramic "cooperatives", whose prices are often 3 to 5 times higher than in the Medina, for the exact same plates.
And finally, let yourself get lost, follow your instinct and take well deserved breaks in the most amazing rooftops or gardens. We can only recommend to follow Valérie's recommendations with eyes shut (booklet available in every room of the Riad). Our favorite spots: to eat and rest in a garden for lunch, Jardin des Bienh (make your way from the Blue door to avoid getting lost), Riad Fez's rooftop for a glass of wine and a crazy view, and the Ruined Garden for a moonlit romantic dinner.