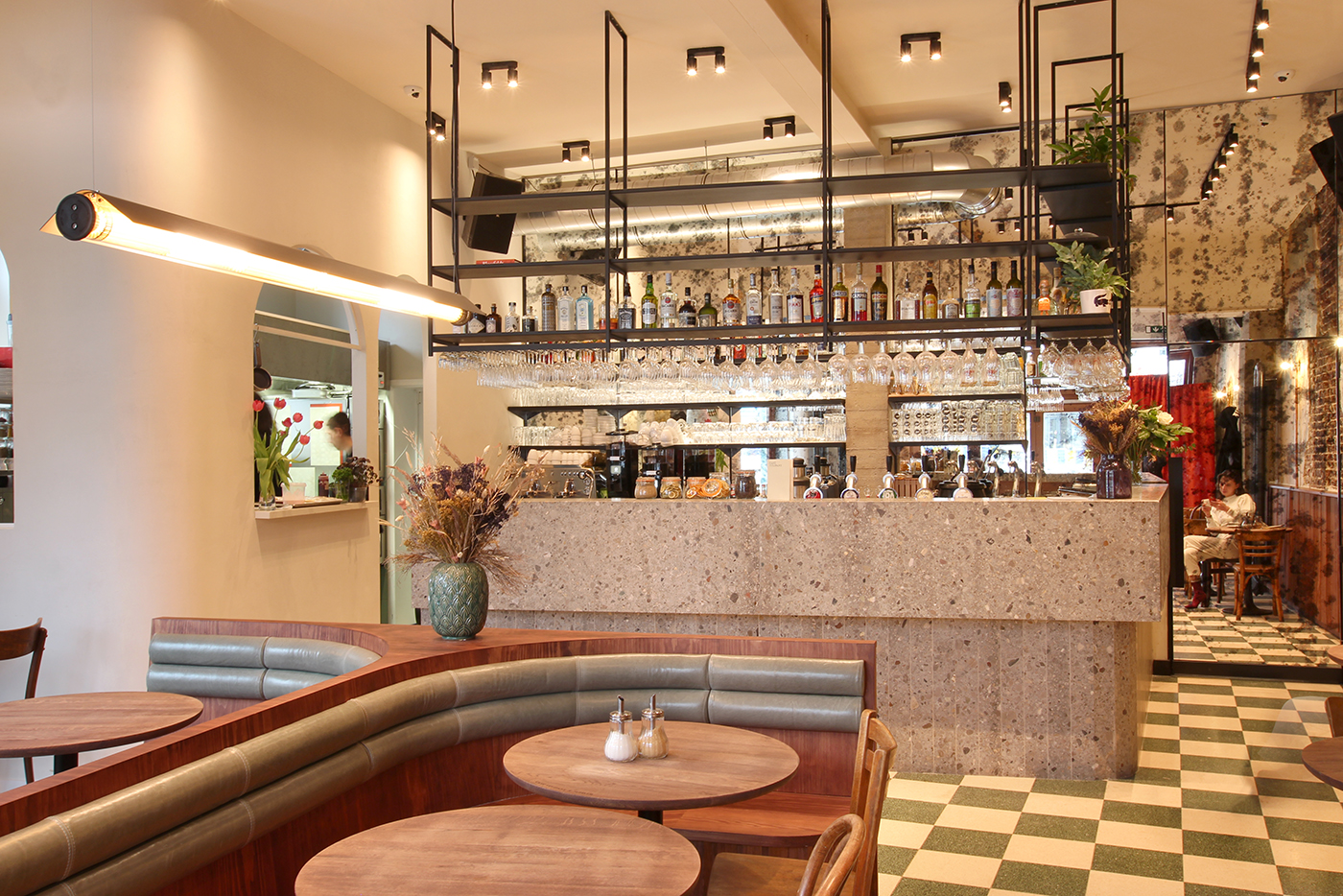 25 place fernand cocq, 1050 Ixelles
02 851 31 80 – SITE WEB
from monday to wednesday, from 11am to 1am
thursday and friday, from 11am to 2am
saturday from 10am to 2am and sunday from 10am to 11pm
plat du jour: 12€
brunch saturday and sunday
Strategically located on Place Fernand Cocq, right in the heart of Ixelles, Café Tulipant has been open for only about just a week. And though the construction works by its entrance currently make it a little tricky for customers to access, its future perfectly sun-exposed terrace, however, seems promising enough to compete with the Belga itself.
Inside, the old floor tiles from the previous restaurant have been kept, the walls have been scraped to reveal bricks darkened by time as well as several paint and wallpaper layers beneath it. By the front door, a heavy red curtain protects customers from the cold, and by the back, a beautiful stone bar welcomes cocktail making in the evening. On the left, an open kitchen, and on its windowsill, a tulip bouquet. The Café Tulipant takes its name from the previous Auberge Tulipant which once stood in place of Ixelles' City Hall, before a beautiful tulip garden. Bits and pieces of poetry and romantism from the days has been spread across the Café. We can't help but smile when, going through the drinks menu, we come across the sentence "I've been staring at you for so long, come join me", hidden between two lines of craft beers, or when we hear the beautiful notes of "Ne me quittes pas" by Jacques Brel playing in the room. As for the food, the Belgian spaghetti Bolognese surely has no business here. Geoffroy Baraud, the young self-taught chef, is determined to make a name for himself and for his extremely creative and elegant cuisine. Each day, he wakes up with a single goal in mind : make his customers happy. A clear mission accomplished when his dessert was brought to our table : a choux filled with 65% Brazilian chocolate ganache, served with apple caramel, matcha meringue and pear and mango compote (5€). A very promising café indeed.