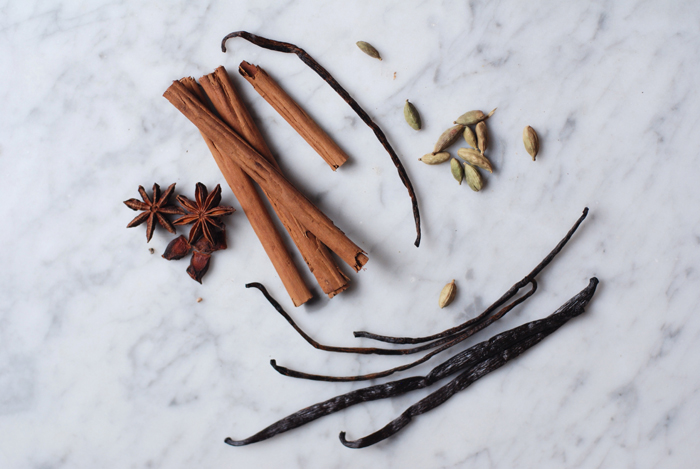 INGREDIENTS FOR 4 LITTLE JARS:
150ml 30% cream
100ml whole milk
2 star anise
3 cardamom seeds
1 cinnamon stick
1 vanilla bean
65g dark chocolate
3 egg yolks
15g sugar
In the winter, I love the chocolate and spice mix, which I think is pretty comforting during the cold days. It's easy to make spicy hot chocolate, or to prepare little chocolate creams that people will just love to have for dessert.
Pre-heat the oven to 140°C. Start by mixing the milk and cream in a pot. Add the vanilla bean halved and its seeds, the star anis, the cinnamon stick and the crushed cardamom seeds.
Slowly bring to a boil and as soon as you see the first bubbles, bring down the heat and let infuse for 15 minutes.
During that time, whisk the egg yolks with the sugar. Pour the hot cream on this mix than add the chocolate. Mix everything gently until the chocolate is completely melted.
Pour the preparation into small glass pots that can go inside the oven. The creams will cook in a "bain-marie", meaning in a water bath.
Dispose the jars in a deep oven dish, then fill the dish around the jars with water, up to 3/4 of their height.
Cook for about 20 minutes, the creams should not be completely steady when you take them out of the oven. Place into the fridge at least for four hours before eating. Enjoy!