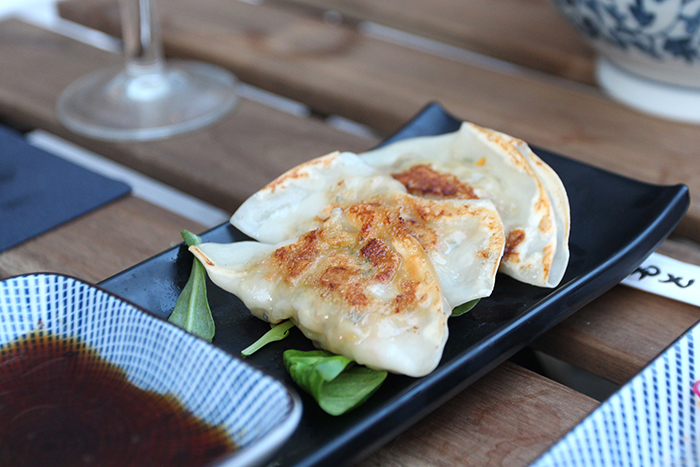 15 RUE SAINT BONIFACE, 1050 IXELLES
02 513 48 41 – SITE WEB – delivery
OPEN FROM TUESDAY TO SATURDAY FOR LUNCH
FROM MONDAY TO SUNDAY EVENING
Located in the grounds of the old photo store Chez Campion, Little Tokyo reveals a wide and bright interior space no one would have guessed before its opening. The decoration makes the place cosy and comforting, with a big dark blue wall, colourful paper Japanese-style lamps, and a big painting covering almost an entire wall. A few plants here and there for the finishing touches and we feel right at home.
On the menu, it's almost Tokyo but not quite. The dishes are inspired by the Japanese cuisine, without being truly Japanese, and the result is quite exciting. Much like in traditional izakayas, smalls dishes to share are the hit of the menu. We love the sweet potato tempuras with beetroot cream-cheese, the grilled eggplants with miso and bonito flakes, the homemade gyozas and the lamb teriyaki skewers. The lunch is just as inspired, and always full of beautiful colours. Salmon chirachi, caramelized pork shoulder or roasted sea bream with sake butter and wild garlic are among the dishes you may find in their lunch menu. Together with a miso soup and a small salad, you'll have a delicious lunch for 15€.
And finally, we wouldn't be fair if we didn't mention their huge terrace, perfectly exposed to enjoy the sun until the night falls, with a glass of Spritz and a few friends!