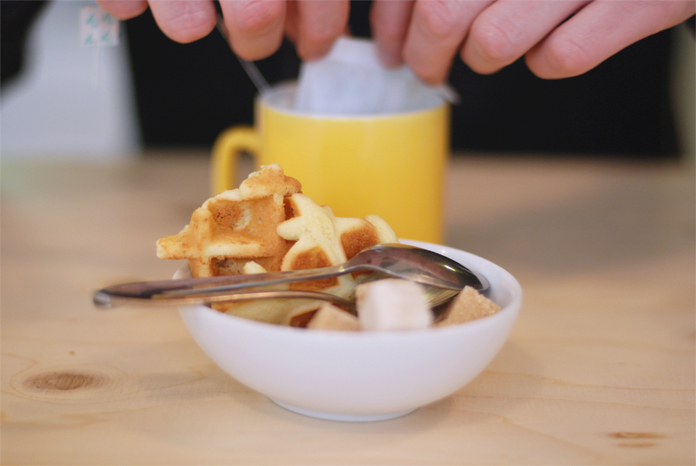 4-6 RUE DU BON SECOURS, 1000 BRUXELLES
TEL: 02 502 24 26 – SITE WEB – DELIVERY
OPEN FROM WED TO FRIDAY FROM 8PM TO 4PM
AND ON SUNDAY FROM 10AM TO 5PM
Last Sunday, Brussel's Kitchen finally tried out the new organic place to be : the Yeti.
Right in the center of Brussels, a few steps away from the Bourse, this place prepares quality organic foods.
When we got there we sat at one of the big wooden tables while waiting for the waitress and her charming canadian accent. She told us about the two brunches menus, salty or sweet.
The place fills up pretty quickly, and a great atmosphere fills the room with the open kitchen and the kids playing piano.
First we get a tea with little homemade waffles. Then there comes the first plate: scrambled eggs, potato latkes, mini quiche, fruit salad, cranberry cake, cumin scones and I wonder how I'm gonna finish everything. Because after that comes a granola yoghurt with a fresh orange juice, then a pancake plate. The brunch wasn't just huge, it also tasted great.
So ok, yes it does cost 22 euros which can seem a bit expensive, but for me, it was just impossible to finish and I had eaten enough for the whole day.
During the week, they also serve sandwiches, salads, quiches, which is just perfect for a fresh and organic lunch.
You'll find for example, beetroot velouté, real lebanese taboulé, white pudding and fried onions sandwich, red cabbage, cinnamon and ginger pie, japanese breaded fish, crunchy almond biscuits. So many entirely homemade specials that change every week and that sound more than just tempting.