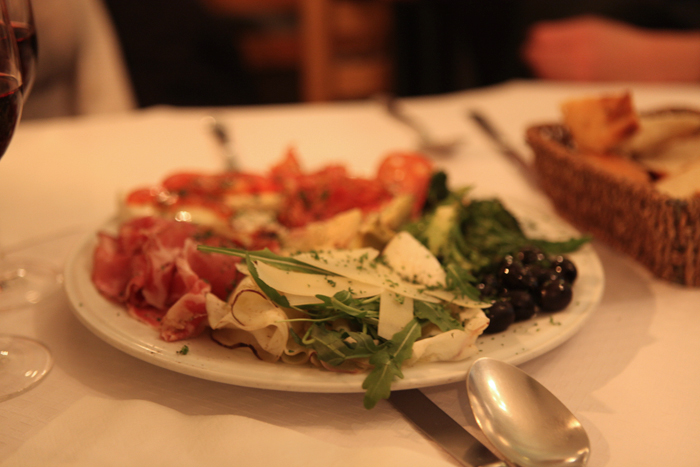 98 RUE BERCKMANS, 1060 BRUXELLES
TEL: 02 538 90 63
OPEN FROM MONDAY TO FRIDAY FROM 12 TO 2:30PM
AND FROM MONDAY TO SATURDAY FROM 6:30 TO 10:30PM
Sale Pepe Rosmarino is definitely the most authentic Italian restaurant I know.
There is a particular atmosphere in this place, mixing rare simplicity and high quality products.
The walls is the first room are almost completely bare, except for a little ten centimeter-wide frame, looking a little lost. The second part of the restaurant is entirely covered with paper tablecloths drawings, from the floor to the ceiling.
An Italian man, whose name I forgot, spent all his lunches and dinners of the previous 14 years, eating at Sale Pepe Rosmarino. He would draws on the paper tablecloth, every single day.
It is not only his drawings, but a little part of his soul that fill the room today. As he passed a few weeks ago.
The owner, very attached to the man, collected all his drawings and had them copied then made into a book, that is now on sale in the restaurant.
About the food, the prices are a little high, (about 16,50 euros for a dish), but according to our friends who are big fans, it is always highly worth the visit.
The antipasti plate that we shared was delicious, but I was quite disappointed by my course, squid ink linguine. Though the last time I came, they were delicious.
We also ordered truffle cream tortelloni with arugula and parmesan, that were awesome. And sicilian sausage pasta, which apparently were pretty great too.
I really want to go back to try their linguine vongole, which I've heard are the best in Brussels.
The atmosphere and the kindness of the waiters make this place a real gem, so I will give them a second chance for my next pastas.