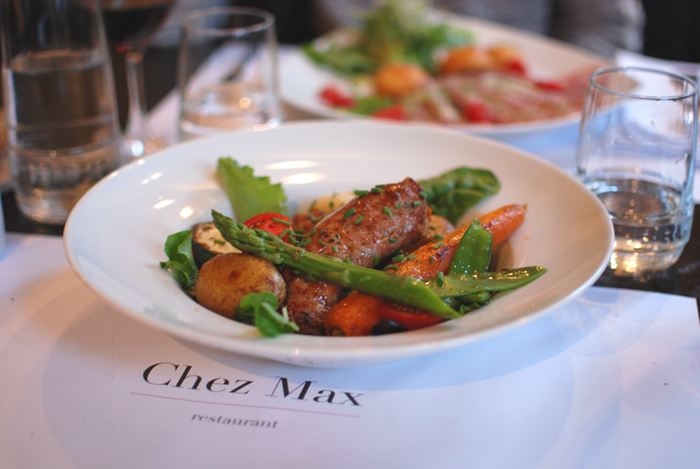 118 RUE LESBROUSSART, 1050 BRUXELLES
02 344 42 32 – SITE WEB
CLOSED ON MONDAY AND SUNDAY
ANS SATURDAY AND TUESDAY FOR LUNCH
We didn't really know what we were getting into when we walked in that night, though we were really impatient to try the place.
Chez Max, hairdresser for men, already sounds special, but after seeing the Unico girls posting pics all the time, we really wanted to go.
But when we did enter, we still weren't quite sure wether the place was Italian or Belgian.
French, the waitress says.
Great, we only know too few.
We Both had a really long day and start by ordering cheeses and cold cuts, and two glasses of wine.
A tall black board where the menu is written in chalk, an open kitchen from witch you can see Max cooking, pretty tables and a cosy vibe. Just what we needed.
We feel tempted by a lot of things and finally choose to share the tuna sashimi with raspberries and the cilantro and tomato sausage. The sausage is served with tons of delicious vegetables and the tuna is really fresh. Simple, fine and delicious cooking, a bit like at home.
We can't control ourselves and both order dessert. Panna cota with raspberry sorbet, and strawberry sorbet with meringue. The panna cota is possibly one of the bests in the world and in serious competition with the lavender one from La Bottega della Pizza.
Amazing homemade sorbets and meringue. We're told that Max first worked as a pastry chef. The desserts cost 9 euros but are totally worth it.
We leave the place smiling like a kid who'd just have stolen a dessert. Next time we're going we'll bring our boyfriend for their greatest pleasure.