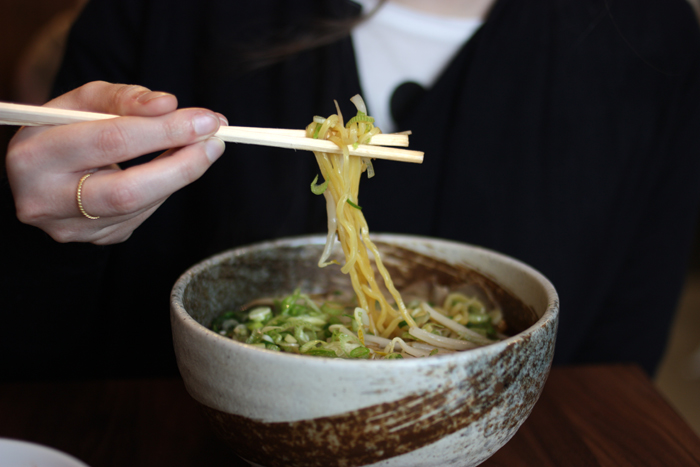 1 CHAUSSEE DE VLEURGAT, 1050 IXELLES
02 640 40 57 – SITE WEB – livraison
OPEN everyday,
FROM 12 TO 2:30PM AND FROM 5:30 TO 10PM
After studying hospitality in Lausanne, Guy Quirynen moved to Kyoto for a six months internship. As soon as he arrived, he came across a tiny ramen shop, half hidden behind a line of hungry customers, ready to devour their noodle soups then carry on with their day. It was his very first encounter with ramen, and he immediately fell in love.
Back in Brussels, he had made his mind : he was going to try and replicate what he had encountered in Japan, only with a few local touches. In 2013, the first Umamido opens up on number 1 chaussée de Vleurgat, a few meters away from place Flagey. From the very first day, the tiny restaurant cleverly mixes the Japanese fast-food codes with a rather slow approach, and local products from Belgium. The wheat noodles are imported directly from Japan, but the ingredients for the broth are locally sourced, like the pork coming straight from Malmédy. If in Kyoto the noodles are swallowed in just a few seconds, Guy's broth sits on the stove for over 10 hours straight, in order to reveal the flavour of each single ingredient.
Quality is what matters most at Umamido, reason why the menu is kept rather short. Five different types of broths are available : shoyu, the classic soy based broth, miso and kara miso, both with miso paste and quite spicy for the kara, and the famous tonkotsu : a thick and hearty pork based broth full of flavours, simmered for over 12 hours (14€). Another house specialty : the kimchi pork bun, a little steamed bao filled with roasted pig belly and spicy fermented cabbage (8€). Simply terrific.