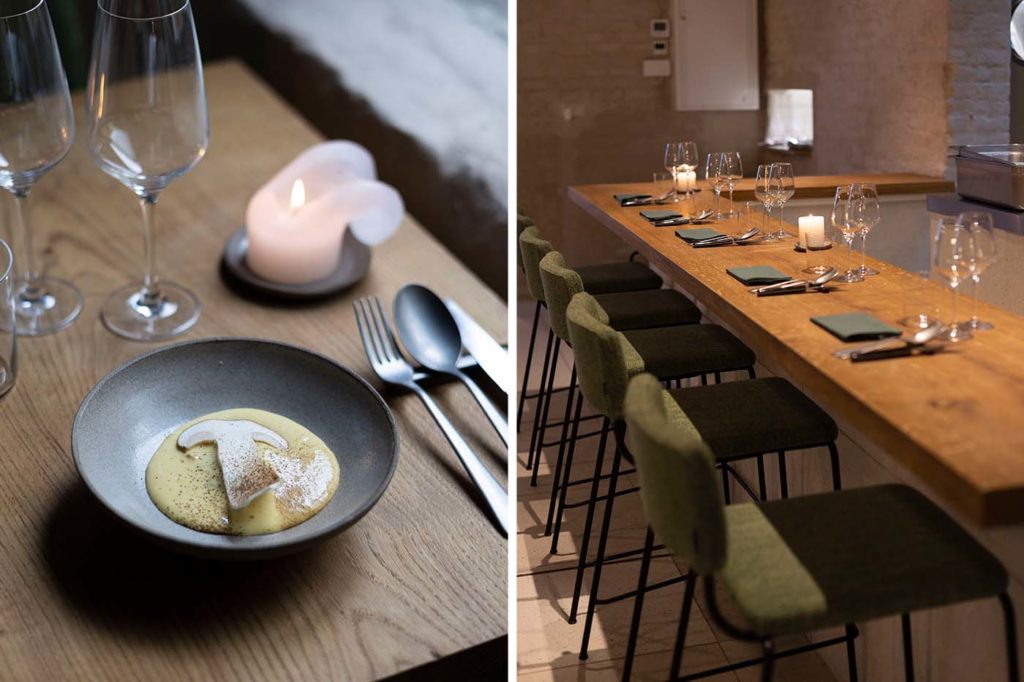 Rue du Postillon 6
1180 Uccle
site – instagram
resto : du mardi au vendredi de 19h à 23h
traiteur / caviste : du mardi au vendredi de 12h à 20h
et le samedi de 10h à 18h
When the Dillens team decided to open a new venue, it wasn't long till we were sitting at one of their tables. We each went separately, Chloé in spring, and myself during the Summer.

That night, I had no idea where I was going, my friends had taken me out on a surprise dinner. As we were driving through different neighborhoods, I was mentally browsing through our whole website in my head, trying to pinpoint the one place they were taking me to, but no luck. As we arrived in Uccle, we finally stopped in front of a washed-green building, where I was finally able to read the word Ivresse with a smile – Chloé had told them where to take me.
As I walked in, I immediately felt comfortable. The dimmed lights were perfect to enjoy a cozy dinner. We sat at the counter facing the kitchen, in the front row to watch the show from which the chefs and sommelier addressed us directly during the whole night.

We had the choice between a 5 and a 7-course tasting menu (55€ or 70€) with or without pairings (35€/45€). Pairings plural, as the restaurant has made it their specialty to work with all 4 fermentations – natural wine, beer, cider and sake. At this point, I was convinced.
When we came back to take some shots, they were serving squash "Pithivier" with mushrooms and onion juice, red tuna with lavender, raspberry and shiso, rockfish with sake, kohlrabi and brown butter, and the first boletus mushrooms of the season served with corn, shiitake mushrooms and walnuts. And just like the times we came, everything looked amazing.
By night, Ivresse is a restaurant, and by day, it's both a wine shop and a caterer. They have more than 500 wines from Titulus on offer, as well as some amazing sandwiches prepared to go, Jacques le Fromager's cheeses and much more – all 100% organic.
You've probably got it by now, Ivresse was love at first bite for both of us. We can only recommend you go try for yourself.