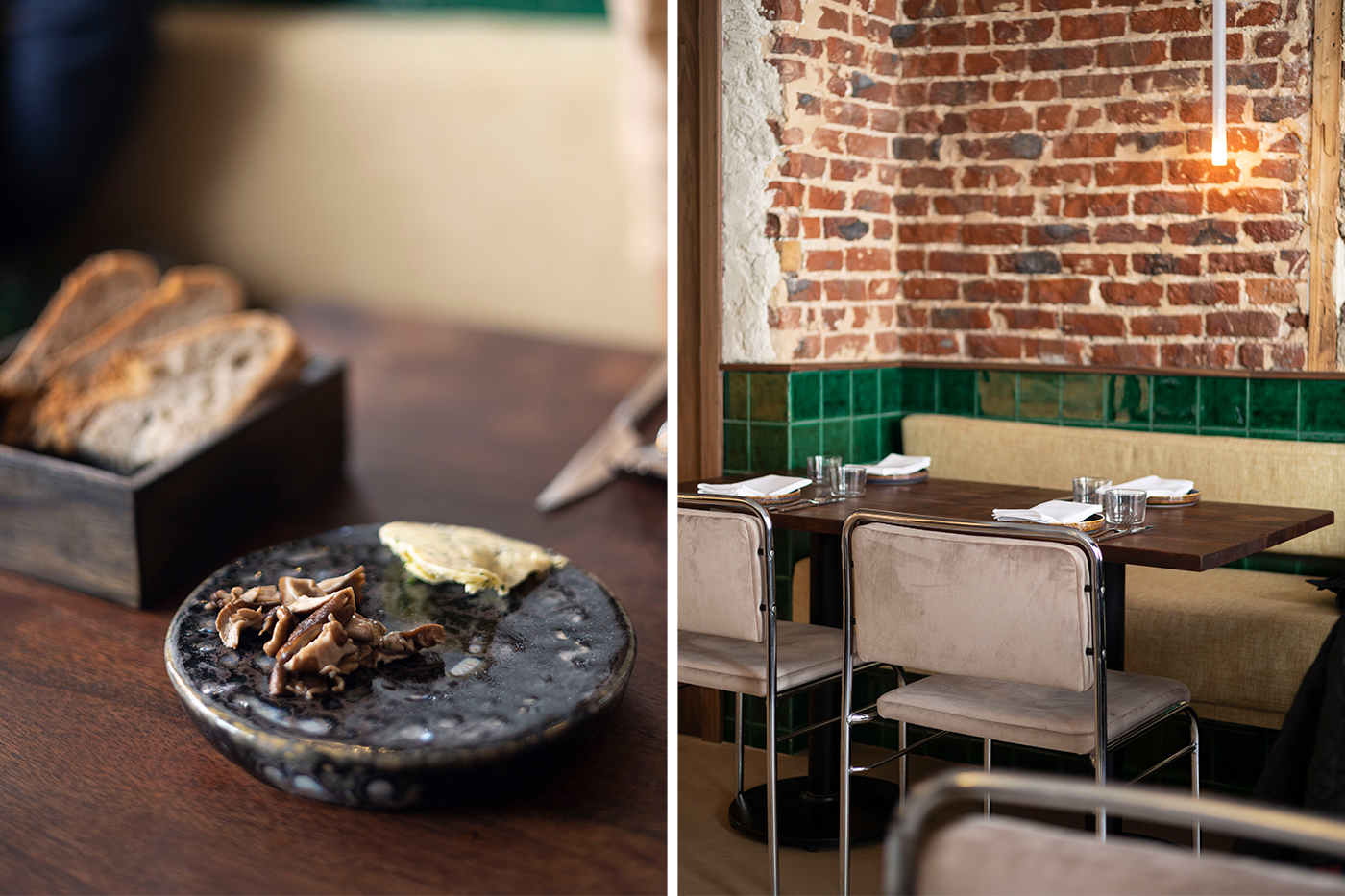 Rue de l'acqueduc 155
1050 Ixelles
site – instagram
du mardi au samedi de midi à 15h
et de 19h à minuit
We'd been following Luca on instagram for a while, and dreaming about the day he'd get to have his own space to go wild and free. We already knew Ben back when he was running the service at Nénu, and when he decided to open his very first restaurant, Luca was the one he wanted in his kitchen. Drinks wise, he partnered with The Cocktails Club to make sure nothing was left to chance.
Let's just say this, you won't come across many places like Tatar.
You might recognize the place from when it was previously Bao Bang Bang, from the tiger handle still on the door. The rest though, has been completely transformed by the talented Daphne Meeus, making it a cozy place for both lunch and dinner, fancy while extremely simple.
Tatar comes from the dish "tartare", you might have guessed. But for us, it's more of a pretext to have fun, really, for Luca to have fun in the kitchen. And he does. Of course, the classic américain frites is on the menu, and each dish as somewhat of a tartare in the composition, but there is so much more.
Let's start with the starters. The clams with guanciale, candied lemon and cream, prepared like a carbonara (17€) were just incredible, and the okra tempura with ranch sauce (13€) truly delicious. Since our first visit, we've also got to try the koroke (14€), a type of meat and potato croquettes wrapped in nori seaweed, sushi style, which were a huge hit.
For the mains, pick your tartare among the three categories – meat, fish or vegetarian. The cuttlefish I had litterally melted in my mouth. Not surprising since Luca works with the same supplier he used to when he was working at Kamo. It was served with black garlic, fried buckwheat, a dashi broth with tarragon oil and roasted Japanese eggplants (23€). Just beautiful. We also had one of the vegetarian options with grilled sucrine, boiled egg and lemony polenta (18€). Last but not least, the dessert which ticked all the boxed with a chocolate mousse served with pistachios, fig tartare and yuzu granita. Hard to go back to work after that but don't regret even just one bit(e).