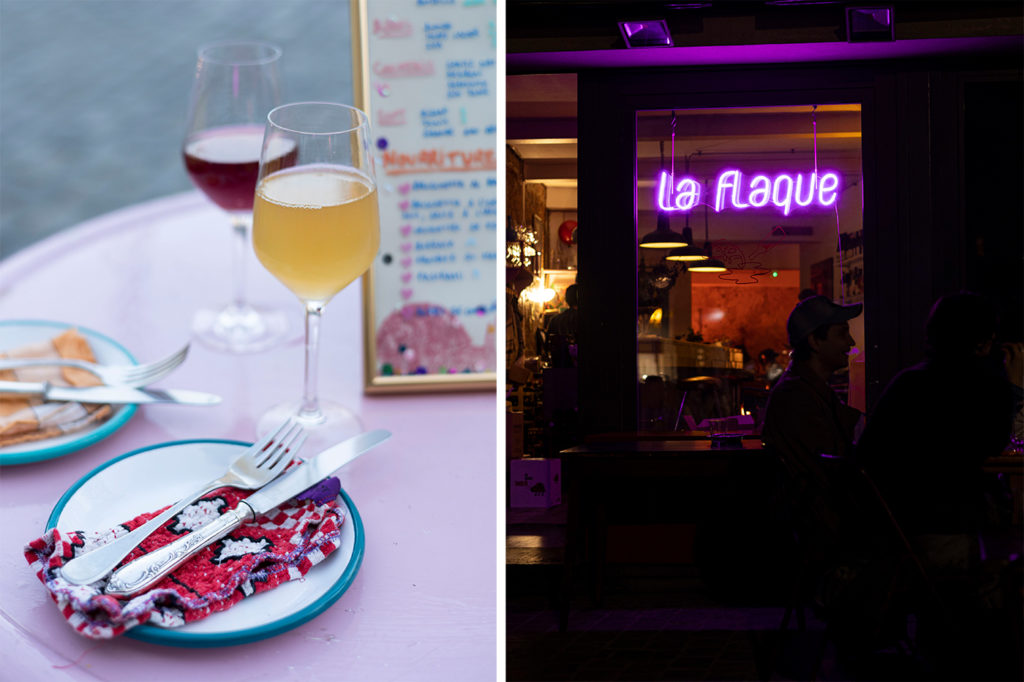 quai aux briques 84
1000 Bruxelles
instagram
monday from 5pm till midnight
from wed till sat from 5pm till midnight
wines by the glass : 6€ – 8€
things to eat : 8€ – 14€
The light was just starting to go down as we arrived. It felt like the middle of Summer even though it was already late into October. The breeze was soft and comforting, so were the little baby pink enamel tables of the terraces, set outside on what used to be parking spots. We'd heard about the wine selection of La Flaque, which was supposed to be one of a kind. Well, we fell in love with the atmosphere and team, which was also for sure one of kind. And the wine too, of course. The menu, covered in glitter and placed in a golden frame had us smile as soon as we sat down.
We had a dinner planned afterwards, but we still wanted to get a taste of the food, so we ordered the bruschetta al ragu, as well as some potato and lentil croquettes. The latter was quite uninteresting, but the bruschetta was out of this world. You could tell in a second the meat had cooked for hours, and with a tremendous amount of love. Paradise. With that, we had two perfect glasses of red that tasted like candy and white that tasted like orange. A perfect moment watching passersby enjoy the neighborhood with an ice-cream from Gastron, a drink in hand sitting by the waterfront, or just like us, installed at one of La Flaque's little table outside, enjoying some extraordinary natural wines. Why natural wines, you may ask? Well, according to Farid, the owner, because natural wines make you stand up whereas traditional wines make you sit down. Fine by us, we loved the explanation. Both him and Alex had started out at Certo, before opening their own place in Sainte-Catherine, the area of Brussels they love the most.
We had to have a look inside before we left the bar. The lights were dimmed, the furniture was just as special as the menu, and the overall atmosphere super laid-back. In the bathroom, the disco light and the "everything you may need" cabinet has us convinced. La Flaque is unique, and a place you'll have no choice but fall in love with. Also bear in mind, you might most definitely go home bringing back a couple of bottles.