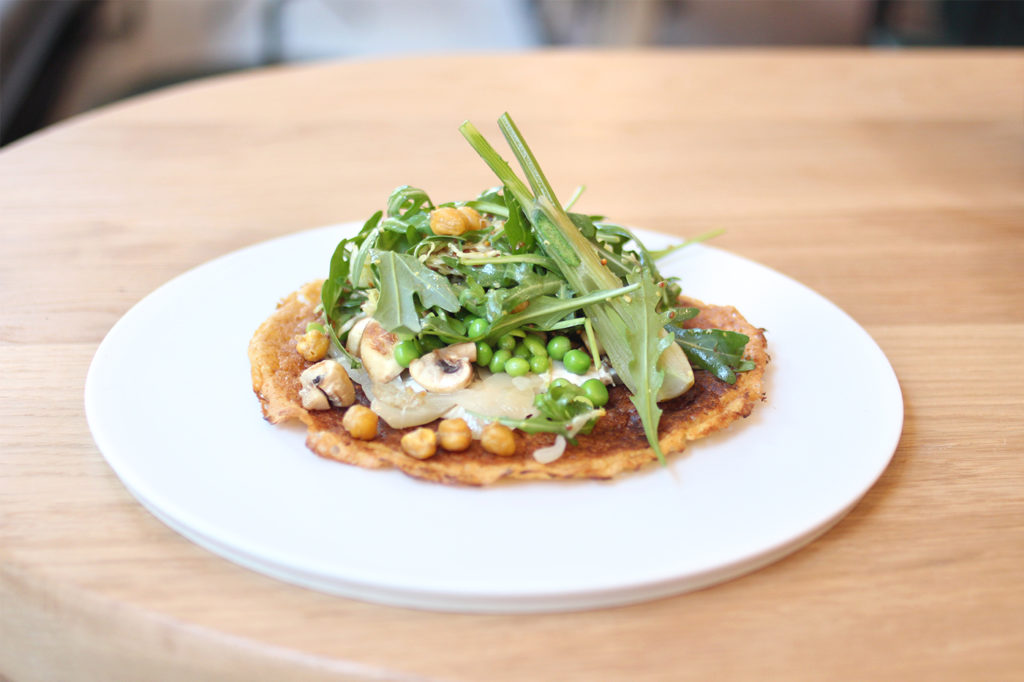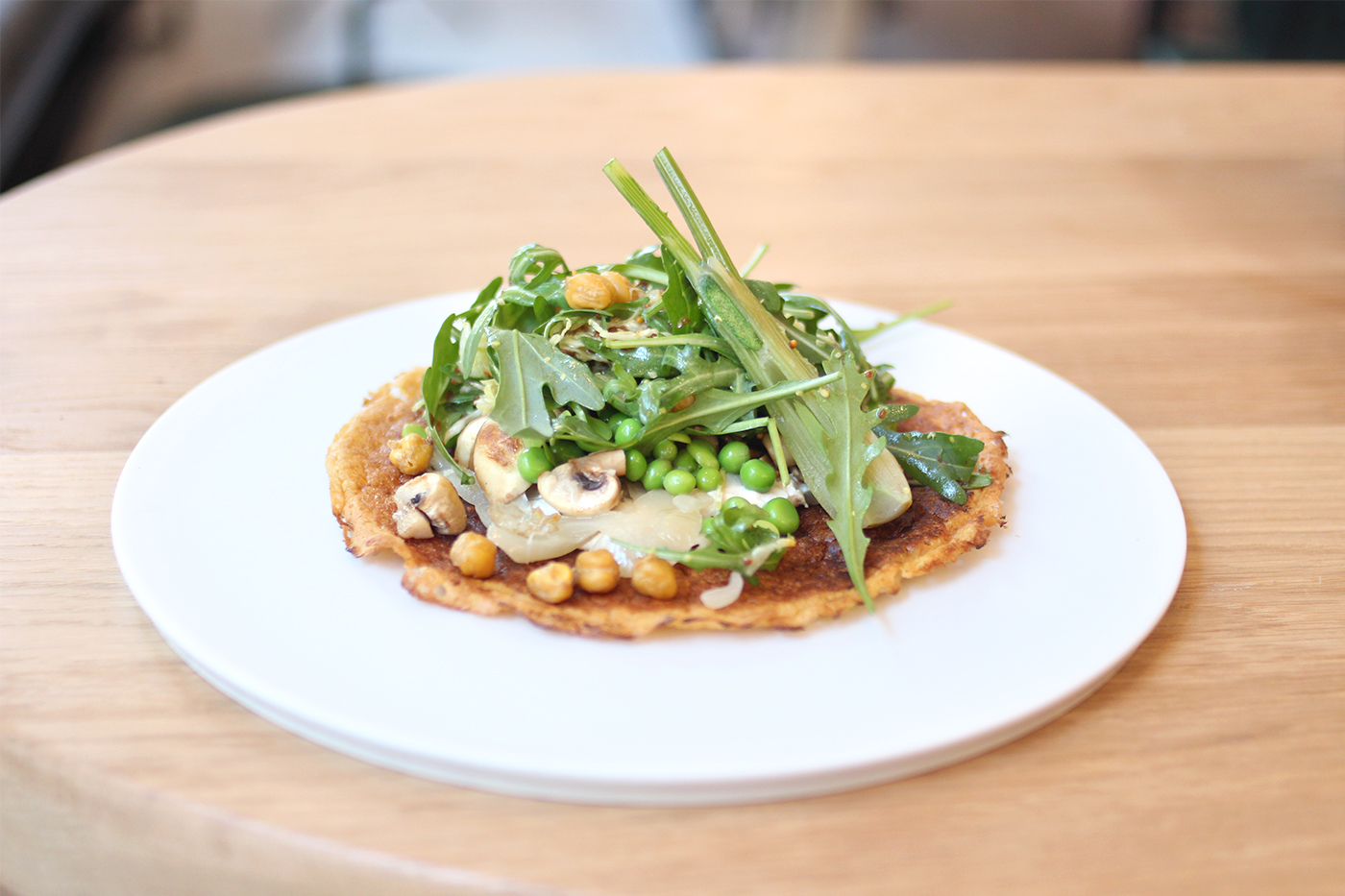 If, like us, you enjoy strolling around Brussels, always on the lookout for new places, the GoodFood sticker proudly displaying an orange carrot must have caught your attention more than once.
Even though it looks like a label and inspires something rather healthy and positive, we didn't know much about it. So, we decided to get some clarity 🙂
Restaurants proudly bearing the Good Food label make significant efforts in one or more of these criteria:
Choosing organic and seasonal products
Preparing "homemade" dishes with on-site processing
Offering an enticing vegetarian selection
Opting for local suppliers through short supply chains
Choosing responsible suppliers, ensuring fair compensation for everyone involved, from production to distribution
Reducing waste and food wastage
On our scale, adopting a more sustainable diet also involves the restaurants where we choose to dine!
We have selected 5 restaurants featured on Brussels' Kitchen that also carry the Good Food label, and we wholeheartedly recommend them to you!
Discover all the certified restaurants at goodfood.brussels/resto.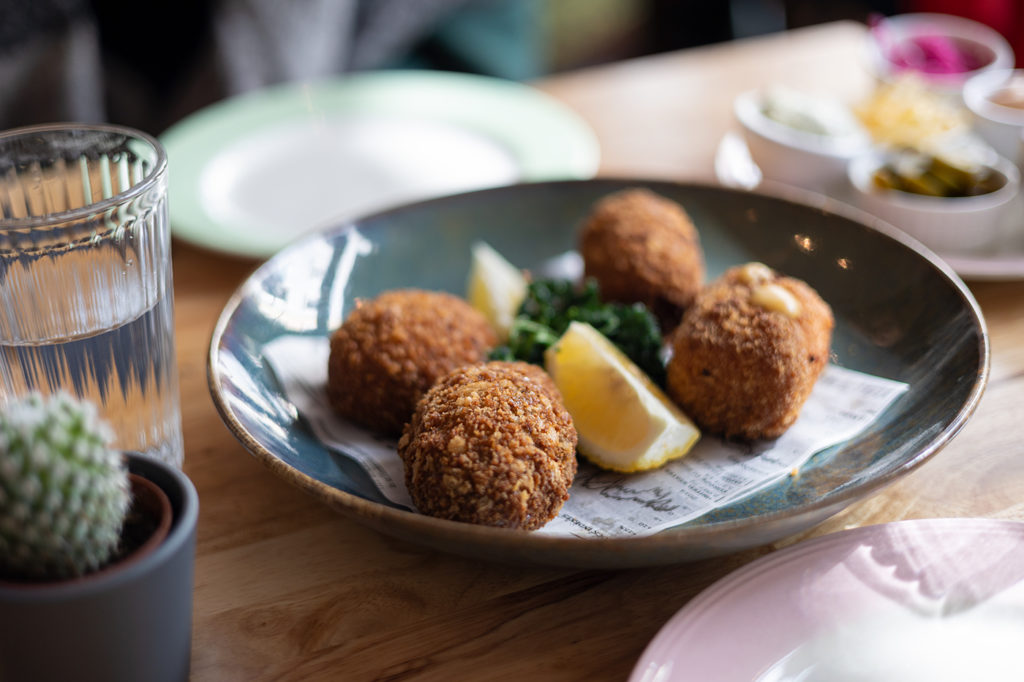 Kroket
Restaurant de croquettes
We went there for lunch, and we weren't disappointed. We started with four different croquettes (ranging from 4€ to 7.5€ each), of course, to taste as many as possible. There was the shiitake, which we already loved, the cheddar – a delight, the shrimp – a classic, and the "coques et spianata," the croquette of the week and our favorite. And because Antoine is super friendly, he also brought us the lunch appetizer – two mini cod croquettes, super light (no potatoes, that's the secret), on a fresh fennel salad. Bliss.
We continued with the daily special (19€ for the lunch combo of starter and main course), a beef chimichurri on a red bean puree with radicchio salad – delightful seasoning and perfect cooking. And a pan-fried calamari with garlic, parsley, and white wine (15€) – just the smell alone made us feel like we were by the seaside.
It's a hidden gem of a place, just the way we like it. A lovely team, quality ingredients, excellent cuisine, and very reasonable prices. Clearly, it's everything we're looking for.
Why is it Good Food?
Regarding the production process, KROKET has incorporated a short supply chain into its production chain. Thus, the majority of the suppliers are local and Good Food compliant (Smala Farming, Renard Bakery, ECLO, Le Comptoir du Samson, BIGH Farming…). They also upcycle unsold items, particularly for making the breading. Finally, KROKET is also involved in social initiatives: since May, for every cheese croquette sold, 0.50€ is donated to a non-profit organization.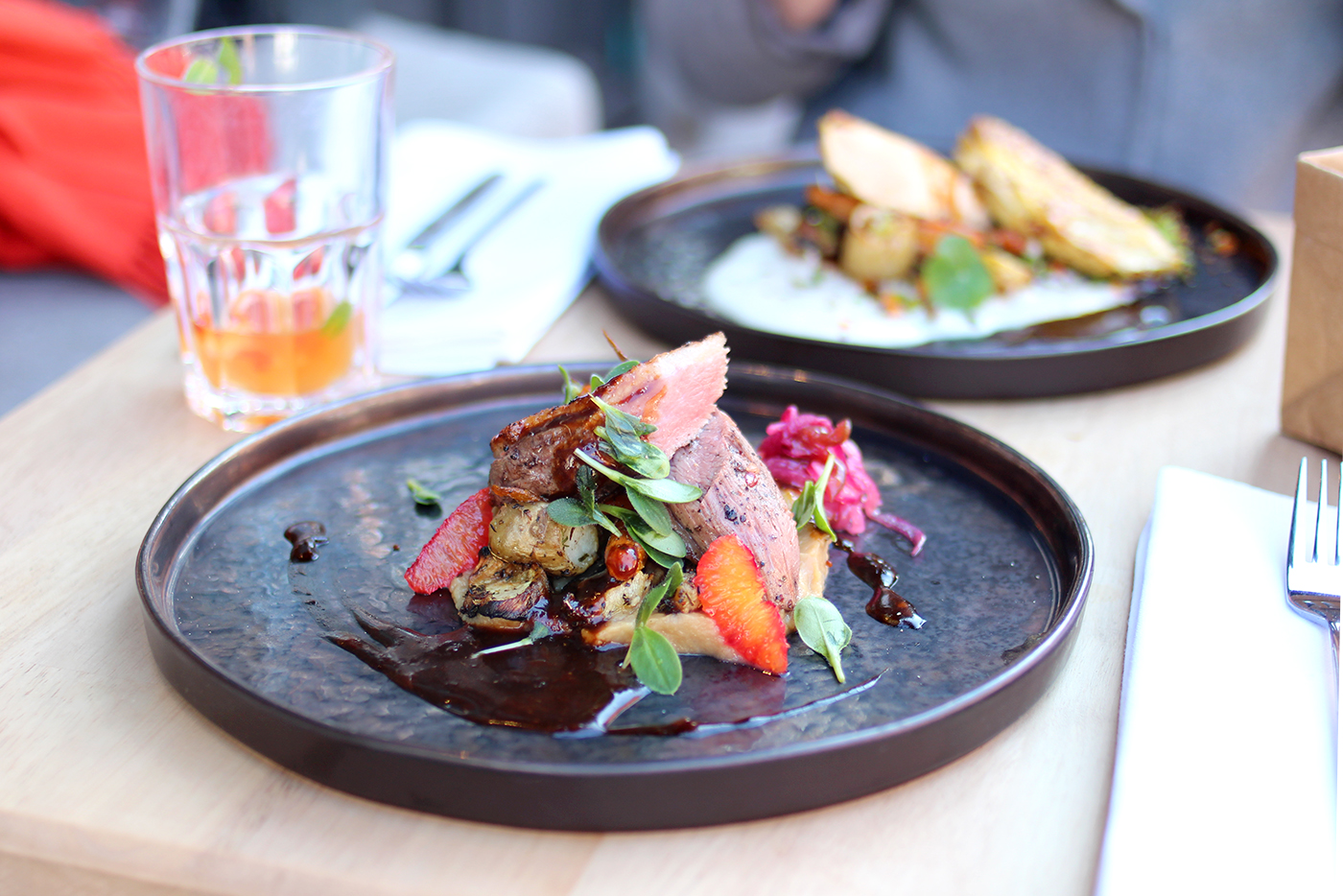 Brut
Gourmet Cuisine
Just two streets behind Flagey, below the Ixelles hospital, Brut is the restaurant of chef Alice Pollet and her brother Léo. They did everything thoroughly and in the smallest details, from choosing local producers to completely recycled decor. The products are almost entirely Belgian, with one or two exceptions like their own smoked Label Rouge salmon from Scotland. Short circuit, recycling, organic and artisanal products – that's the team's motto. One by one, they met each of their suppliers to choose the best mozzarella – Belgian, of course – or Ardennes duck.
Why is it GoodFood?
Brut offers predominantly organic gourmet cuisine from our Belgian terroir.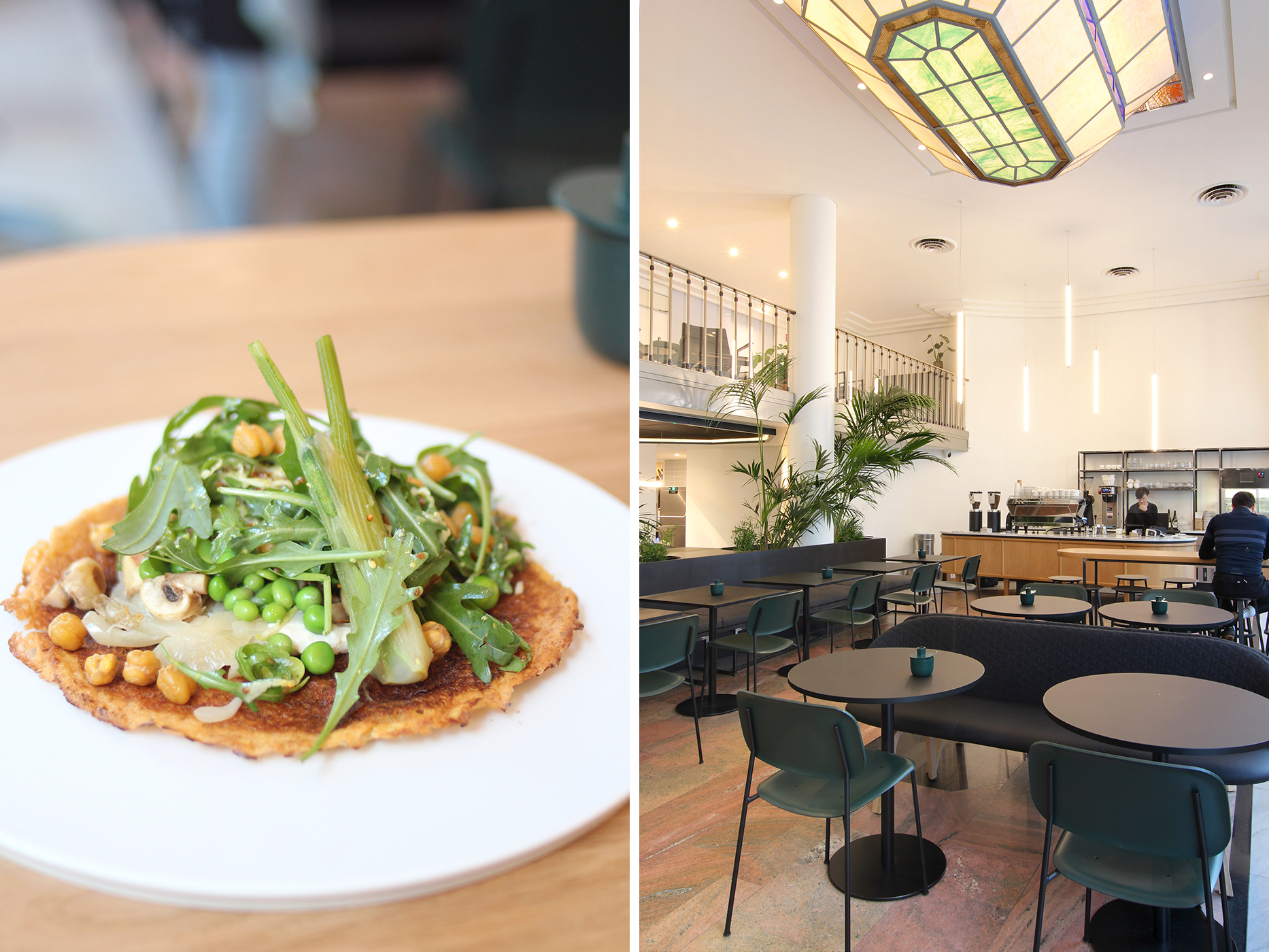 Frank
Breakfast, brunch & coffee
The tagline is simple: breakfast, lunch & coffee. On the menu, seasonal vegetables from the Monde des Milles Couleurs. On the pancakes, no maple syrup, but Belgian honey (€13.50), pure bliss. On the savory side, we tried the socca, a chickpea pancake topped with cashew cream, balsamic mushrooms, the first peas of the season, and young fennel (€15). A delight where you can feel the quality of each ingredient. With all this, an oat milk cappuccino, based on Mok coffee, and unlimited water – a gesture we never tire of appreciating.
Why is it GoodFood?
In addition to working with local producers who supply them with organic products, Frank is also committed to the zero-waste movement: thus, the price of each dish includes a contribution of 15 cents to Recyclo. As for organic waste, it is composted and then redistributed to farmers.
Le Tournant
Bistro cuisine
Established on the Chaussée de Wavre for a long long time, and taken over the chef Denis Delcampe in 2012, Le Tournant is an invitation to eat well and relax. You come here for lunch, a simmered dish, or even a 3-course discovery menu (€45), which we look forward to pairing with a natural wine agreement for a true taste experience. At Le Tournant, they prepare bistro cuisine, gourmet and generous, with precise cooking and quality products. If you like to be surprised, we highly recommend forgetting the menu and choosing the four-course menu, with more inventive pairings, which we will accompany with delicious natural wines (€25 for the pairing), most of which come from Titulus.
Why is it GoodFood?
Le Tournant offers you market cuisine, based on local products and transformed on-site.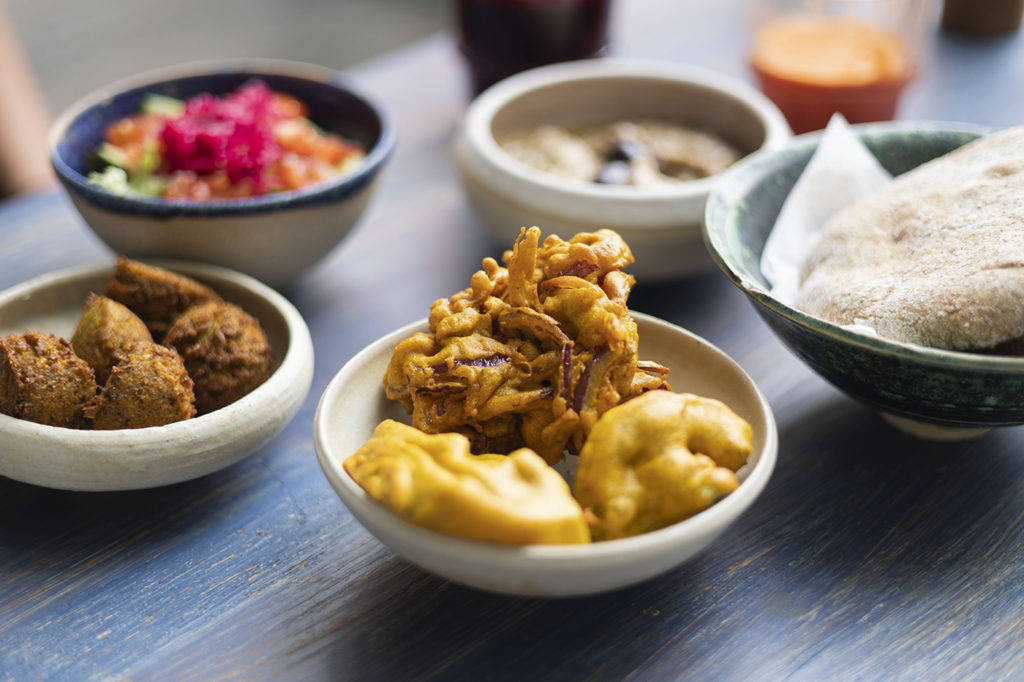 Chana
"Chana" means chickpea in Hindi. A name chosen quite appropriately by Ali, the Pakistani-born owner who prepares delicious falafels at Chana from his large counter. Indeed, falafels are the flagship product of this small neo-canteen on Parvis de Saint Gilles. You can accompany your falafel pita with tahini, babaganoush, or hummus, and order some delicious eggplant pakoras served with mint sauce with great delight. Everything is vegetarian, prepared on the same day using organic ingredients, and everything is absolutely delicious, even down to the freshly squeezed fruit juices.
Why it's Good Food?
Chana sources its vegetables from local producers located in Brussels or the surrounding areas. The restaurant only uses whole spelt flour for buns and the crust of fruit tarts. Tap water is available for free. The packaging used is compostable, but customers can also bring their own containers and packaging. Finally, Chana has compost for vegetable waste.
Discover even more Good Food restaurants through Brussels' Kitchen here!