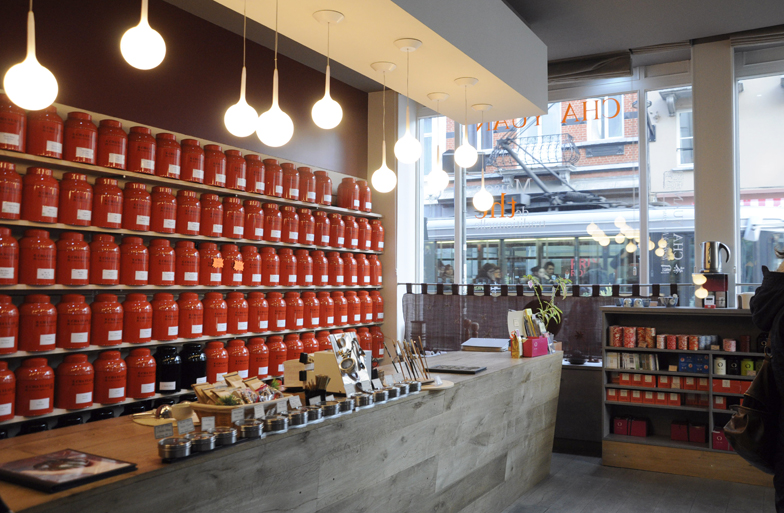 97 RUE DU BAILLI, 1050 BRUXELLES
TEL: 02 325 95 12 – SITE WEB
OPEN FROM MONDAY TO FRIDAY FROM 10AM TO 7PM
I always considered Cha Yuan like a tea shop. I had already caught sight of the little tables, hidden behind the wooden screen, dividing the room in two, and i had told myself, "great, what a cute place to come and have plenty of tea."
What surprised us more, looking through their huge menu, was to find out they not only had tea, but also had all sorts of steamed dumplings, green tea desserts, but especially LUNCHES!
Hehe.. nice find.
Their formulas included all sorts of nice little unexpected things, as well as a huge choice in their range of teas.
So, where do I begin? The first thing to know, is that there are 4 varieties of tea. Sorted by rarity and quality, and therefore by price. 1 for the cheapest, 4 for the most expensive.
The prices of the lunch menus also vary according to the tea accompanying them. 10,90 euros for a classic lunch with a category 1 tea.
The cool thing is that you can also have any tea as iced tea, and if you don't really know which one to pick, they have their "ice tea of the moment".
4 different lunch menus. We both picked the vegetarian one. We got four steamed gyozas (japanese dumplings), 3 spinach stuffed buns, and two little steamed desserts ; a sesame coconut ball, and a small lotus flower stuffed bun. There was a bit too much dough, but it was really really good, and different from the red bean traditional paste, which you think is chocolate, but is not.
The classic menu is the same, except with meat.
Another cool thing, is that you can order a miso soup for only 1,90 euros. It was really freezing outside at the time, but in Cha Yuang, everything was for the best.
And of course, they sell all kinds of teapots and tea accessories, and you can take home any tea by a 100gr.