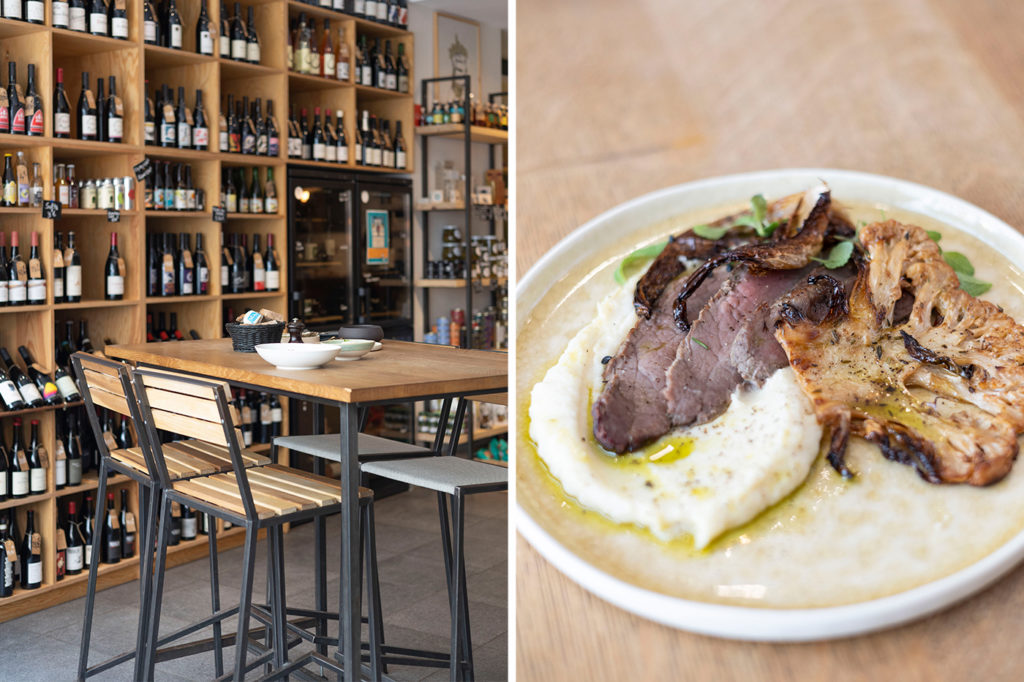 167A CH. DE WAVRE, 1050 BRUXELLES
02 512 98 30 – SITE WEB
Cave de 12h à 23h, cuisine et bar de 17h à 23h
vin au verre : 5€-9€ / pour manger : 5€ – 17€
Open now for over a decade, Titulus is altogether a natural wine shop, importer and supplier. It's a bar too, and a great one natural wine-wise, obviously, but it is now also a restaurant. And a great one too, that never compromises on quality, just like its founders, Baptiste, Vivien and Philippe.
On the shop side, you'll find bottles ranging from 9,90€ for the Tètes series, the wine they've been making themselves since 2013, the year where they took over the vines from Domaine des Baigneux, in their original region in Touraine. But they've also got over 350 references, to take out or drink at the bar, for just 10 euros extra.
But it's not only about wine, at Titulus. The three guys have always known how to surrender themselves with the best, among which Lyla – their amazing chef. Every two weeks, she composes a new menu made of 8 small dishes to share and two desserts. Her cooking highlight organic, local and seasonal ingredients – sustainability being one of her core values.
As we eat, we can't help but overhear Vivien, Lyla and Baptiste laughing and chatting. It's not only about the food and wine pairings here, but truly about human connection. And needless to say that's one of the things we love the most about Titulus.
We start off with radishes, bergamot and garlic (8€) and oysters served with apple and herbs sorbet (7€), super fresh. We then share the beef with cauliflower and chlorophyll (14€) and the roasted celery with parmesan cheese and walnuts (11€) – our two favorites of the night. We end on the same note we started – a goat cheese ice cream served with apple and honey, super light and super fresh (7€). As for the drinks, we picked among a list of about twenty different bottles available by the glass (ranging from 5 to 9€).
Titulus has been our favorite natural wine supplier for a long, long time now. For the wines of course, but also and truly for its people, who have become true friends since. We're now super delighted to also come here for the food.