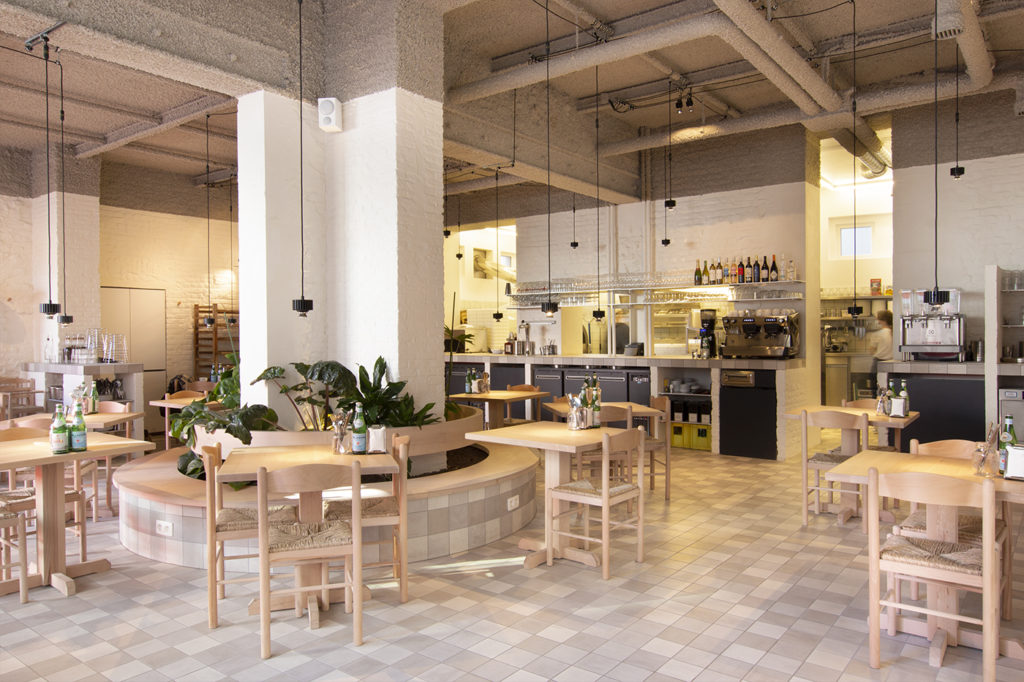 11-13 Rue de Moscou,
1060 Saint-Gilles
instagram
Monday to Friday from 12pm to 2pm & 5.30pm to 10pm,
sat 5.30pm to 10pm
sunday from 12pm to 9.30pm
Pizza 7,50€ – 12,50€
The pizza dough is what stands out at Standard. The toppings aren't bad either, and we truly enjoyed both our pizzas, sitting uncomfortably in my car, but the dough, mamma mia. We're not an Italian restaurant, said Michel, the manager of the group's new establishments. That may be true, but the pizzaïolo is Italian, and it is him that we remember. You could feel he made his sourdough dough with love, when he cut our pizza with scissors, in order to show us the holes formed in the crust. And that was truly beautiful, and it's also what made us want to come back, to eat our pizzas installed at one of the small tables at Standard this time.
The interior also caught our attention. Like the first establishment in Antwerp, it's both big and cosy, and it makes you want to book one of the two big tables near the windows to come eat with a large group of friends (even if anything right now makes us want to eat with a group of friends, of course). On the menu, rather few choices, and that's something we like too. Some more classic pizzas with a twist, like the N'duja (13,50€), served with kale instead of friarelli. But also more twisted pizzas, like the one with old Bruges, leeks and bacon (12,50€) – whose title makes us think of a quiche.

Let's get back to our pizza dough. Their sourdough, initially made from the juice of grapes growing at the foot of the volcano Vesuvius, gives their pizza dough its particularity, light – yes, light – and even quite easy to digest. And the second thing that makes this place special: some pizzas are pre-baked, vacuum-packed and available to take away (at the Petit Mercado for example), to be reheated for a few minutes in the oven at home. We tried those too, and it was a real success. We'll definitely be back.