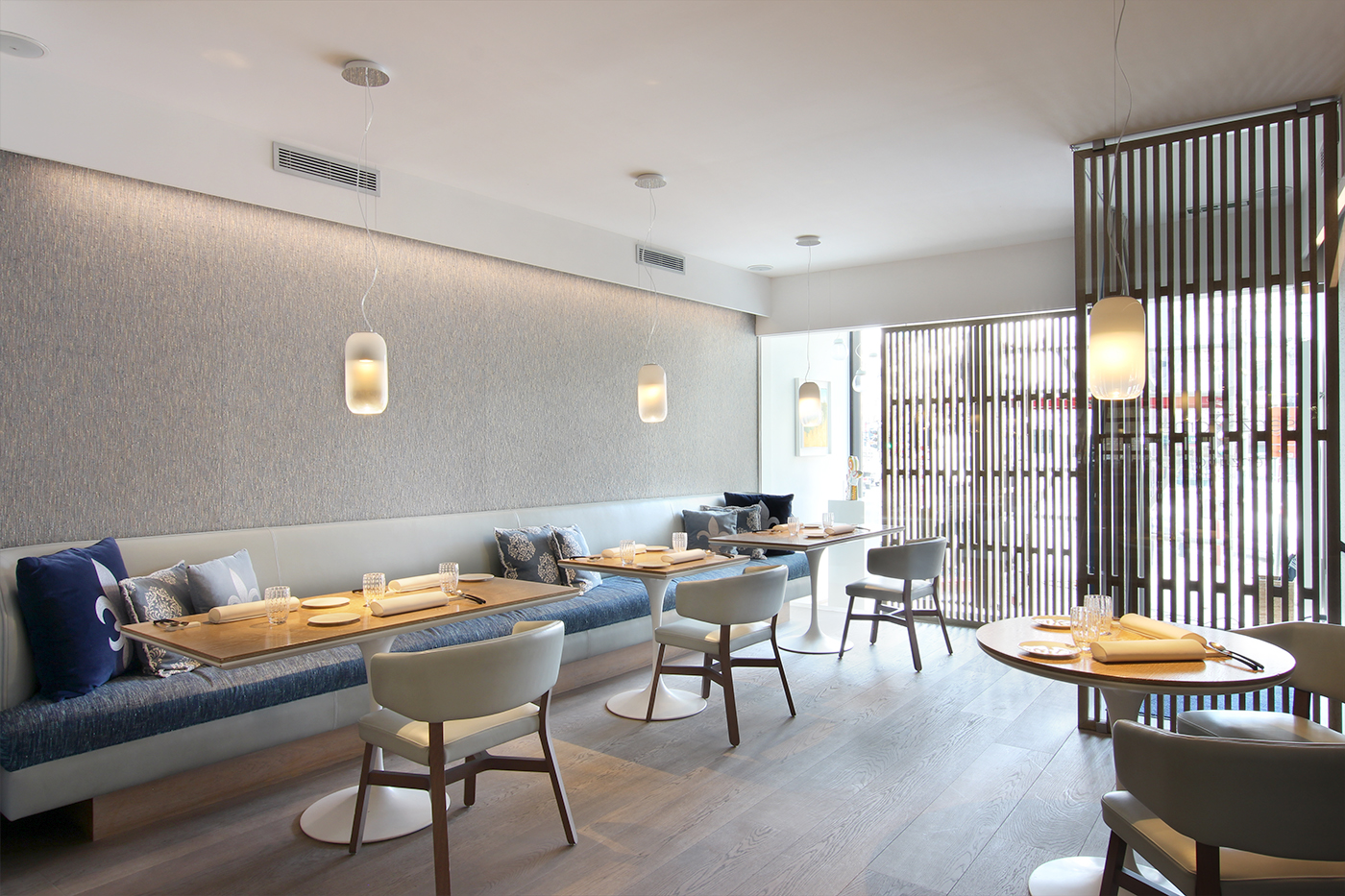 1 place du petit sablon, 1000 Bruxelles
site web
from monday to friday, from 12 to 1:30 and from 7pm to 9pm,
3-course lunch : 50€
6-course tasting menu : 110€
What we like about the Senzanome, is the simplicity of its chef, Giovanni Bruno. In his Michelin-starred Italian restaurant in the heart of Sablon, you could think quite the opposite. Though the location and the numerous prizes can seem quite intimidating, inside, everything feels smooth and extremely easy, a bit like when you're strolling in the halls of one of those Four Seasons hotels, where everything seems to fall right into place.
As we arrived a bit early to take photos before service, we met the chef on his way out, ready to walk his dog. « I won't have the time to after », he told us in the simplest of ways, a big smile on his face. There are no frills here at Senzanome, but a warm Italian welcome and extremely professional service – the type that makes itself forgotten without ever forgetting the customers, with smiles and always open to have a laugh. Everything we like about a great restaurant. Food wise, we felt the same generosity we already enjoyed so much at Fico, the restaurant opened by Nadia – Giovanni's sister – in Châtelain. Here, the chef who has been awarded with a Michelin star in 2004, a jury for the San Pellegrino Young Chefs in 2016 and won a score of 16/20 at the Gault & Millau, is taking things a little further.
We started our lunch menu with small appetizes – focaccia with Colonnata Lardo and a tiny minestrone soup with Borlotti beans and pecorino foam. Both were extremely comforting Italian classics and both were delicious. Then the show started with an amazing boletus mushroom dish, served with grilled scallops (the firsts of the season) and white truffle, followed by a delicious white fish filet with bergamot – but what we liked the most was the incredible al ragu pasta dish, casually slipped between two extremely fancy dishes into our lunch menu. And that's the real reason we go to Senzanome, and also the reason we go back: to eat excellent and authentic Italian food.