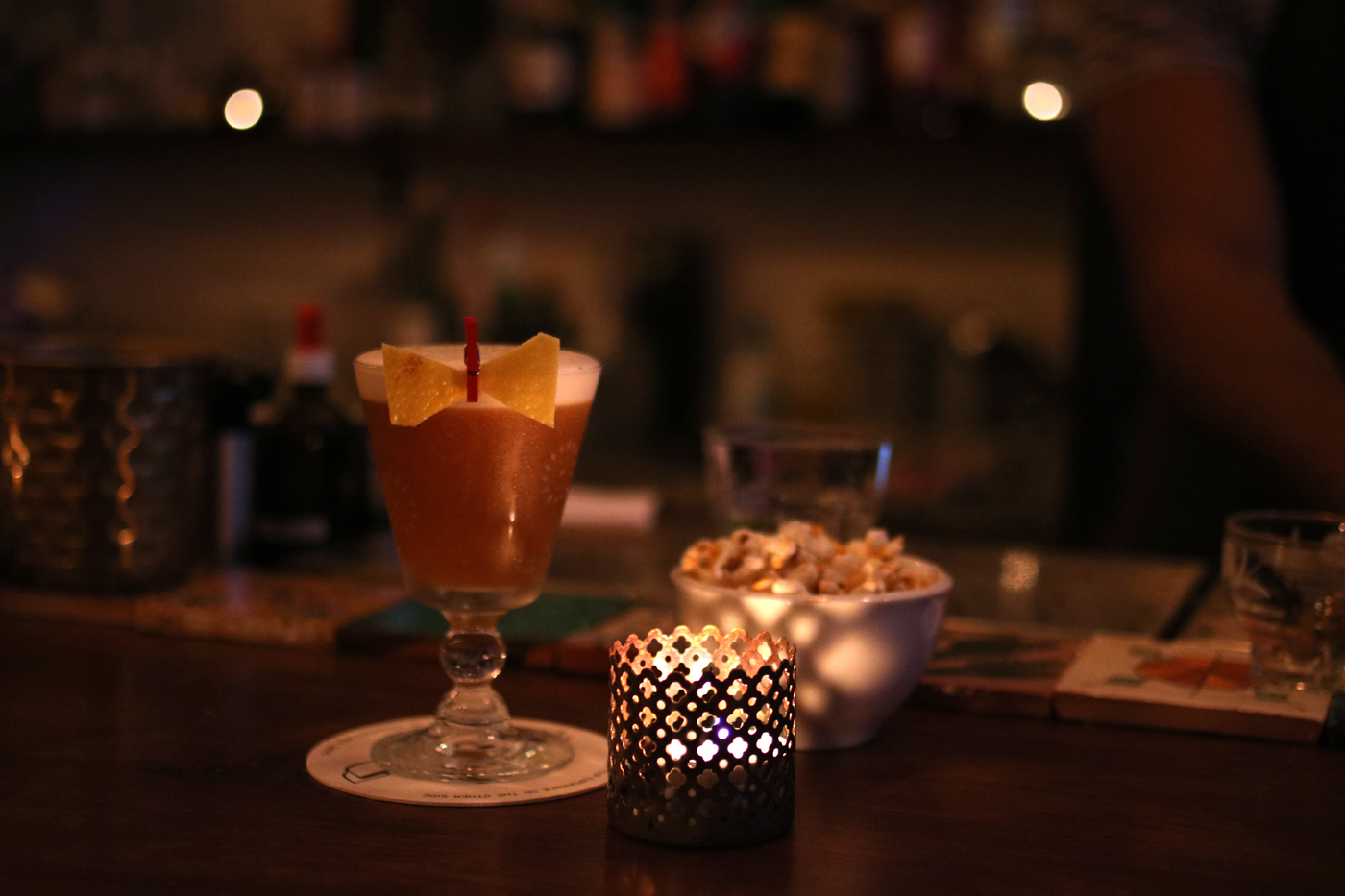 161 RUE ANTOINE DANSAERT, 1000 BRUXELLES
02 223 59 99 – WEBSITE
OPEN FROM THURSDAY to saturday FROM 6PM TO MIDNIGHT
Opened in June 2016 in the Dansaert neighbourhood, LIB, or Life is Beautiful, joined the high-end mixology trend, that had recently been spreading over Brussels.
Hortense had been the initiator of the movement in 2013, with their intimate bar and sophisticated cocktails. And it's three years later, (about time you may say), that we start seeing the opening of several dedicated cocktails bars, more or less secret, and more or less successful, over the capital.
The opening of LIB is rather good news, especially now that our dear Hortense has turned more into a restaurant, and what is more, in a place where they can only be proud to be the firsts.
We will now go all the way downtown to enjoy our cocktails.
Before opening LIB, Harouna first went through Toukoul restaurant, where his mixology skills would compliment the Ethiopian food. He then joined the Stoefer team, where he found a real spot behind the bar. It's only after having moved to Brussels for four years, that he finally opens his own place, together with his partner Caroline.
LIB is a tiny and modest bar, where Harouna will greet you warmly as soon as you step in, hidden among his impressive collection of spirits. No dress code or secret address here, and we're truly excited to be able to enjoy inspired and inspiring cocktails in such a relaxed atmosphere. No time to check the menu, Harouna asks us what we like. As we're not experts in the matter, we try something like « not too sweet, rather sour or bitter », and wait to see the magic happen.
Harouna brings me an interpretation of the Gentleman, decorated with a tiny lemon zest bow tie. The juniper is here replaced by gin, which is accompanied by elderflower liqueur, Cynar, sugar syrup, egg white, and lemon, and garnished with some juniper grated over it. What can I say, except that it was delicious, that I probably drank it too quickly, and that I will definitely remember its name for my next visit. Sarah, adventurous at heart, is tempted by a peat whiskey accompanied by beet syrup, Campari, lemon, hellfire bitter, and a tiny bit of green chartreuse. A variation of the "Final Word", with Cynar replacing the cherry liqueur. We are impressed by the softness of this cocktail, powerful and yet so easy to drink at the same time.
On the food side, along with the small popcorn plates served with the cocktails, Caroline also prepares three different kinds of small bites. We try the homemade dukkah (a middle-eastern mix of nuts, seeds and spices), served with bread and olive oil. The mix is filled with strong flavours and is perfect to dip a piece of bread, along with some strong cocktails.
In addition to the bar, Harouna and Caroline also organize tastings and masterclasses, where you will have the opportunity to make a rather classic cocktail, then your own interpretation of it. Keep checking their Facebook page to sign up for future events. In any case, we know we will.