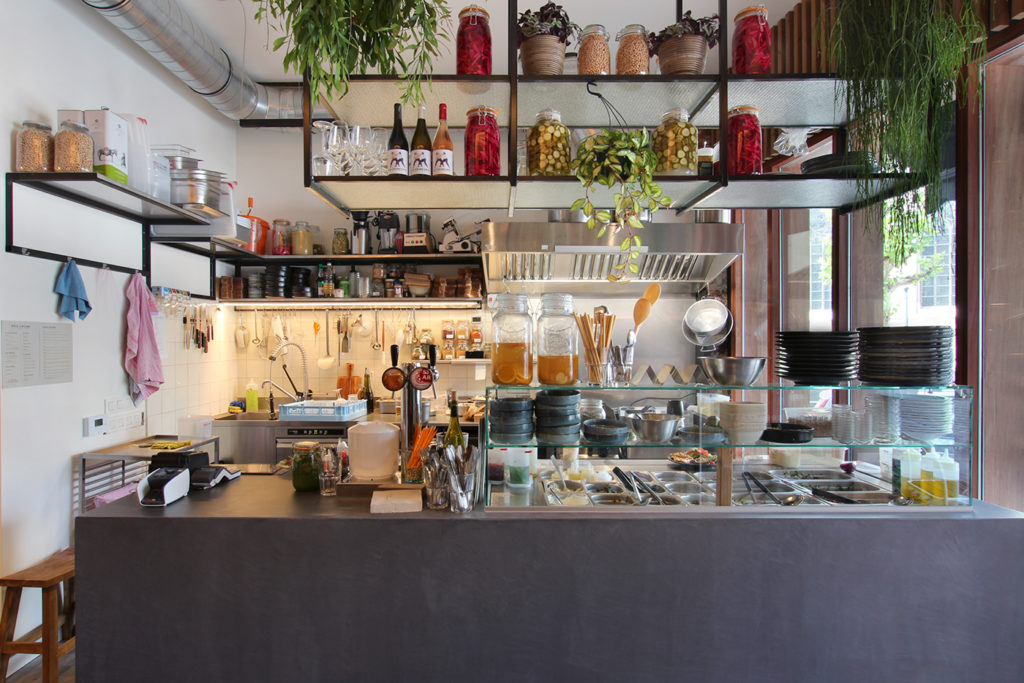 15 place de la chapelle, 1000 bruxelles
– website
from monday to friday, from 12pm to 2:30pm & from 6pm to 9pm
saturday and sundy, from 11am to 9pm
dishes: 6€ – 14€
brunch: 13€- 15€
After Semsom and My Tannour, Pois Chiche has recently joined the crew of cool middle-eastern eateries in Brussels. There are thousands of Lebanese take-out, says Yessen, but only a few consider all the key elements that make a good restaurant today. With his business partners, they decided to work with quality ingredients only, but not just that.

The huge mortex counter by the entrance has been custom-made for the place, just like the glass shelves above it, carrying huge jars of homemade pickles. Further inside, a comfortable bench and skylights make the place quite chill and cosy. The two partners wanted to open a fast-food with a true vision, and think of every single one of its aspects. From local and organic ingredients, to also a cool playlist, a nice décor, beautiful ceramic plates, homemade syrups, etc… Quickly looking at their menu, we realize that all of their dishes are vegetarian. But when asked, Yessen says they try to avoid this label as much as they can. In Lebanon, this is not vegetarian food, it's simply food. Hard to pick between the Berloumi plate (Halloumi made in Belgium), falafel, fried cauliflower, or among the big selection of homemade dips. We end up going for the homemade falafels, traditionally grounded in a meat grinder, for a smoother filling. For brunch, Pois Chiche even offers Shakshukah (13€), a good enough reason alone to make the journey.