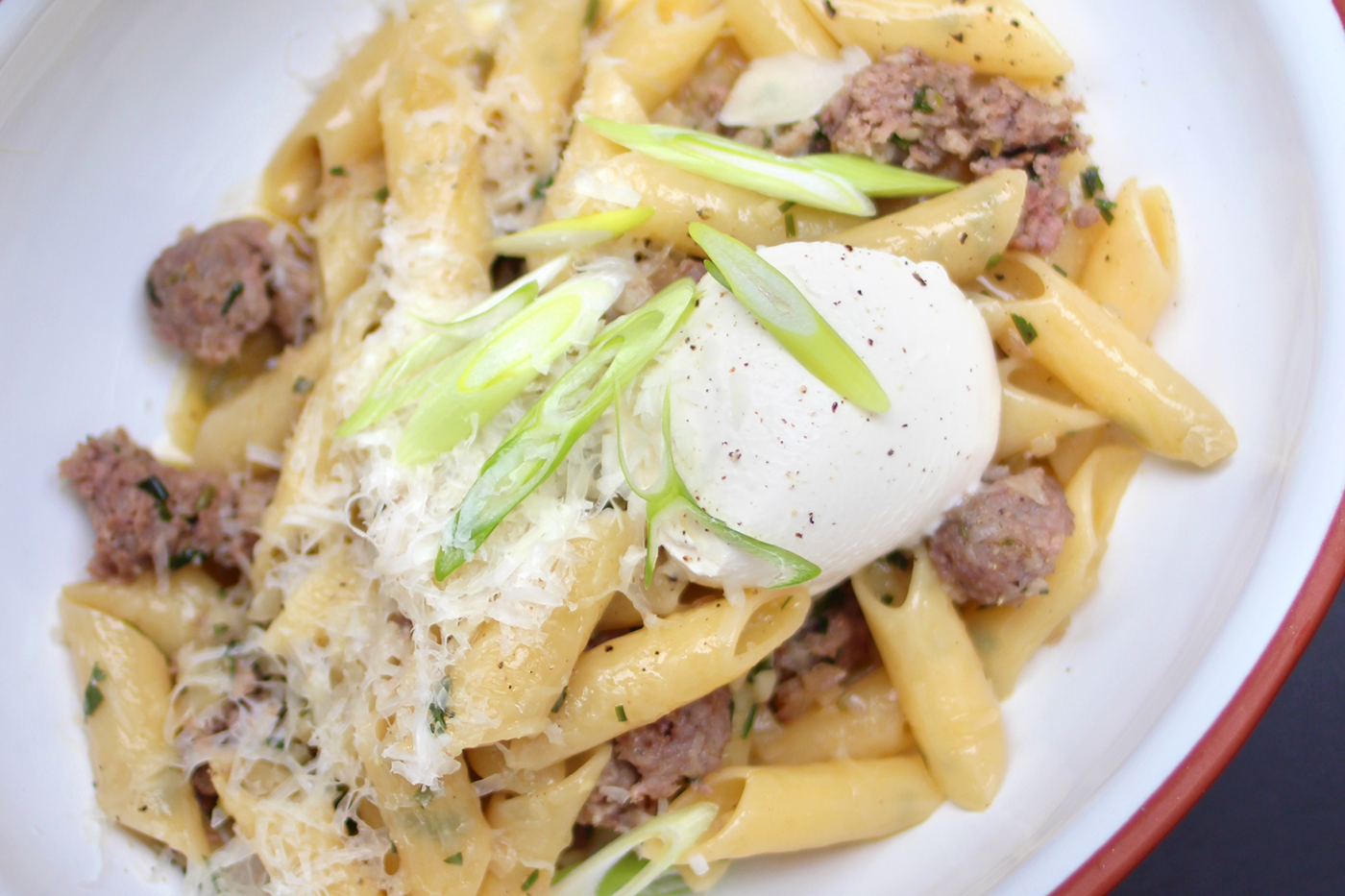 For 2
120 to 120g Italian salsiccia with fennel,
(or plain Italian salsiccia, or Toulouse sausage
with a tsp of fennel seeds)
100g of dry pasta per person :
pennoni or rigatoni (hollow pasta,
ideally not ribbed)
½ fennel
½ red onion
5cl dry white wine (sauvignon for instance)
olive oil
butter (optional)
black pepper
50-75g of mascarpone (optional)
1 spring onion
pecorino sardo or pecorino romano
or parmesan
Coin Coin is a pasta restaurant, but not an Italian restaurant. It's the type of place that's always crowded – the type where you'd never whisper to try not being heard. Matthieu would hate that. Matthieu is the chef and owner, a real pasta and Italy lover, though not Italian himself. But the pasta he makes are at least as good as if. And we keep asking for more. Today, he shares with us his Pennoni alla salsiccia e finocchio recipe, so that you can make it at home, for now.
Pennoni Salsiccia e finocchio
In a big pot, bring water to a boil, adding approximately 12-15g of thick sea salt/ liter of water, just as the water boils.
Prepare the sauce. Remove the skin from the sausages, and slice them into 1,5 – 2cm pieces. Chop the fennel very finely, removing the heart and the stems. It needs to be cut into really thin pieces in order to melt in the pan, just as an onion would. Cut the onion thinly as well. Chop the spring onion in thin pieces, removing the green part. Keep on the side.
In a pan, add some olive oil and a tsp of butter (optional). Add the fennel and the red onion, and cook without coloring, then add the sausage and let cook on low heat. Then bring to a high heat and right before the ingredients start sticking to the bottom of the pan, pour the white wine. Let cook on medium-high heat until the wine evaporates, then turn off the heat.
Cook the pasta a minute less than what you would do to have them al dente. Keep about 10cl of cooking water in a small bowl.
Drain the pasta then pour them into the pan. Bring it to high heat, and add the cooking water. Stir thoroughly for a minute, making sure nothing sticks to the bottom of the pan, until the sauce has the right texture.
Turn off the heat and grate some pecorino or parmesan cheese into the pan, and mix again.
Pour into two plates, add a tsp of mascarpone (optional), the spring onions, a bit of really good olive oil, a pinch of sea salt flakes and a pinch of black pepper. Finish by grating some extra pecorino or parmesan on top.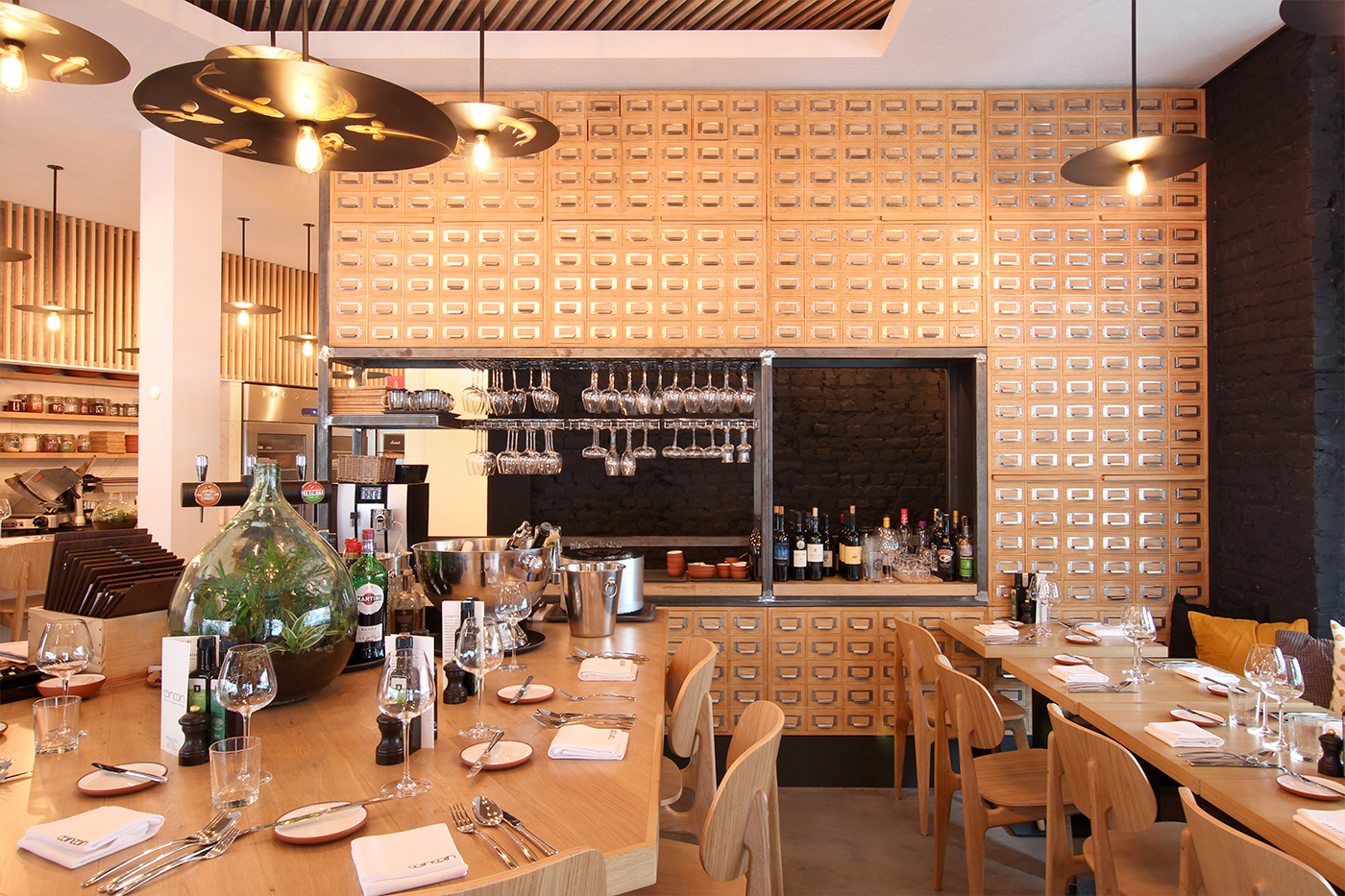 Can you tell us more??
I've had a few restaurants – in Woluwé Saint-Pierre and in Louvain La Neuve too. The reason why I opened Jules & Charles at the time, in Woluwé Saint-Pierre, is because there was a lack of offer. I'm myself a huge restaurant fan, that's where I spend a big part of my budget. And Woluwé seemed like a very sleepy neighborhood, where not much would happen, which was really dramatic to me. So with Jules & Charles and A Confesse, we tried to shake it a little big. Then an opportunity came, with this building, and I didn't want to miss it. I'm a true pasta lover. I think if you can make pasta, you can probably win anyone's heart. So I thought we'd open something small, casual, with our philosophy, while being accessible and super friendly. I always work with my brother on the interior design. We wanted something pretty, cozy, with an open view onto the kitchen. To be transparent on our cooking of course, but also to show what really happens behind a counter when we're in a rush, and that we're putting all the necessary energy into it. So we launched thinking we wouldn't look for anything special by opening Coin Coin, except make sure it would a be nice place to, and it would always be crowded. We wanted volume because we love when things happen, when people come and go. We managed to impose two shifts, which wasn't a given but now works super well. We've almost never been non-full. And we like that rhythm too. We try to show people we offer great value at great prices, while doing everything homemade. We aim for volume, but not only to keep the finances afloat, most of all for the atmosphere it implies. Those are the places people want to be at. I myself love the places everyone talks about, the ones with a real charisma: that's what we aim for at Coin Coin. But it needs to remain affordable. We work a lot with produce coming straight from Italy, and we go there ourselves too, for quality control. We honestly have so much fun doing what we do, and making this neighborhood alive again. And we make money out of it too, well that's just even better.
Your strongest food memory?
My old aunt's veal liver with carrot puree. It's a Proust Madeleine to me. A good liver cooked with butter, served with a simple carrot puree. Nothing else, and it's perfect.
Your favorite place to eat out in Brussels?
I was a huge fan of Crab Club. It was really one of my favorites, especially when Philippe Emmanuelli was still there. I also love, and it's my grandpa side talking, the Grand Forestier, to eat an "américain" about once a week. It's my traditional side I guess, but I'm not embarrassed by it. At Coquum, at Cédric's restaurant, everything was really delicious, we really had a great time. And Raph, from Le Transvaal! That's actually one of my favorites ever but the real problem is that they're always full. It's charming, small, everything I like. There's this closeness with the staff which is great, the food is divine. It's simple, straight to the point, he never fails. It's risky and not risky at the same time. Surprising but not too surprising. I just love eating there. For me it's one of the bests.