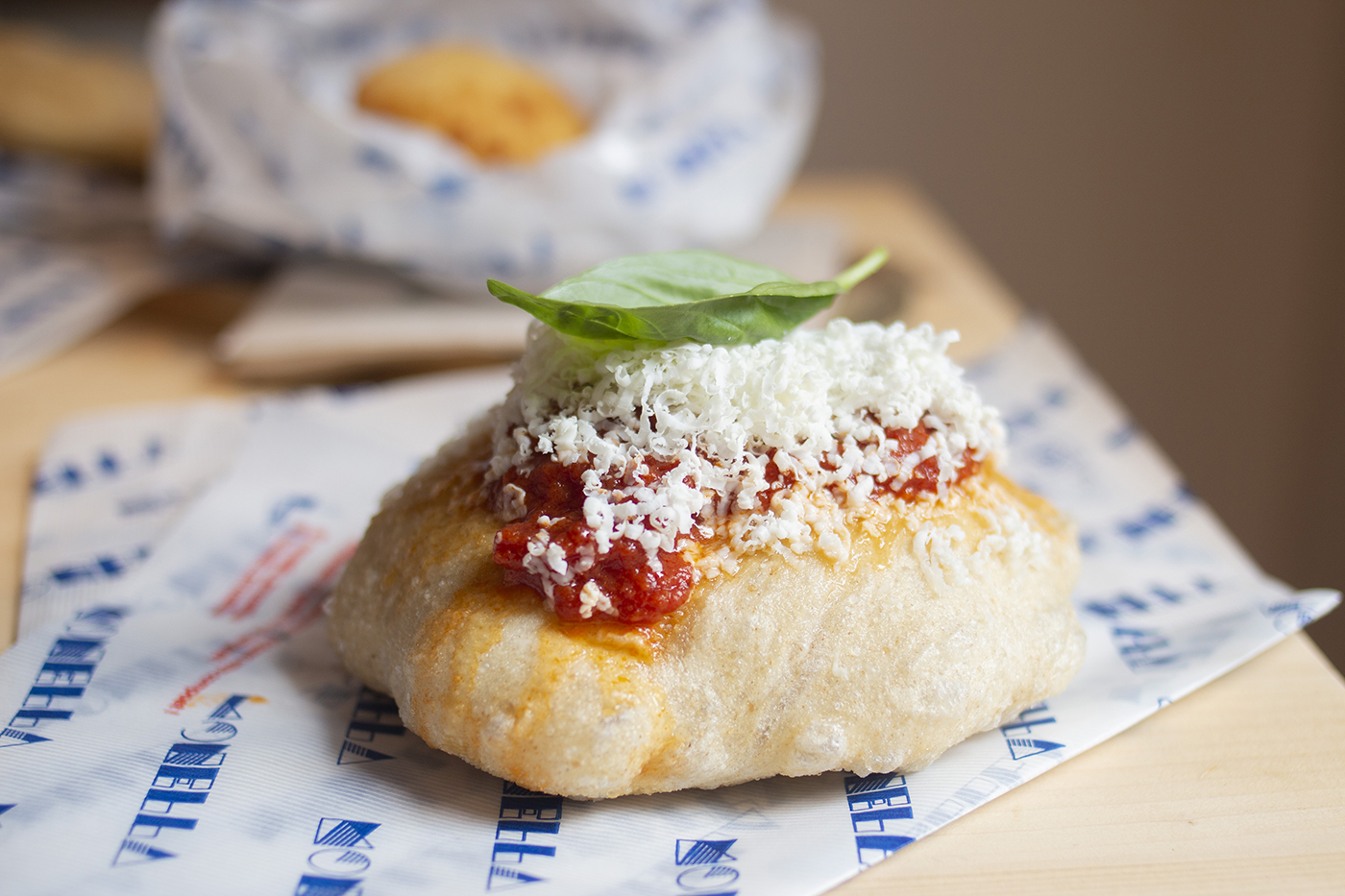 347 chaussee d'ixelles, 1050 Ixelles
02 633 43 03 – website
from wednesday to friday from 12 to 4:30pm
and from 6 till late at night
on saturday from noon till late at night
on sunday from noon till 8pm
street-food : 4,50€ – 10€
We're not gonna lie, we're simply devastated Petit Racines is gone. But as it turns out, we're pretty happy that its successors – still the same team led by Ugo Federico and Francesco Cury, the founders of Racines and Petit Racines – have taken this opportunity to launch a brand new concept in Brussels: an Italian street-food counter.
Meet Monella. Inspired by an erotic Italian film from the 60s, the name is regressive, and so are the food optins on the menu. You'll come here to get your hands dirty, enjoy finger-licking good food, and drown it all with a glass of natural sparkling wine. At Monella's, you should definitely start with the pizza fritta – the exact one that Francesco and Ugo used to sell on markets long before Racines was even born -, entirely fried, as the name says, and yet lighter than a puff of air. Covered with tomato sauce and dried and salted ricotta, it's definitely among the most simple yet extraordinary pleasures you shouldn't deprive yourself from, and for only 7,50€.
Next, try the bomba fritta, a ball of potato-based dough stuffed with ricotta, fontina, parmesan and ham, a real treat. The last two dishes on the menu – because there are only four, and that's why they're so good – are the schiacciata and the panzerotto. The first is nothing less than a sandwich – if I dare use that term – from Tuscany, with a base of ultra-soft foccaccia in olive oil, topped with Racines' famous homemade porchetta. The second, a discovery for us, is a type of pizza stuffed with tomato and burrata.
If you were to ask us what we preferred, we would have a really hard time answering. All four choices are simply excellent. We can only recommend you try everything.
And with that? Natural Italian wines, beautifully selected by Francesco and Ugo, at prices more affordable than at its big sister Racines.
As a final bonus, the former veranda of Le Petit Racines has been transformed into a terrace extension. The result: the ideal place – where you'll manage to bring absolutely anyone – to enjoy a quick bite to eat on hot summer evenings, before heading off to continue the evening in Flagey.