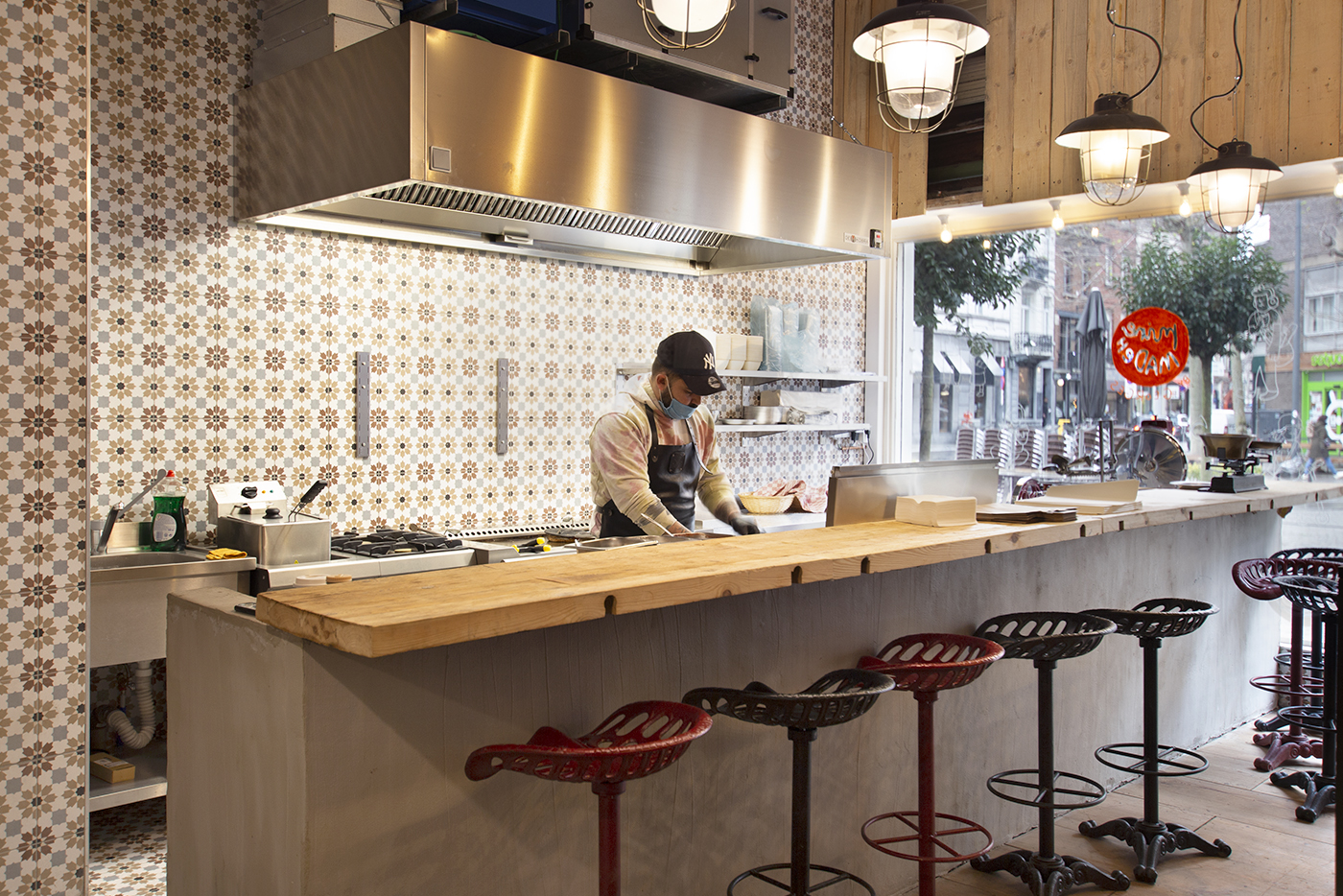 Place Jourdan 390
1040 Eterbeek – instagram
Madeh: 8€ / Bread: 1€
Tray of Halloumi, aubergines and garlic sauce: 6€
Monday to Saturday from noon to 3 pm and from 6 pm to 10 pm
It was really good. Like really, really good. It's not like we ever had any doubts, thought, ever since we heard that Georges (cfr: C'Chiccounou and My Tannour) was about to open yet another venue. Georges's cooking has something that, in my opinion, makes the Mediterranean so special: an unprecedented generosity, with which he both cooks and greets his customers.
His latest concept to date: the Madeh, adapted by Georges of course. Here, unlike at My Tannour, the Madeh is not the name of the bread but of the meat with which it is stuffed. Originally, the Madeh is a Syrian preparation based on minced meat of lamb and beef, cooked in the oven in a large dish. In the local markets, one even goes from stand to stand, taking turns buying Madeh, bread, then grilled vegetables, ending up with a result not too far from George's new concept: a home-made bread stuffed with Madeh.
The dough of the bread, prepared according to a traditional Syrian recipe, is quite similar to the dough of some of the best pizzas we know. The difference is that here it's stuffed with minced meat, grilled vegetables, then toasted on the plancha. Why toasted? To create a crust and prevent it from becoming crumbly with the juice of the meat and vegetables. Genius? You could say so.
Two versions with minced meat, and a third vegetarian version with grilled halloumi are available. They all cost 8€, and are all so generous they're hard to finish. For now, you can rush to Mine Madeh for take-out, or have it delivered to your home. But hurry up. If you know a little bit about My Tannour, you won't be surprised to see a long line soon crossing the Place Jourdan anytime soon.