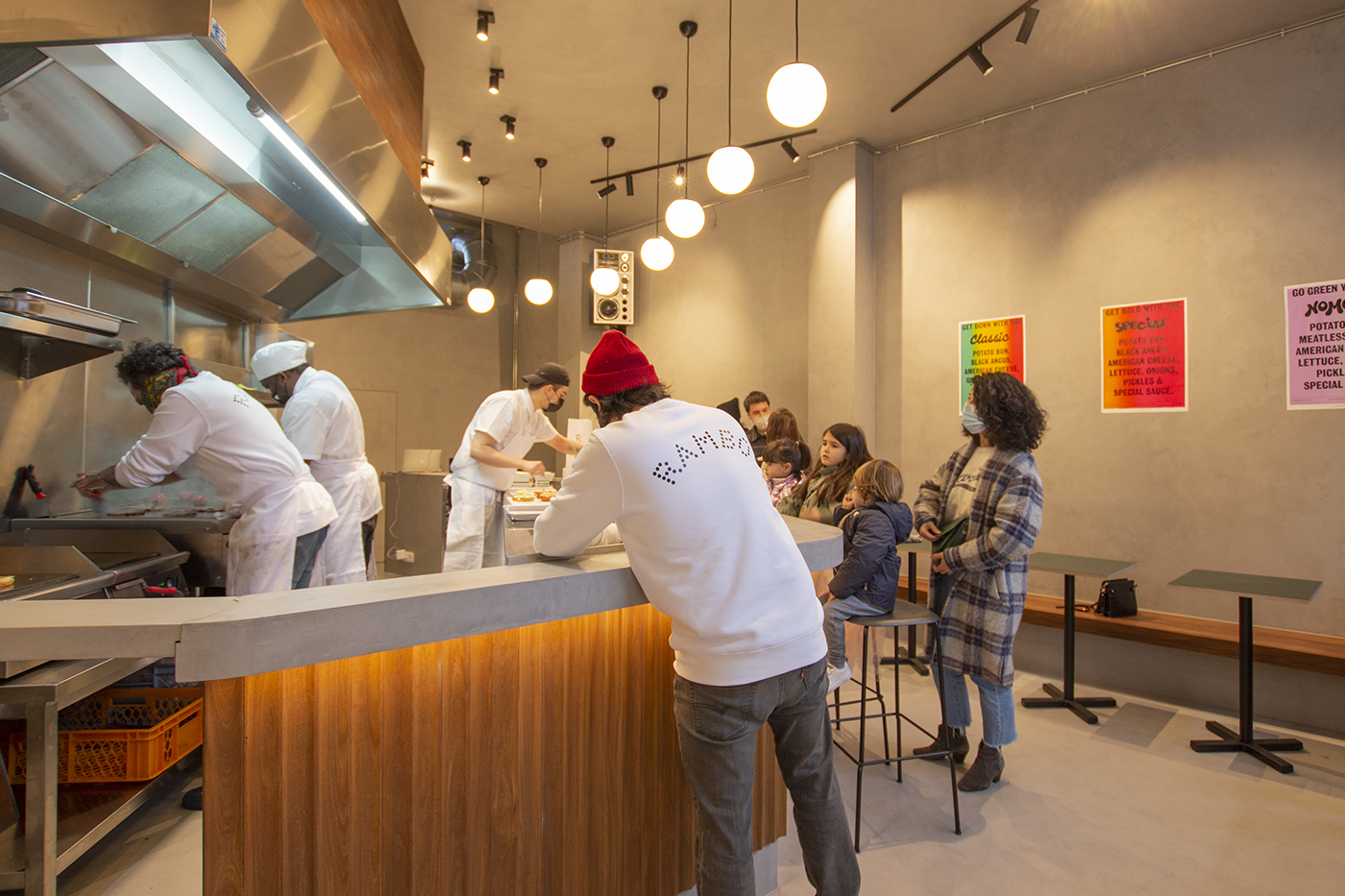 rue Washington 7
1050 Ixelles – instagram
from wed to fri evening from 6pm to 9:30pm
sat & sunday non-stop from 12 to 9:30pm
burgers : 10€
The pitch: John and Xavier from Old Boy's, Sadri from Chez Richard and Chez Franz and the guys from Bold joined forces to open a Smash Burger fast food restaurant in Brussels.
Already hooked? So were we.
And you'd be right to be; I've learned over the years that the team behind a project is often worth more than the project itself. So Rambo had been on our radar for a while now. We were already big fans of its founding team, the Fives Guys, as they call themselves, for what they'd built in Brussels.
Of course we're still going to tell you about the burgers, and of course we tried and approved the place before giving them such praise. Because we're professionals, and let's admit it, we really wanted to taste a smash burger for ourself.
First of all, the place. Concrete walls, wood counter, neon-colored posters designed by Bold. Sauces in plastic bottles and napkin dispensers on the counters – not unlike the American diners we know – and large vintage wooden speakers in the corners. The place was designed by Tomu (who we already knew for their renovation of Le Fabiola). It's beautiful yet extremely sober, and sober, while cozy and warm 
Next, the burgers. Here, we smash. On the plancha right behind the counter, Black Angus meat is smashed to release its cooking juice, creating an ultra juicy and crispy crust – The Maillard technique, says John. Only one type of burger here; the double cheese, in three variations: classic, special (with a homemade BigMac sauce), or veggie with a surprisingly good vegetarian patty from the Beyond Meat brand.
And finally, the details. Once smashed, the meat is slid into a potato bun, previously buttered and also slightly grilled on the plancha. On top of the burger, two slices of American cheese, simply because it's the one that melts best and allows to obtain this result as in L.A.. "We're in a fast food restaurant here," reminds John. Even if the meat is of top quality and everything makes you want to stay there. Who says fast food also says super affordable prices: 10€ for a double cheese burger. They did allow themselves a little fantasy though: a series of super fun toppings on their only dessert: soft-serve ice-cream topped with caramelized bacon, cookie dough bits from Swookies, apple pie crumble, and so on.
So how's the burger, you're wondering by now? It's the bomb, baby. It's melt-in-your-mouth delicious, crispy and juicy all at the same time. It satisfies both our cravings for fast food as well as our desire to eat quality produce (we're a complicated generation, yes, we know).
The real question: when can you come and pick up their smash burgers yourself? I would have loved to write "come and stay for dinner", but that'll be for later. We've still got to embrace the take-away for a whole, and in Rambo's case, that would be anytime soon. Keep your eyes wide open.