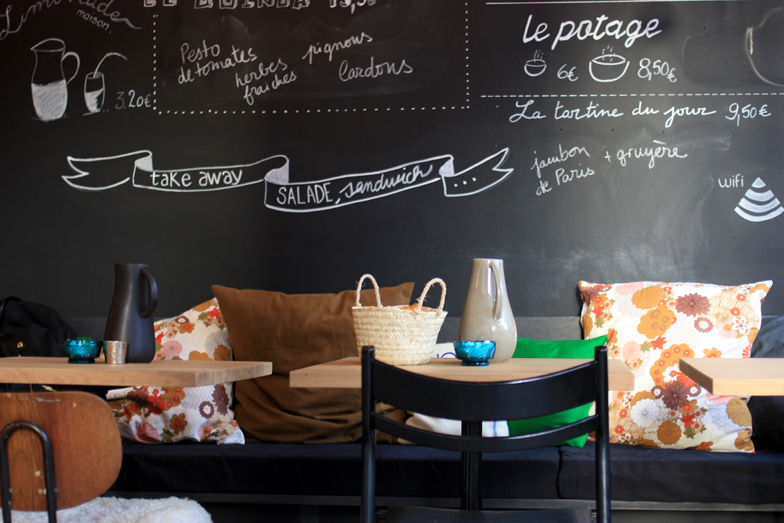 35 RUE DARWIN, 1050 BRUXELLES
TEL: 02 343 88 57 – OUVERT DU MARDI AU VENDREDI DE 9h30 à 19h
ET LE DIMANCHE DE 10h30 à 17h30
We can only be seduced by the idea of two cool girls opening a fine grocery shop / neo organic lunch place.
Saskia and Marine opened their little gem only a month a go, two steps away from Brugmann square.
They made all the decoration with their little hands : a big black wall with the daily specials, pretty chairs that are all different, cool cushions, naked lightbulbs hanging from the ceiling and a counter made from raw wood.

The place is called "Ici", which means here. So here, let's say, you can do pretty much everything. Here you can eat breakfast, work with the wifi while drinking tea, have lunch, an afternoon snack, a brunch or you can even organize your own private nights.
On the menu, four fixed dishes. We remember the thai beef salad, and the foie gras toast. But they also have a quinoa plate, a stewed dish, a soup, a salad, sandwiches and a fresh fruit juice that change everyday. It's pretty simple, every morning, Saskia walks into the storage room and checks out the products that were delivered to her the same morning. From there she improvises depending on her mood. You can't do fresher than that, seriously.
For the pastries, you won't find any "Tartes de Françoises" here. Saskia and Marine like their cakes to be different and unique from whatever else is out there. It's a friend of theirs who lived in the US who makes all the caked with organic flower, also according to the seasons. We had the chance to try a pumpkin cake where we felt the english influences in the cinnamon icing. The "detox" juice was also truly delicious, apparently, you could easily become addicted. (pineapple, cucumber, apple, spinach, mint, ginger and parsley.)
Ok so yes, we can't wait to go back.
Work there all afternoon, with a piece of carrot cake and tea, or have a sunday brunch witch seems to be really fresh and original. We heard that last week they served smoked salmon bagels, budwig cream, an orange salad, scrambled eggs, sausages and many other things. Don't know about you but I can't wait till next sunday. And as it changes every week, you can never get tired of it!.
Ici is also a grocery shop, where they sell lots of curious stuff. Fresh and forgotten seasonal veggies, and even china. An organic basket project is even on the run. Till then, we'll go back to try the rest of all their possibilities!
Studio Nord, Marine's beautiful blog.