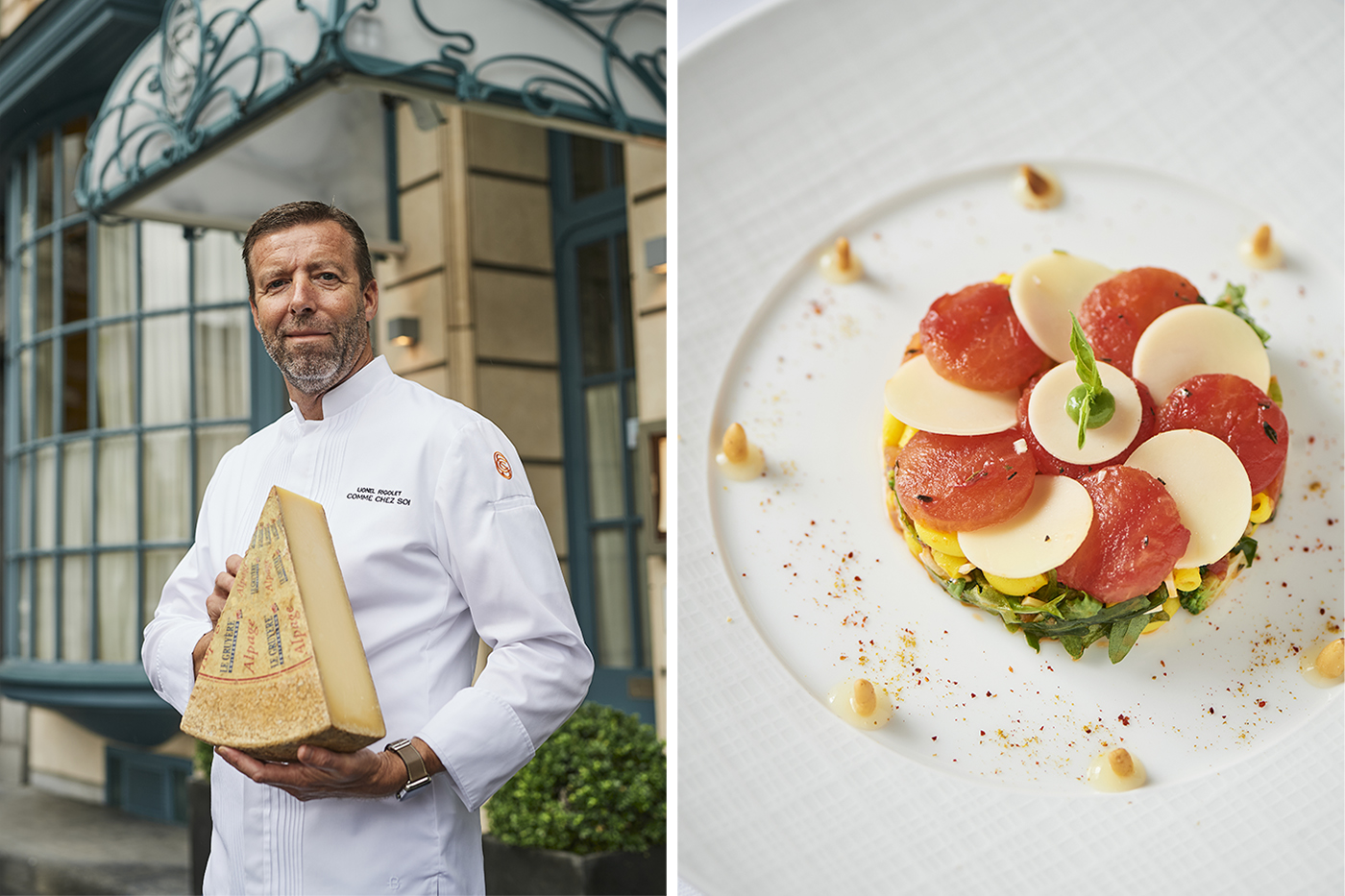 Thursday 16th July
7pm
live on instagram
You may have already spotted the info: the next live cooking class will be given by two Michelin-star chef Lionel Rigolet, from Comme Chez Soi**!
A live cooking class like no other, which will be followed on Monday July 20th by another Michelin-star chef : Viki Geunes from the restaurant Zilte**.
Two easy and unusual recipes to prepare at home, for the upcoming Belgian National Day. Together with Lionel, we will be cooking a recipe centred around Gruyère d'Alpage AOP. A cheese with a fine and delicate aroma that owes its elegant and complex taste to the top-quality raw milk from the cows of the Gruyères region. During the long maturing process, the wheels are turned several times and rubbed regularly with salt and water. Moisture allows the formation of a fat layer on the rind which accelerates the maturing process. This is what gives Gruyère PDO its unique flavor.
These two live classes will mark the end of the Instagram live cooking classes with chefs. Although you should never say never, of course. 😉
If you've spent all the lockdown thinking that you should definitely take part in the next class, now is pretty much the time.
We'll meet you on Thursday July 16th at 7pm on Instagram, with all of your ingredients ready in your kitchen, and your oven preheated to 80°C!
Pasta salad, candied tomatoes, arugula, basil, Gruyère d'Alpage AOP, passion fruit and lemon dressing.
Lionel Rigolet – Comme Chez Soi** 
Ingredients for 2 people:
Dressing:
– 30 g olive oil with basil
– 30 g lemon olive oil
(both oils can be found at Delhaize)
– 15 g fresh lemon juice
– a little curry powder
– 11 g fresh passion fruit (juice and seeds)
– 15 g chopped green onions
– 15 g crushed arugula (large pieces, do not chop)
– 25 g PDO Gruyère d'Alpage brunoise
– A dash of chopped thyme
– 25 g of tomato tapenade
(+ 60 g candied tomato wedges, prepared together during the course)
Olive oil with thyme and garlic to candy the tomatoes:
– 20 g of olive oil
– 3 g chopped garlic cloves
– 0,5 g of fresh thyme, chopped
– 300 g tomatoes
Toppings:
– 8 slices of Gruyère d'Alpage PDO (taken with the 2.5 cm cookie cutter from thin slices of Gruyère PDO purchased from your cheese maker)
– 8 slices of candied tomatoes (prepared together during the course)
– basil leaves
– Toasted pine nuts
– Curry powder
– Espelette pepper powder
Pasta mix :
– 200 g of "coquillettes" cooked al dente in a salted vegetable broth and flavoured with a teaspoon of turmeric
– 25 g cooked al dente broccoli flowers
– 9 g chopped basil leaves
Utensils:
– whip
– bowl
– bigger bowl
– small knife
– a 2.5cm round cookie cutter
– a round pasta cutter of +/- 8 cm for dressing the pasta
– cutlery for mixing

To prepare what needs to be done before the class:
– 2 pots and a skimmer for cooking pasta and broccoli flowers
– ice cubes to stop the cooking of the vegetables once drained

See you Thursday, at 7pm sharp, right here on our Instagram account!