le brunch club de l'été
June – September 2020
next one : 19th of July
château de rivieren
brunch club 12 – 4pm :  60€
Brunch club 5pm – 9pm : 60€
brunch club + yoga morning : 85€
reservations
Last June, the Brunch Club was transformed into a chic picnic, where you were invited to sip a glass of champagne on the grass, comfortably installed on picnic blankets, surrounded by cushions and light garlands suspended in the trees.After this first edition that was a real hit, the Summer Brunch Club is back on July 19th in a new location: The Château de Rivieren, 10 minutes from the city center!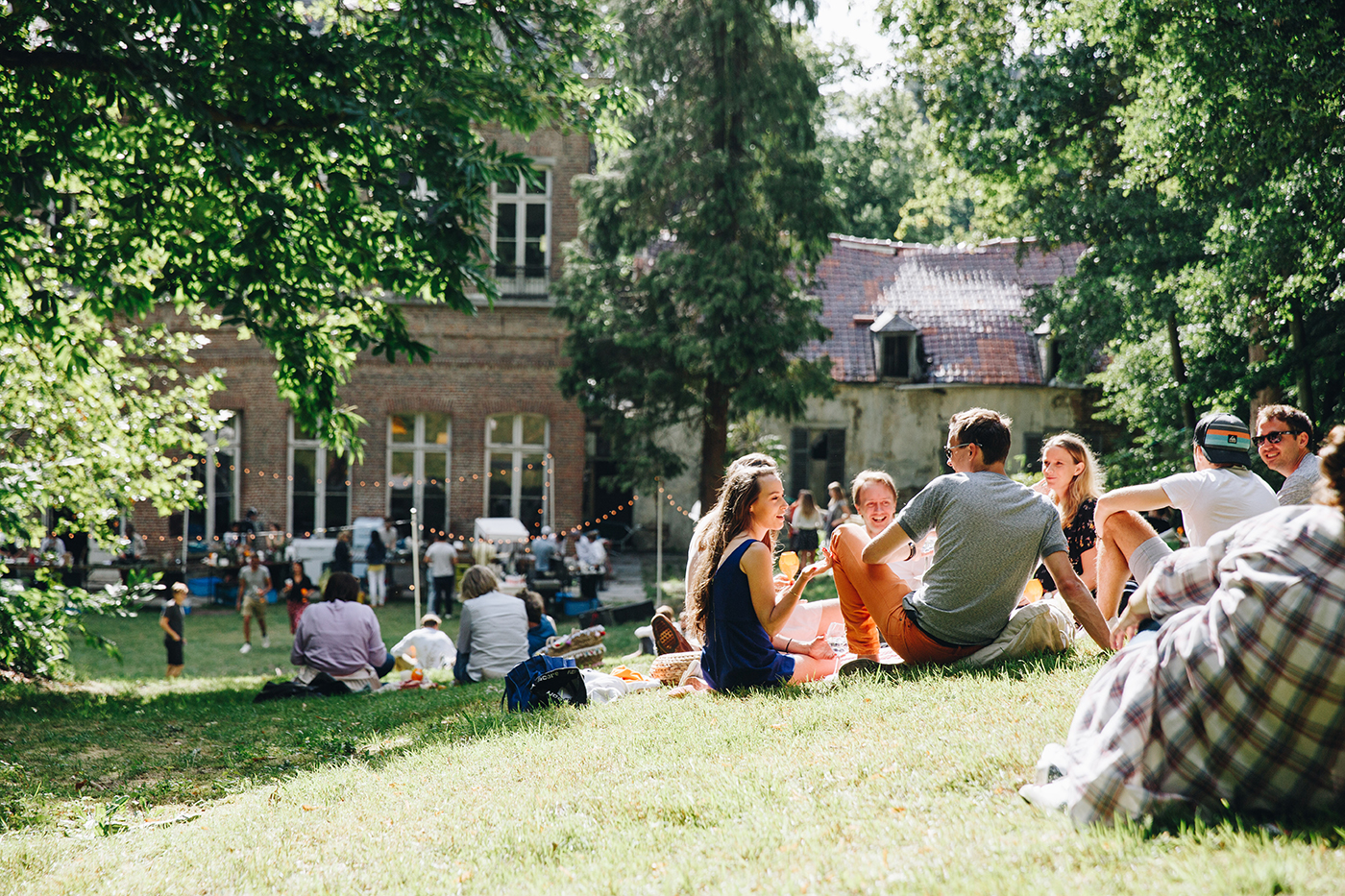 What is Le Brunch Club de l'Eté?

Seven chefs from Brussels will be cooking for you, a 7-course vegetarian tasting menu, served in a street-food manner, for you to enjoy as a pic-nic. The whole menu will be accompanied by natural wines from Titulus, Veuve Cliquot champagne, organic non-alcoholic drinks, Gintoniets, cold brew coffee from Belga and Co and San Pellegrino water.Upon your arrival, you will receive food and drinks tickets, so that you can enjoy this day at your own pace. You will be welcomed with a glass of champagne, then showed to a pic-nic blanket where you will be able to chill while enjoying the food, music and sunshine for several hours.
This time, we decided to partner with Kokoon Getaway to offer you four options:

– Le Brunch Club de l'Eté only
-> 12 – 4pm, 60€


– Le Brunch Club de l'Eté only
-> 5pm – 9pm, 60€


– The full day:
-> 9:30 – 4pm, 85€
Morning of yoga and wellness by Kokoon Getaway followed by the Brussels' Kitchen Summer Brunch Club.
A sweet morning with Kokoon Getaway, who organizes active & fun retreats in amazing locations to boost body & mind !
9:30 am Oracle Morning  by Vic & Theo : A gentle yoga session, followed by a moment of mindfulness meditation to start the day off right, to be more centered, more balanced, to improve our energy, our mood, our happiness.
10:30 am Stone workshop by Chloe Sarasola from Nashoa : Trained in gemology at the University of Nantes, graduated from SRBG, FEEG and HRD Antwerp for the study of rough and cut diamond, Chloe teaches her knowledge in several schools of gemology and his field experience around the world. A kinesiologist by training, she speaks the language of stones by combining "science and symbol".
12:00 – Le Brunch Club de l'Eté


– Morning of yoga + workshop by Kokoon
-> 9:30am – 12, 30€
Practical information:
Bookings
Right here.
It is super important that you make a single booking if you come in a group, so that we know how to organize the picnic blankets according to the size of the different groups.

When
On Sunday, July 19th
Where
In the private park of the Château de Rivieren, a gem dating back to medieval times just 10 minutes from the Grand'Place. Surrounded by a magnificent park and a pond, this magical place is a true haven of peace, just a few minutes from the city center.
Weather
Only one tiny condition: the weather. The Summer Brunch Club should be enjoyed in dry weather. If rain does happen, it will be postponed to another Sunday during Summer. But considering the current forecast, we're not too worried!
Pictures of the last Brunch Club de l'Été by Vivi Pham Photography