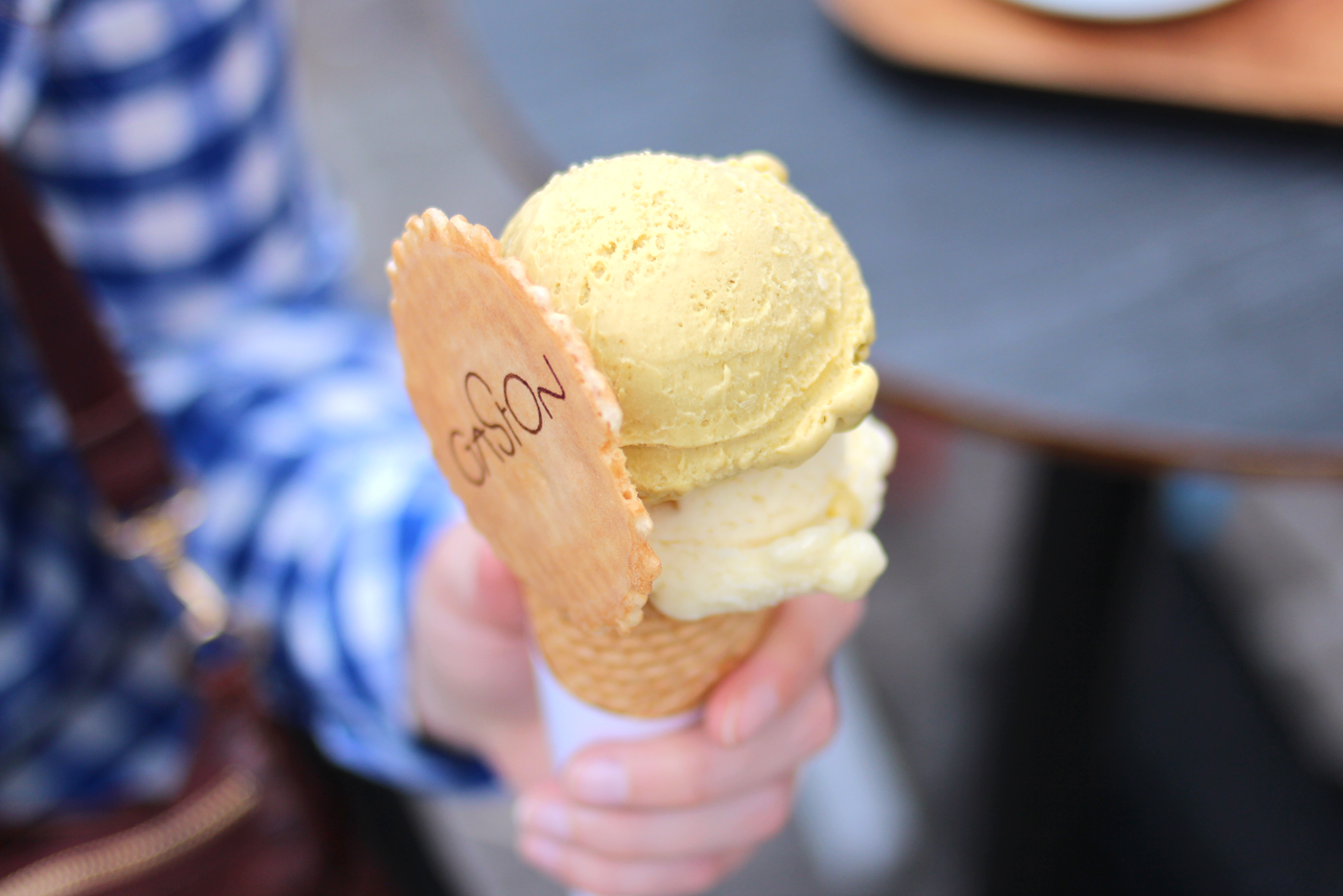 85 Quai aux Briques, 1000 Bruxelles
02 223 43 06 – WEBSITE – delivery
open from monday to friday from 11 to 10:30pm
saturday and sunday from 9 to 22:30pm
Gaston opened on the Quai aux Briques, along the famous place Sainte-Catherine, in the exact same spot where Comus & Gastera used to stand. We couldn't have expected better news after losing an excellent ice-cream shop than finding another excellent one right in the same spot. Facing the pools where the old interior harbour used to be now stands a colourful terrace where one can enjoy ice-cream on sunny days.
Turan and Lucy Ucar, already owners of Gou in Woluwé, knew what they were doing when they decided to create a temple for what had long been their shared passion. They called on Lionel Jadot, who we already know for the Jam hotel renovation, to create the interior of Gaston. The result is an eclectic mix of colours, shapes and materials, where customers come and sit to enjoy a sweet treat, with or without kids. Turan and Lucy only put the best into their ice-creams : the only preservative they use is 100% natural and using artificial colouring is not an option. On the ice-cream containers, the label reads "Ice-cream with milk and cream from the Ardennes, beetroot or cane sugar, fresh eggs and cold". And that's it. The vanilla beans come all the way from Madagascar, the red berries from small local producers and the chocolate from the famous Valhrona, known for supplying lots of Michelin starred restaurants. As for the flavours, the names are quite intriguing and make choosing all the more difficult : Hazelnuts from Sicily, fior di latte straciatella, organic yoghurt with honey and citrus fruits, and even a surprising sorbet with pineapple, ginger and Sichuan pepper. But it's for the Iranian pistachio that we directly go for. A delicious and creamy ice-cream really tasting like pistachios. What more can you ask for.