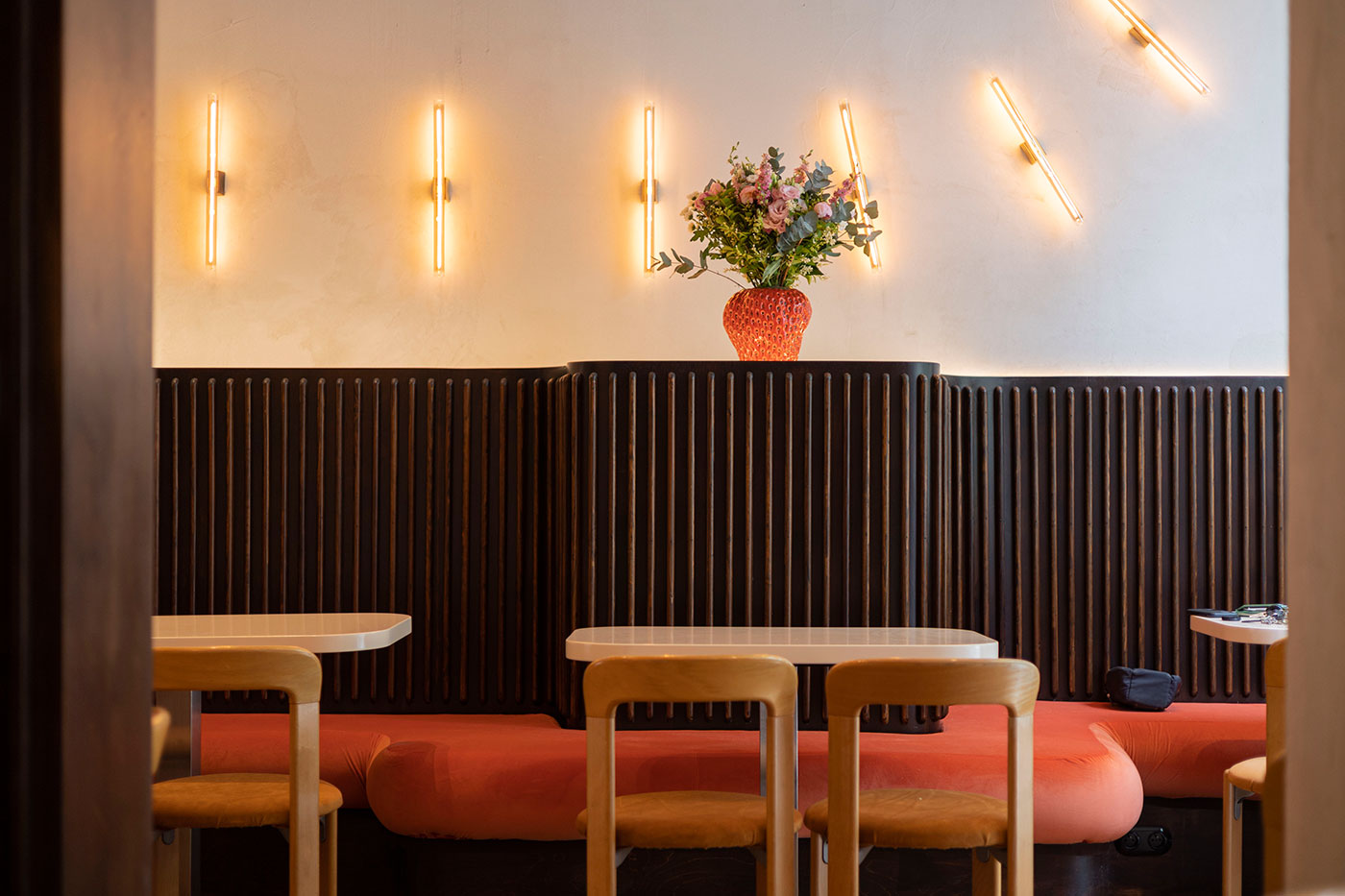 rue du bailli, 35
1050 Saint-Gilles
instagram
from monday to friday
from 8am to 6pm
saturday and sunday
from 9am to 6pm
eggs & toast : 9,50€ – 14,50€
french toasts : 9,50€ – 13,50€

 
For days we passed the huge sticker on the window trying to imagine the place hiding behind it, for weeks we'd heard about Bisou opening soon, and couldn't wait to see it for real. The time has come. Bisou has opened its doors, launched by talented Chloé Sengier – Coco Donuts & Crème – who's already proven multiple times what she was capable of.
With the help of architecture studio Zazie Maquet, they imagined a place that would sparkle – literally, thanks to the ice-cream fridge shaped like a disco ball. But before even starting the renovations, Chloé got trained in making ice-cream by the previous owner of Le Framboisier Doré, making sure ice-creams would never disappoint. But Bisou's not only about ice-creams. Chloé played with the codes of the usual milkbar / diner, and brought them to the next level. Next to the breakfast burrito, you'll find shakshuka (14,50€) on the menu, as well as delicious Turkish eggs (14,50€). As for sweets, well they've simply got everything. Milkshakes, yogurt and granola, acai bowls, cookies, banana bread, you name it. But what got our attention was the decadent Bisou French Toast – homemade brioche, chocolate ganache, almonds, caramel and sea salt (13,50€). I can still taste it.
You guessed right, this place is simply perfect for breakfast, lunch, brunch and coffee – all of the above. And we're thrilled to enjoy all this delicious food in such a delicate interior, where the dark wooden walls and comfortable coral velvety benches make us want to never get up. We're delighted when discovering the mirror tiles in the bathroom, amazed by the lemon and strawberry giant vases, and can't help but imagine the blue cloudy table in our own home.
One last thing before we go, the terrace! How has this terrace never been used, that remains a wonder. But one thing's for sure, there is no longer a reason to do without.